Cruisin Motorhomes & Campervans
About Crusin Motorhomes
Award winning Cruisin Motorhomes provides guests with fully-equipped campervans and motorhomes ideal for experiencing a self-drive adventure in Australia. The company is family owned and operated with over 20 years industry experience, allowing you to talk to local experts on arrival and throughout the unique rental experience.
With branches in Sydney, Brisbane, Hobart, Cairns and Melbourne, Cruisin' is well positioned for those that wish to explore the diversity of Australia, whether it is the outback, spectacular East Coast or the beautiful island state of Tasmania.
It is advised that you book your campervan at least 3 to 6 months in advance as Tasmania, Queensland and New South Wales are popular holiday destinations year round.
Depot Locations
Hobart Airport
Brisbane
Sydney
Cairns
Melbourne
Stand Out Features
The fleet of over 500 industry-leading motorhomes are modern, well maintained and comply with the highest Australian industry safe standards.
Included in the hire price is bedding & linen kits and extra driver fees.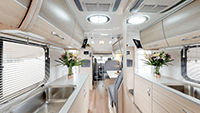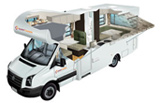 Vehicle Age
Average 3 years
Cruisin Motorhomes Campervans