Cruisin Seeker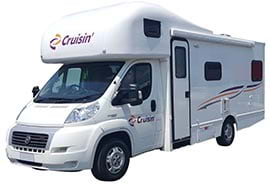 Floorplans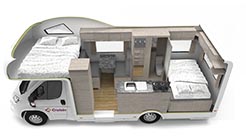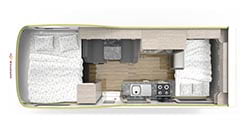 Image Gallery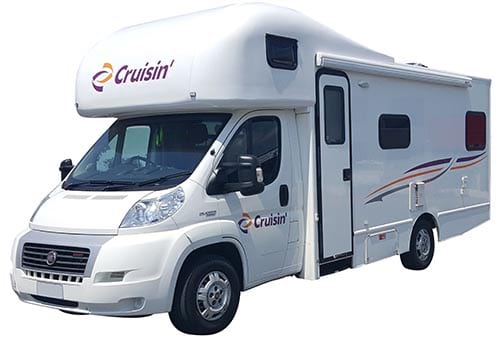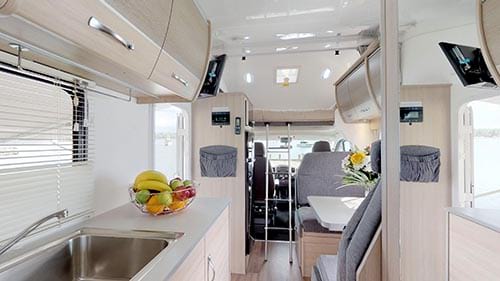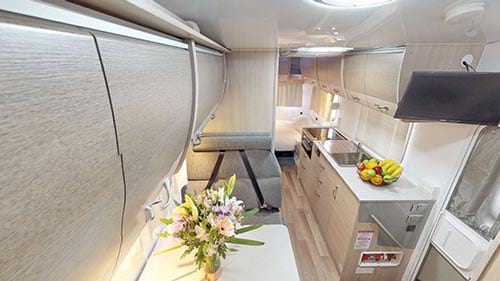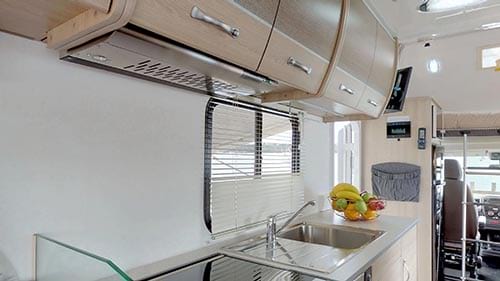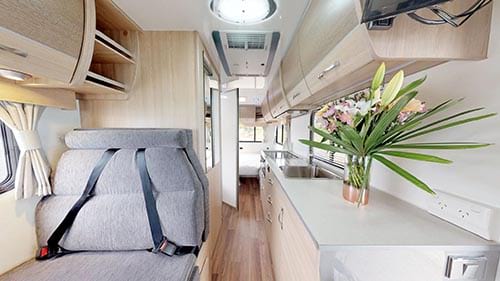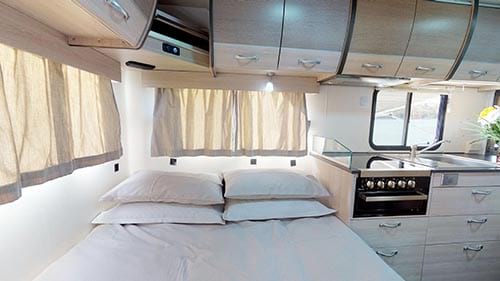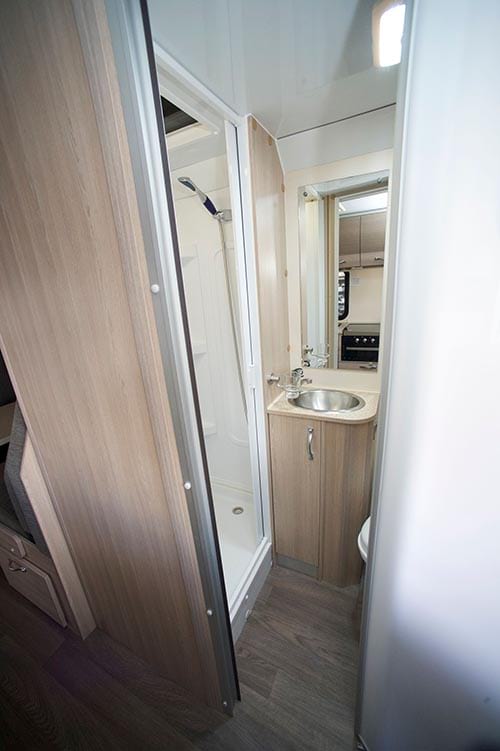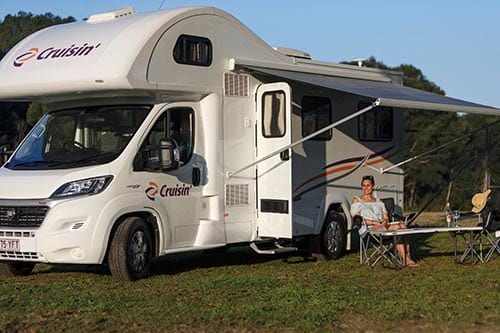 Vehicle Details
Vehicle
Vehicle Age
Under 4 Years
Air Conditioning
Yes
Seating
Maximum Passengers
4
Seatbelts
2 in Drivers Cabin, 2 in Main Cabin
Child Restraints
Total Child Restraints Permitted - 2


Rear Facing

Maximum 2 (Supply Own)


Forward Facing

Maximum 2


Booster

Maximum 2
Internal Access
Yes
Living Area
Awning
Yes
Crockery Cutlery Pots Pans Supplied
Yes
Fire Extinguisher
Yes
Fridge & Freezer
150L (3way-gas,12v & 240v)
Fly Screens
Yes
Gas Cooker
3 Burner Gas Stove & Grill
Gas Bottles
2 x 4.5kg
Hot & Cold Water Supply
Yes
Linen Supplied
Yes
Microwave
Yes (requires 240v)
Reverse Cycle Air Conditioner
Yes (requires 240v)
Sink
Yes
Sleeping Configuration
1 x Cabover (2.00m x 1.30m)
1 x Double (2.10m x 1.40m)
Shower and Toilet
Yes
Entertainment
Drivers Cab
AM/FM Radio, CD Player, USB Input and Bluetooth
Main Cab
AM/FM Radio, CD Player, TV and DV
Vehicle Specifications
Dual Battery
Yes
Engine Specifications
4 Cylinder Diesel
Fuel
Diesel 120 Litre Fuel Capacity
Fuel Consumption
14 Litres per 100kms
Make of Vehicle
Fiat
Power Equipment
Power Steering
Power Supply
12v / 240v
Transmission
Automatic
Water Tank Capacity
125 litres
Waste Water Tank Capacity
125 litres
Vehicle Dimensions
Height
3.50m
Length
7.20m
Width
2.30m
Interior
2.00m
Disclaimer:
Actual vehicles may vary according to year of manufacture & availability, but vehicle will be suitable for required number of people and have similar specifications to those on this website. Specific specifications cannot be requested. Measurements are approximate, not guaranteed and specifications may change at any time without any prior notice.
22 Reviews for Cruisin Seeker recently
Keith Pritchard
02 February 2020
Vehicle was only 10 months old. Excellent condition.
Geoff Hopkins
11 January 2020
Awesome Motor Home. It was a real joy to travel around the pristine wilderness of Tasmania, comforted by the fact that we had a luxurious home away from home, awaiting us on our return every evening. Regards, Geoff & Mette Hopkins National Workwear Australia
David Young
28 December 2019
Great set out, hired other campers before Vw and Mercedes which I found a better drive but all up was a great vehicle
Maureen Kibblewhite
11 November 2019
Good clean condition.
Carmel Jackson
19 October 2019
Vehicle went well but found moving the back of the bed at the back dramas as two people cannot sleep there with the back on the bed. Not not much room for storing bags. Fridge great and everything else fine after we got air conditioning fixed in Rockhampton. Aerial not any good in the outback of Qld.
Gillian Miles
16 September 2019
Great to drive and everything supplied, and good quality.
Judy Nicholson
14 September 2019
Just had to get used to the European differences
Good vehicle but we had problems with the microwave and the TV.
Richard Souter
07 April 2019
Good size for 2 people. The front bed was a bit awkward. If you left it made up during the day getting in and out of the rear door was difficult due to the height off the ground. Had to bend down under the rear overhead cupboard to access the sink. Microwave start button was protruding and hard not to bump into which kept starting the microwave. Drove well and easy to park.
Campervan was comfortable for my sister and me, a bit hard to make the beds but quite comfortable. My sister found it very easy to drive. We enjoyed our holiday in Tasmania.Only problem we found was there was nowhere to hang clothes - we found hangers but only cupboard hooks to hang things on.
Joel Stephens
12 March 2019
Our Cruisin Seeker (Fiat) campervan was awesome. Never skipped a beat, had plenty of room for us and the kids and was well equipped with everything we required for 8 days on the road.
Norm Hickmott
12 December 2018
Our vehicle had only done six thousand kms.and as we own a similar motorhome we were pleased with the lay out and how well all systems operated. A towel rail in the toilet/ shower area could be useful, the only problem we had was the oil light came on because the motor oil was slightly over filled but this was quickly fixed. We really enjoyed our rental motor home in Tassie
Michelle Walker
26 November 2018
Loved the motorhome, it was new and had all the comforts that we needed. Only negative was that the outdoor table was stored behind the drivers seat unrestrained, so we had to use spare linen to wedge it behind the seat to stop it from sliding across the van. Setting up in caravan parks was simple and straight forward. Vehicle was really easy to drive. Would love to come back to Tasmania again for longer, so much to see and do. Really enjoyed our time away.
Maureen Kibblewhite
19 November 2018
The vehicle was very comfortable and very well equipped. Even a cheeseboard. The mattresses were surprisingly comfortable considering how thin they are. Linen was very good quality and generous. Some of the fittings were a bit delicate. Latches on the big drawers were inadequate and screws shook loose. Victorian roads are not that smooth even on the highways and the rattling when sitting in the back was enough to drive you nuts.
Louise Evans
29 September 2018
Everything was in excellent condition. A mat at the door would be useful for wet weather. The keys could be colour coded, it took awhile to remember which was which. The grill rattled a lot when driving, we put it in the drawer, which solved the problem.
Jeffrey Walsh
22 September 2018
The campervan was spot on. Clean reliable spacious with all you need for the road trip. Sat nav good mpg easy to drive.
Terrie Anderson
15 September 2018
Vehicle was clean, comfortable and very well equipped
Aaron Hoskin
15 September 2018
very comfortable to drive everthing you could want was there only problem I found was there was no where to but the suitcases
Maureen Hall
06 September 2018
Was very well appointed although we did have to purchase a wooden spoon. Bed was really comfortable and the Fiat pleasant to drive. Good on fuel too.
Gaylee Drogemuller
30 August 2018
We enjoyed the experience of a campervan holiday and the convenience of it, however had some issues with the van. The first 3 nights we were unable to get TV reception. (had to take the van to Launceston) to get the TV replaced and for over half the time away we had no heater working, so had to buy a fan heater so that we had some sort of heating.
Thomas Hughes
25 August 2018
A few things were looking "tired" , problems within the vehicle were reported on return and hopefully addressed. Otherwise we had a great experience and would do it again.
Kim harper
20 August 2018
we loved the camper - there were a few things that needed fixing up - side mirror kept moving, 1 drawer broken - prob needs just a quick going over. but it was otherwise awesome - so comfortable, spacious, had everything we could need - eg kitchen stuff. roomy fridge. highly recommend. the team was also very helpful - quiet office, efficient and kind.