Client Testimonials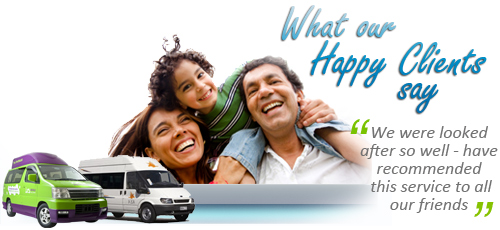 18/06/2018
Great. Everything worked out without problems!
16/06/2018
Unfortunately I wanted something for 2 weeks and had to pay for 3 weeks which ended up making it uneconomical. Will hire a car and stay in on-site cabins next time.
12/06/2018
Reservation process was easy and staff (Leila) most helpful.
11/06/2018
Nice people but they forgot to tell us that all the info about the vehicle was on the GPS screen so we had to phone to find out what we needed to find out. Also, the video we watched at on pick-up is really made for OS visitors (road rules etc) and had a NZ accent. Really think it should be an Aussie accent for OS visitors and a different video should be shown for Australians.
09/06/2018
Quick and efficient
09/06/2018
reservation , pick up staff & drop off was very smooth.
09/06/2018
Excellent professional service
09/06/2018
Very good service 10 out of 10
05/06/2018
Staff were excelllent at our pick up in Darwin and the drop off point at Alice Springs.
03/06/2018
Staff helpful and explained workings of van really well.We had to change vans in Alice Springs due to a break in resulting in a drivers side broken window.Wish we had known about extra mattess as it was a hard day night,oh well , all good .
02/06/2018
Reserving our Camper was very easy with friendly staff who answered all our questions, no matter how trivial.
31/05/2018
The reservation was stress free and very user friendly
30/05/2018
Reservation process was great, online then phone.. the process was effortless and talking to a human was the best experience. A thumbs up
29/05/2018
Reservation was great, easy and very friendly
28/05/2018
We phoned you company in Melbourne direct from NZ to book a vehicle and were very pleased with the service. Thankyou
27/05/2018
Reservation process was excellent.
26/05/2018
The pickup and drop off of the vehicle was excellent.