Client Testimonials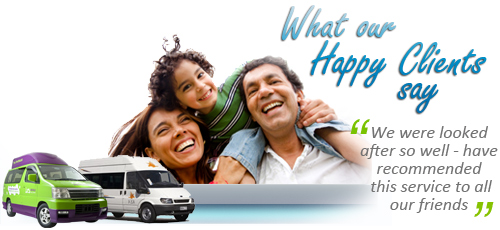 15/05/2018
The reservation of the vehicle was easy and went smoothly.
14/05/2018
Prefer over the phone booking Staff at check in was very helpful
12/05/2018
Good friendly staff that tried to make the process quick and easy.
11/05/2018
Easy booking process and quick to suggest suitable alternative vehicle when original choice unavailable.
10/05/2018
The booking process was straight forward
08/05/2018
This was great. I was always kept up to date with the process. Price was good. Thanks
08/05/2018
Reservation was very easy. The staff were fantastic and very accommodating. Highly recommend this company to all.
07/05/2018
All ok. Unfortunately, I was travelling at the time, using my iPad to make the reservations. WiFi was not very reliable at times. However all worked out satisfactorily.
05/05/2018
Great service, friendly staff.
05/05/2018
80% online. Simple and efficient. Lovely staff at the depot (Eagle Farm - Brisbane).
05/05/2018
Booking process was easy
05/05/2018
Booked online and it was very easy. Head office kept in contact as there was no availability for our date of travel. They managed to get us a vehicle in the end.
05/05/2018
Satisfactory. Returning process very good
05/05/2018
Reservation was easy and had no problems with pick up or drop off. Would be happy to recommend
04/05/2018
excellent at both ends