The Difference between Campervan Companies
We understand how tricky it can be to choose the perfect campervan that will suit you and your needs. To make the decision process easier for you we have given the facts relating to each Campervan Company and what you can expect.
---
Maui Motorhomes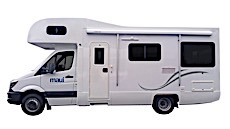 Vehicle Age - Under 2 Years
With a large and dependable rental fleet Maui are firmly positioned in the top end of the market. Their high standard vehicles are expertly maintained, well laid out living areas, comfortable sleeping arrangements and all come equipped with automatic transmission. The Elite vehicles are the most luxuriously equipped. The 4 and 6 berth options boast solar panelling.
- Elite range guaranteed under 1 year
- Other vehicles guaranteed under 2 years
---
Britz Campervans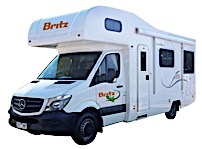 Vehicle Age - Between 0 to 5 Years
Britz campervans were initially Maui Campervans and offer the perfect balance between price and comfort. They are expertly maintained, comfortable and offer great value for your money. The availability of Britz Campervans is excellent due to their large fleet, while their affordable pricing makes them a great choice for the budget conscious traveller who still values comfort.
---
Cruisin Motorhomes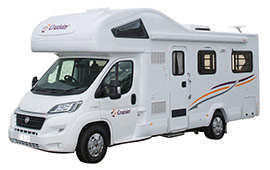 Vehicle Age - Average 3 Years
A great way to tour around Australia as you are able to collect and return your vehicle from depots located at Hobart Airport, Launceston Airport and in Brisbane and Sydney.
Cruisin Motorhomes prides themselves on offering travellers the opportunity to tour Australia in a comfortable, affordable and hassle free manner. You will be pleased to learn that bedding & linen kits and extra driver fees are included in the daily rental rate. Cruisin also offer a high end model in the form of the Cruisin Deluxe.
We would recommend to take advantage of the Stress Free Package which includes Liability Reduction, for total peace of mind.
---
Let's Go Campervans & Motorhomes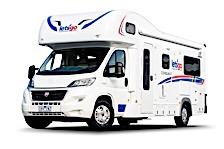 Vehicle Age Between 1 and 7 years
With New Jayco motorhomes added to the fleet every month, Let's Go are one of the newest motorhome rental fleets in Australia. With competitive pricing, unbeatable service and branches in all major cities
Let's Go combine luxurious motorhomes with unbeatable value, and their extensive network of Jayco approved repairers ensures no matter where you are, you're taken care of on the road.
Let's Go Motorhomes has partnered with Coles online to have groceries delivered and waiting for you on arrival, now that is service!
Get a Let's Go Quote
---
AutoRent Hertz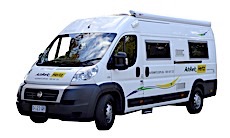 Vehicle Age - Average 3 Years
These vehicles are only available in Tasmania, and are especially useful to people arriving in Launceston. They have Airport branches in Hobart and Devonport too, making them an ideal option to explore Tasmania.
As far as quality and value for money go we would place them in the same category as Britz, and they have a unique 2-4 Berth Motorhome that is very popular. Their customer service is very helpful and informative.
---
Mighty Campervans
Vehicle Age - 6+ Years
Going Mighty on Adventure! More awesome than the average cheap campervan hire. Mighty campers are best suited for budget conscious travellers. While they do not have all the bells and whistles they are affordable, reliable and perfect for discovering Australia. All Mighty vehicles are expertly maintained and include 24 hour vehicle assistance.
The smaller 2 berths are very popular and are a great way to enjoy a cost cutting holiday. With their huge fleet size, availability is very rarely a problem, and they have depots in all the main centers (Brisbane, Sydney, Melbourne, Adelaide, Perth, Alice Springs, Darwin & Cairns).
Get a Mighty Quote
---
Camperman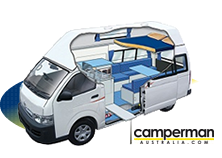 Vehicle Age - Up to 12 Years
Camperman is an East Coast based company specifically designed to meet the needs of budget travellers. Camperman is perfect for those wanting to independently travel in Australia at a reasonable cost in an older vehicle or for an extended period of time.
Any fully licenced driver over the age of 19+ is permitted to drive any of their vehicles. Camperman's range of hitop vehicles are suitable for 3 to 5 travellers. Unlimited kilometres, kitchen equipment, bedding & linen kits & extra driver fees are all included in the daily hire price. Camperman now offer a small vehicle with a shower and toilet.
---
Travellers Auto Barn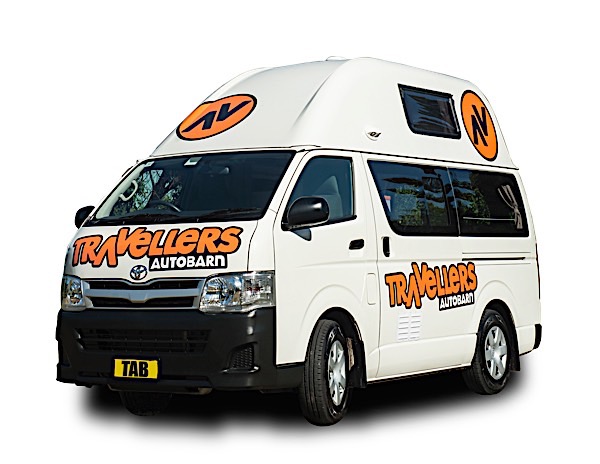 Vehicle Age - Between 3 to 8 Years
Travellers Auto Barn campervans are a great choice for young travellers, backpacker tourists and and those wishing to travel on a budget. Offering reliable and functional vehicles, which come with unlimited kilometres and 24-hour roadside assistance, Travellers Auto Barn is the perfect choice for those wishing to stand out from the crowd. They also offer a 5 berth option for larger groups of customers.
Offering a large range of campervan hire locations cross Australia, including Sydney, Brisbane, Cairns, Darwin, Perth and Melbourne, Travellers Auto Barn offers value for money and a campervan experience like no other.
Get a Travellers Auto Barn Quote
---
Spaceships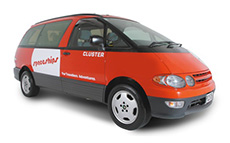 Vehicle Age - Up to 15 Years (fitted out up to 7 years ago)
Spaceships are custom designed, award winning people movers converted into the Swiss army knife of campers. Born in New Zealand in 2004 and operating in Australia since 2007 Spaceships campervan hire reshaped the market to provide a new and smarter way to travel.
Spaceships offer 3 different campervan options seating up to 2 people at a time and allow drivers of 18+ years or older.
Get a Spaceships Quote
---
Bear Rentals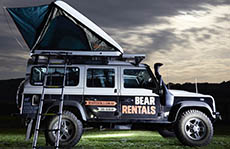 Vehicle Age - Between 2000 - 2016
Bear Rentals love the freedom only a great holiday can bring, but hate the rules, restrictions and ridiculous expense that often comes with car hire and gear rental. Bear Rentals is all about options and flexibility. They work with the philosophy that you shouldnít be stung by hidden fees or penalised because you favour the road less traveled. Bear vehicles allow you to set up camp in a matter of minutes, giving you more time to do the things you want with your holidays like relax.
Bear Rentals offer a range of 3 purpose-fit vehicles that can sleep anywhere between 2 - 5 people.
Get a Bear Rentals Quote
---
Jucy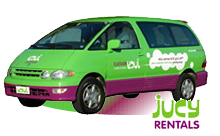 Vehicle Age - Up to 2 Years
Jucy is a dynamic and friendly hire company which aims to provide 'the best deals on wheels' from from Sydney to Cairns. Jucy campers are custom built and perfectly suited to younger travellers, as any fully licenced driver over 18 can hire one.
These vibrant vehicles were refurbished between 2012-2014 (El Cheapo 2010), and your Jucy rental rate includes unlimited kilometres, tax and 24hr roadside assistance.
Get a Jucy Quote
---