Campervan Hire from Melbourne
Melbourne is the perfect place to kick-start the motorhome hire holiday of a life time. Iconic roads, dramatic landscapes and quiet coastal coves are what you can expect on your travels in the surrounding regions of Melbourne.
Discovery Campervans has you covered when it comes to finding the perfect vehicle for your Melbourne motorhome holiday, use our search box above to browse and compare vehicles from the top suppliers in Melbourne, including Cruisin Motorhomes, Star, Jucy, Apollo, Britz, Maui, Mighty, Cheapa Campa, Hippie, Spaceships and Lets Go Motorhomes.
Order and refine your campervan rental results by price, popularity and size using our advanced search tools.
Tips: Look out for 'Long Hire Discounts' and vehicles that have a running special or promotion to save even more on your Melbourne campervan hire!
Why Book With Discovery Campervans?
100% Australian Owned & Operated
Top Campervan brands and vehicles
Over 50,000 happy customers have already booked a campervan with us
Explore the Attractions of Melbourne by Motorhome
Melbourne is great location to start your campervan hire holiday. Boasting a close proximity to some of Australia's greatest driving routes, a wealth of city attractions and a thriving and inviting cultural atmosphere.



Melbourne City Hot Spots
In the heart of Melbourne, visit the lush Royal Botanic Gardens, popular for a quick lunch or stroll. Federation Square is a meeting place which has become a well known landmark within the city, and Brunswick Street is known for its eclectic cafes, shops and atmosphere.
Surrounding Highlights
Venture outside of Melbourne and you will find amazing places like Phillip Island, which offers a rare opportunity to see fairy penguins at play. The Grampians are just three hours drive west of Melbourne airport, and are especially stunning in spring when almost 1000 species of flower are blooming. Take your Melbourne campervan rental down to St Kilda where thousands flock to the beach here throughout summer.
The Perfect Campervan Hire Melbourne Road Trip
However, the best part about Melbourne is without a doubt its short distance from the famous Great Ocean Road. A unique Australian treasure, the Great Ocean Road offers travellers one of the most spectacular coastal drives in the world.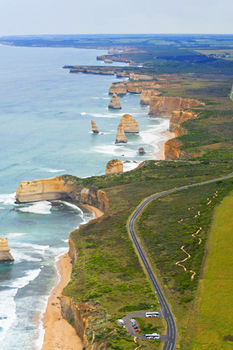 It is the perfect destination for the self drive campervan hire from Melbourne, with pristine camping grounds throughout the coastline, amazing national parks and pretty seaside towns from start to finish.
Apollo Bay is a great place to stop along the way. Situated by Cape Otway, about 190 kilometres from Melbourne airport, it is extremely popular amongst the city folk as a weekend getaway.
Known by many as 'Paradise by the Sea', Apollo Bay is built on a perfect semi circle beach with soft white sands and azure blue water.
It is places like these that make Victoria such a desirable place to visit while on a Melbourne campervan hire holiday in Australia. Compare campervans by using the Quote Box above or contact us directly to find out more about camper van hire Melbourne.
The Weather: Seasonal Splendours in Your Campervan trip from Melbourne
No matter the season, traveling in a campervan from Melbourne offers unparalleled freedom and flexibility. You can tailor your itinerary to the weather and your preferences, ensuring that you make the most of each season's unique offerings. Whether you're basking on beaches, hiking through forests, or savouring local flavours, your Melbourne campervan rental becomes a cozy home-on-wheels, allowing you to embrace every moment of your Australian adventure.
Spring: September to November
Flourishing Landscapes and Festive Vibes
Average Temperatures: 12°C (53.6°F) - 20°C (68°F)
As the weather warms up, Spring paints Victoria with vibrant hues and a sense of rejuvenation. Traveling in a Melbourne campervan hire during this season allows you to witness blooming gardens, such as the Royal Botanic Gardens, and attend lively festivals like the Melbourne Fringe Festival. Explore the city's charming neighbourhoods and take scenic drives to witness nature's transformation.
Summer: December to February
Coastal Bliss and Outdoor Adventures
Average Temperatures: 16°C (60.8°F) - 25°C (77°F)
Campervanning during the Australian summer opens the door to sun-soaked beaches, endless coastlines, and outdoor festivities. Park your motor home near the stunning beaches of St Kilda or Mornington Peninsula, and indulge in water sports, beach picnics, and seaside sunsets. Drive along the iconic Great Ocean Road or head to the Yarra Valley for wine tasting under clear blue skies.
Autumn: March to May
Rustic Charm and Culinary Delights
Average Temperatures: 10°C (50°F) - 19°C (66.2°F)
As leaves turn to brilliant shades of red and gold, Autumn in Victoria offers a picturesque backdrop for your campervan holiday. Wander through quaint towns like Daylesford and Hepburn Springs, where you can soak in natural hot springs. Embark on a gourmet adventure along the Mornington Peninsula, sampling fresh local produce and wines amidst the cozy ambiance of the season.
Winter: June to August
Alpine Escapes and Urban Coziness
Average Temperatures: 6°C (42.8°F) - 14°C (57.2°F)
A self-drive holiday from Melbourne in a campervan during Winter is a unique experience. Head to the Victorian Alps for snow sports in places like Mount Buller and Falls Creek. In the city, relish Melbourne's renowned café culture, dive into its thriving arts scene, and enjoy the comfort of your campervan cocoon while rain patters on the roof – the perfect atmosphere for relaxation and introspection.