Top 21 Queensland Hot Spots
Story Bridge in Brisbane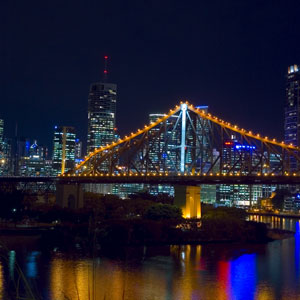 1. Brisbane
There is so much to do in Queensland's capital city. Visit the Alma Park Zoo, picnic and swim at Southbank Parklands or view the city and coastal region from Mt Cootha lookout. There is always the option of the exhilarating Storey Bridge Climb, or why not take the ferry over to Stradbroke Island for a relaxing day trip.
2. Gold Coast
Known for its amazing theme parks, this is the ultimate holiday destination. Visit the tourist strip at Surfers Paradise with long stretches of white beaches, Currumbin Bird Sanctuary and Sea World are great for a family day trip, or for thrill seekers you can't go past Dream World or Movie World.
3. Lamington National Park
Including the Gold Coast Hinterland and stretching out to the surrounding mountains and valleys, you will find amazing rainforest and walking trails here with popular attractions including Binna Burra, Springbrook National Parks and Coomera Gorge. Mount Barney National Park and Mount Warning offer incredible walking trails, camping sites and lookouts.
4. Glasshouse Mountains
Easily accessible from the Bruce Highway, this tourist region offers exhilarating lookouts and camping spots at Coochin Creek. The best walks are Glasshouse Mountains Lookout and Wild Horse Mountain Lookout. Mount Tibrogargan is the most impressive as it looms over the forest below. The famous Australia Zoo is also close by at Beerwah.
5. Noosa
Being the main tourist centre of the
Sunshine Coast
, Noosa is a very popular tourist spot. The Cooloola National Park and Noosa National Park both offer fantastic camping sites with raw natural beauty. Hastings Street is the place to be for stylish shopping and beach side restaurants, and head to the Noosa River for all types of water sports, fishing and boating activities.
6. Montville
Located in the Sunshine Hinterland, this area is popular for weekend retreats and day trips. With exquisite art and craft shops and sweeping views of the coast through to the Glasshouse mountains, it is perfect for a weekend getaway or stopover. Visit Lake Baroon for a picnic, or travel down to Maleny for some more sightseeing.
7. Sunshine Coast
Packed with tourists, this region includes Alexandra Headland, Mooloolaba, Maroochydore and Coolum. It also extends to the great Blackall Range. There is so much to see, with fantastic coastal drives and blue waters. It is the ideal base for a relaxing holiday in the sun.
8. Mackay
This tropical city is a great base to explore the neighbouring islands such as stunning Brampton Island or smaller Keswick Island. Don't miss the Mackay Botanic Gardens or Marina Village close to the city centre. The coastline offers fantastic drives and scenery. The Cape Hillsborough National Park is located north from the city has excellent campsites and stunning beaches, plus inland lies the Eungella National Park which features the Finch Hatton Gorge.
9. Lower Barrier Reef Islands
This southerly region of the
Barrier Reef
is teeming with underwater beauty, known for unique tourist islands such as Heron, Lady Elliot and Lady Musgrave. Most popular activities include underwater diving and exploring the exquisite coral reefs, just metres away from the beach. Easily accessible for a day trip from Bundaberg or Gladstone.
10. Townsville
This is the ideal city to visit the lush tropical islands off the coast such as Orpheus, Dunk, Magnetic and beautiful Bedarra. The Hinchinbrook Island National Park is another world heritage listed gem that is a popular tourist hideaway. Why not take the family to the Billabong Wildlife Santuary close to the city, or relax at the Strand on the beachfront. Alligator Creek, next to the lovely Bowling Green Bay is great for a day trip.
11. Airlie Beach
Airlie Beach
is not only the gateway to the Whitsundays but a tourist destination in itself, with beautiful beaches and accessibility to so many stunning regions. It is a great base to access Shute Harbour, Bowen and Abel Point Marina. Airlie Beach Lagoon is fantastic for the family to relax and enjoy the food and sunshine.
12. The Whitsundays
Located via Shute Harbour, this area is known for its captivating islands and reefs. Out of the 74 islands there are a number with excellent resorts such as Hamilton, Daydream, South Molle, Lindeman and Long Islands. Whitehaven Beach is stunning with its pure white sand and blue waters. Hire a yacht for some day trips to the islands, or try some deep sea diving or fishing on the outer reefs.
13. Cairns
One of Queensland's most northern cities,
Cairns
is known for its tropical weather, warm waters and tourist attractions. Catch a catamaran to Green Island or continue further on for some game fishing. The harbour at Trinity Outlet is always crammed with yachts and fishing boats. Driving further north to Trinity Beach, Yorkeys Knob Palm Cove for a few days or longer. Inland the Barron Gorge National Park offers great driving with the popular skyrail at Kuranda, and the scenic Atherland Tablelands in the hinterland.
14. Daintree Rainforest
Located in Far North Queensland, the world heritage listed Daintree lies side by side with the Great Barrier Reef at its doorstep. Known for its extensive rainforests, the beautiful Daintree River, swimming holes and walking trails, it is untamed and diverse. With
campervan hire Brisbane
you can visit Cape Tribulation and Cairns further south and make the most of this untamed paradise.
15. Emerald
There is plenty to do in this outback town west of
Rockhampton
. The Mazeppa National Park offers tourist walks and incredible scenery. You can fossick for gems, visit Lake Maraboon, the Emerald Museum and Pioneer Cottage or simply camp under the stars and enjoy a break from the city.
16. Longreach
Known for the famous Stockmans Hall of Fame,
Longreach
is a famous outback town also known for its Qantas Aviation Museum. Visit Starlights Lookout for a view of the town, or drive to the Thompson River for a cruise or fishing spot. There are sheep stations further out you can visit for a day or two, and it is the perfect escape from the city life.
17. Carnarvon Gorge National Park
Carnarvon Gorge truly is an oasis in a parched desert. There are a number of bushwalks which will take you to the top of the gorge at Boolimba Bluff, down to the stunning Moss Caves and the Ampitheatre below complete with Aboriginal rock art. Carnarvon pools are refreshing plus there are all varieties of wildlife and birds to experience.
18. Mount Isa
You will find this oasis city in north west Queensland, surrounded by the Selwyn Ranges. With unbelievable sunsets, fishing spots and endless tourist spots this mining town is a unique destination. Best nearby attractions are Lawn Hill Gorge National Park and Riversleigh Fossil Fields.
19. Roma
Experience the Queensland outback in all its elements. Roma is a great base to explore the surrounding outer towns such as Injune, St George and
Charleville
. One of its main attractions is The Big Rig, which can't be missed when you drive into town, or why not visit the Roma Villa Winery and Meadowbank Museum before you leave. There are rodeo's and cattle stations, and one of the biggest attractions is the locals, who will make you feel right at home.
20. Toowoomba
Toowoomba
is a pretty city also known for its gardens and flower festival in Spring. It is the gateway to the Darling Downs and the West, and natural attractions such as Crows Nest National Park and Lake Cressbrook. Visit the Bunya Mountains for ideal camping spots and scenery. Further west is Oakey, Chinchilla and Dalby for some country driving.
21. Stanthorpe
Known as Queensland's wine capital, southern
Stanthorpe
is popular for its festivals, abundance of fruit and vineyards. Close by are incredible National Parks such as Girraween, known for its wildflowers, the Bald Rock National Park and Boonoo Boonoo National Parks are also famous for their granite rock formations. This is the perfect location for a cosy weekend getaway with
campervan hire
.
Jenny Brewer