Brisbane is the third largest city in Australia, and has the reputation as a tourist hotspot to match. Built on a wide river, the diversity of things to do in and around this city could keep you entertained on your camper tour for whatever length of time you desire. An exciting and alive city, it's a cultural melting pot and also home to the famous Story Bridge and Mt Cootha. All this is just a stone's throw away from the gorgeous beaches of the Gold and Sunshine Coasts. With Campervan Hire Brisbane the best way to see the south east corner of Queensland, you will want to book now.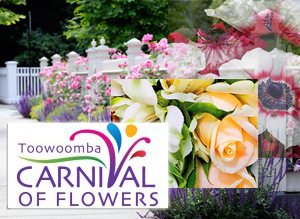 If you are in Brisbane and fancy some fresh country air, then why not strike out West to the charming country city of Toowoomba? Known as the 'Garden City' of Queensland, its streets are lined with gardens and trees that create a seasonal myriad of colour. Situated 700 metres above sea level on the crest of the Great Dividing Range, the views here are simply spectacular and the rich volcanic soil of the Range supports lush, green vegetation.
Every year in the Spring the city comes alive for the 'Carnival of Flowers', which is a fun celebration of the fertility and colour of Toowoomba.
There are plenty of National Parks near to Toowoomba that you can visit in your campervan and one of the most popular of these is the Bunya Mountains National Park, home to the largest remaining Bunya Pine rainforest in the world. These mountains are unique in the manner they rise abruptly out of the surrounding farmlands, and the variety of flora and fauna they support really makes them a special place to visit. Council and private campsites cater well to the camper hire holiday makers, who can expect a relaxing holiday with lots of bushwalking and sight-seeing.
Other attractive little towns lie within day trip distance of Toowoomba, so you will never be bored during your stay here. Heading north up the Great Dividing Range you will pass through scenic countryside and cosy hamlets such as Highfields, Cabarlah and Crows Nest. The latter is famous for its cafes, antiques stores and museum, and its pretty setting and friendly people will ensure you unwind and leave relaxed. This part of the world is very accessible from Brisbane, you just travel west along the Warrego Highway for couple of hours and you reach Toowoomba.
If this part of Australia sounds appealing to you, then use our planner below to check out campervans on offer for your travel dates.