Tour The Tropics In Townsville
Pristine Pallarenda Beach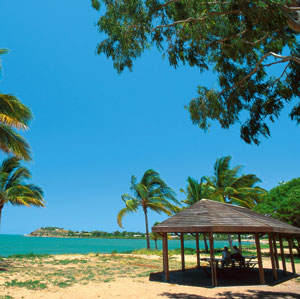 For the ultimate tropical holiday in
Queensland
head to Townsville and take a couple of weeks to explore this pretty little city and its beautiful surrounds. Townsville is unique because there is a convergence here of all the differing landscapes that make Queensland such an amazing and diverse state.
Bordered by pristine, palm-lined beaches, it has the incomparable Great Barrier Reef to its east. Just a couple of hours drive west brings you to real 'outback' country, and the friendly towns and farms here will show you what country living in Australia is all about.
To the north are the dense rainforests and the beautiful islands near Mission Beach, and to the south are the sugar cane and mango farming communities. All these options make Townsville the perfect destination for a
campervan hire
holiday, you really are spoiled for choice as to where to go and what to see and could probably fill a thousand holidays to this region.
Townsville has become synonymous with Magnetic Island, and no visit to these parts is complete without a trip out to this dramatically beautiful Island. Just a twenty five minute ferry ride brings you to the rocky granite headlands that characterise the island, and once landing you can choose from twenty three bays and beaches where you can swim, snorkel or just soak up the sun. The middle of the island reaches a high point in the form of Mt Cook, a tall mountain covered in thick forest that offers a myriad of bushwalking opportunities. Accommodation options range from the cheap to the luxurious, so why not stick around and enjoy the sunshine of Magnetic Island for a while.
To escape the coast and absorb some country atmosphere hop into your
campervan hire Queensland
and strike out south west to the town of
Charters Towers
. The drive will only take about ninety minutes, but the changes in scenery over this time are striking. The wide open spaces become a little wider, the vegetation gets a little drier, but the Queensland ambience and distinctive beauty remains the same. Charters Towers is an old established gold rush town, and its heritage and history is evident from the moment you drive in. The architecture is stunning, and there are over 60 buildings of historical significance in the region.
The presence of the gold mining days is still very much evident, so take some time to explore the town and learn a bit about its history. For something different head out to the Burdekin River or Dam and try fishing for some of the game fish barramundi, which put up a good fight and make an even better meal.
Heading north from Townsville is another popular touring option. A two and a half hour drive through banana plantations and cane fields brings you to the bustling yet relaxed beach town of Mission Beach. In this tropical paradise the rainforest literally barges its way down to the golden sands of the beaches, providing the unique opportunity of enjoying time on the beach with dense vegetation just a few metres away. The residents here are big on ecological preservation, making the town a shining example of how tourism can be tied in with caring for our natural environment. Australian wildlife flourishes in these surrounds, so keep an eye out for cassowaries, crocs, koalas and kangaroos. There is an endless array of other activities on offer, from jet skiing to kayaking to scuba diving, so any holiday to Mission Beach is guaranteed to be filled with excitement.
So there you have it. Townsville and its surrounding regions just can't be surpassed for a touring holiday, its just up to you to start fitting them into your
travel itinerary
!
Gavin Wyatt