1. Brisbane
The capital city of Queensland has a lot on offer! From its vibrant cultural hub and man-made inner city beach at Southbank to the beautiful Stradbroke Island getaway. This city is all about its outdoor lifestyle, with beautiful sunny weather, al fresco dining, live music and theatre and reliable public transport. Another great opportunity to experience panoramic views of the city is to climb the Story Bridge.
2. Gold Coast
Amazing beaches and tourist attractions galore sum up this city. With 5 theme parks, the infamous Surfers Paradise strip, food and dining experiences and an active night life be prepared to be on the go from dusk til dawn.
3. Lamington National Park
Inland from the Gold Coast, this national park is a beautiful and spansive tropical area with bushwalks, mountain climbing, camping and lookouts.
4. Glasshouse Mountains
Home to Australia Zoo and the impressive Mount Tibrogargan, the Glasshouse Mountains are just north of Brisbane and provide some of the best walks and exhilarating lookouts. For those who dare, you can rock climb any one of the breathtaking and challenging mountains in the area.
5. Noosa
A popular hub in the Sunshine Coast, north of Brisbane, Noosa has great shopping, beaches, boating, water sports and annual events like the Noosa Triathlon. Noosa is one of those places where you can go on a budget or live life large, it equally caters for both from numerous camp grounds to some of the highest fine dining restaurants in Queensland.
6. Montville
Located in the Sunshine Coast hinterland, Montville is a beautiful, mountain-top town. From one side you have views of the ocean while on the other side rolling country side. With unique craft and antique shops, fine dining, camping and weddings you can't go past the Montville fudge shop, Fudgyboombahs has quite possibly the best home made fudge you will ever try!
7. Sunshine Coast
Popular with tourists, the Sunshine Coast is a beach bonanza! Kilometres of pristine sand and surf line the east coast of Queensland and the Sunshine Coast is the easiest place to access these beaches. Relax and unwind is the theme of this place.
8. Mackay
A beautiful part of Queensland, Mackay has some amazing national parks to explore, from the coastal Cape Hillsborough National Park where you can walk along the beach and enjoy encounters with kangaroos to Eungella National Park which boasts the most ecologically diverse rainforest system in Queensland.
9. Lower Barrier Reef Islands
This is the place to go if you're keen on exploring coral reefs or diving. With Heron, Lady Elliot and Lady Musgrave Islands to choose from you can't go wrong.
10. Townsville
From national parks to beaches and snorkelling there are plenty of natural wonders in Townsville. There are also plenty of tours, particularly run by the Indigenous communities of Townsville. On these tours you get to meet elders, eat bush tucker, hike, do weaving and hear stories from the Dreamtime.
11. Airlie Beach
The gateway to the Whitsundays, Airlie Beach has amazing tours and day trips on offer. Key to-dos at Airlie Beach include indulging in great food and wine and sailing adventures.
12. The Whitsundays
Whitehaven Beach, The Great Barrier Reef and 74 tropical Islands. This is the Whitsundays! Magical in nature, there is so much to see and explore here. Overnight sailing tours, snorkling, diving, swimming, eating and just relaxing in general is merely the tip of the iceberg of things to do here.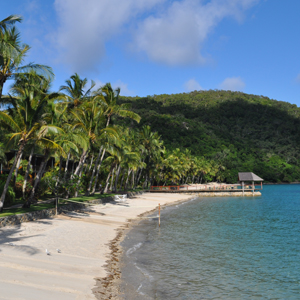 The Whitsundays
13. Cairns
One of Queensland's most northern cities, Cairns is known for its tropical weather, warm waters and tourist attractions. Catch a catamaran to Green Island or continue further on for some game fishing. The harbour at Trinity Outlet is always crammed with yachts and fishing boats while inland the Barron Gorge National Park offers great driving with the popular skyrail at Kuranda, and the scenic Atherland Tablelands in the hinterland.
14. Daintree Rainforest
Located in Far North Queensland, the world heritage listed Daintree lies side by side with the Great Barrier Reef at its doorstep. Known for its extensive rainforests, the beautiful Daintree River, swimming holes and walking trails, it is untamed and diverse.
15. Emerald
There is plenty to do in this outback town west of Rockhampton. The Mazeppa National Park offers tourist walks and incredible scenery. You can fossick for gems, visit Lake Maraboon, the Emerald Museum and Pioneer Cottage or simply camp under the stars and enjoy a break from the city.
16. Longreach
Known for the famous Stockmans Hall of Fame, Longreach is a famous outback town also known for its Qantas Aviation Museum. Visit Starlights Lookout for a view of the town, or drive to the Thompson River for a cruise or fishing spot. There are sheep stations further out you can visit for a day or two, the perfect escape from the city life.
17. Carnarvon Gorge National Park
Carnarvon Gorge truly is an oasis in a parched desert. There are a number of bushwalks which will take you to the top of the gorge at Boolimba Bluff, down to the stunning Moss Caves and the Ampitheatre below complete with Aboriginal rock art. Carnarvon pools are refreshing plus there are all varieties of wildlife and birds to experience.
18. Mount Isa
You will find this oasis city in north west Queensland, surrounded by the Selwyn Ranges. With unbelievable sunsets, fishing spots and endless tourist spots this mining town is a unique destination. Best nearby attractions are Lawn Hill Gorge National Park and Riversleigh Fossil Fields.
19. Roma
Experience the Queensland outback in all its elements. Roma is a great base to explore the surrounding outer towns such as Injune, St George and Charleville. One of its main attractions is The Big Rig, which can't be missed when you drive into town, or why not visit the Roma Villa Winery and Meadowbank Museum before you leave. There are rodeo's and cattle stations, and one of the biggest attractions is the locals, who will make you feel right at home.
20. Toowoomba
Toowoomba is a pretty city also known for its gardens and flower festival in Spring. It is the gateway to the Darling Downs and the West, and natural attractions such as Crows Nest National Park and Lake Cressbrook. Visit the Bunya Mountains for ideal camping spots and scenery. Further west is Oakey, Chinchilla and Dalby for some country driving.
21. Stanthorpe
Known as Queensland's wine capital, southern Stanthorpe is popular for its festivals, abundance of fruit and vineyards. Close by are incredible National Parks such as Girraween, known for its wildflowers, the Bald Rock National Park and Boonoo Boonoo National Parks are also famous for their granite rock formations. This is the perfect location for a cosy weekend getaway with campervan hire.