Tennant Creek And The Territory
The Devil's Marbles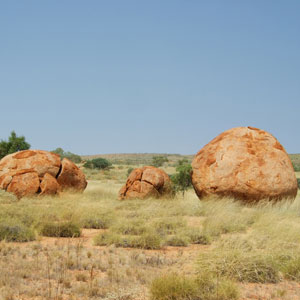 Central Australia's golden town, Tennant Creek, is surrounded by large cattle properties, rocky outcrops and vast outback tablelands stretching as far as the eye can see.
Alice Springs
is within a day's drive south, with Darwin an easy few days north. For the
campervan hire Darwin
traveller, you can choose each day where you want to base yourselves to explore the rugged Australian terrain or spend a few days close to town to enjoy the local attractions.
One of the most famous local landmarks, the Devils Marbles, is located just over an hour's drive south of town. These massive round boulders seem to be suspended in space, and are impressive at dusk when they seem to glow red with the sunset. There is a walk here which takes you to the best viewing spots and there is a great campground if you want to stay a while longer to enjoy all this region has to offer.
Not far is the Davenport Range National Park, which offers beautiful scenery, attracting locals and tourists from all areas. The Old Police Station Waterhole is one of the most well known features of the Park, and is easily accessible from the main road. Come here for a picnic and swim to enjoy the hidden treasures of the central territory.
Head east and you will find the Barkly Tablelands, known for their rich cattle grazing land. Travel along the Overlander's Way towards the
Queensland
border and you will be on the same trail as the stockmen who first drove their herds into the Territory from Queensland. Stop at the Barkly Homestead for a coffee and chat to the locals, enjoy the remoteness of central Australia at its best.
There are a number of caravan parks in town, but you might want to head one of the many camping grounds further out of town for an outback adventure. Bring all your own supplies and be prepared for incredible nights under a canopy of stars, camp fires and fun filled days either exploring the surrounding terrain or simply relaxing in a deck chair reading a book.
A great place to stay for the night is the Threeways Tourist Park, named because you can travel in three different directions - north, south on the Stuart Highway or east onto the Barkley Highway. It is the perfect base to visit the local attractions with excellent facilities.
You can't visit Tennant Creek without panning for gold. You may not strike a big nugget, but there's still tales of visitors coming home with a lot more than they bargained for. Battery Hill Mining Centre is a few minutes away, which has an interesting museum and guided mine tours. This will give you a greater appreciation of the local industry and history of the area. The Peko and Eldorado Mines are the most famous, established when Tennant Creek was put on the map during its famous gold rush.
For a quick getaway, head to the Mary Ann Dam which is only five kilometres north of town. Bring a picnic lunch and enjoy a refreshing swim or spot of fishing. With plenty of wildlife and birdlife here you might want to schedule some time here. Continue on further north to visit the Pebbles, which are often referred to as a smaller version of the Devils Marbles. These large boulders set off stunning scenery, and being so close to town are worth visiting to capture the spirit of the outback.
Tennant Creek is a great base to explore much of the surrounding territory. There are certainly plenty of far horizons and rugged mountain ranges in every direction, and the whole region seems to typify the Australian outback at its best. Its vast stretches of grassy plains and long, dusty roads beckon you to explore what lies beyond the horizon. You will love the freedom your
campervan hire
brings to enjoy every day of your trip to the territory.
Jenny Brewer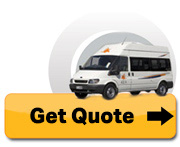 Related Information
Threeways Roadhouse Our Park features spacious, shady and grassed sites for Caravans and Campers in an outback setting.