The Beautiful Beaches Of Queensland
Beachfront on South Molle Island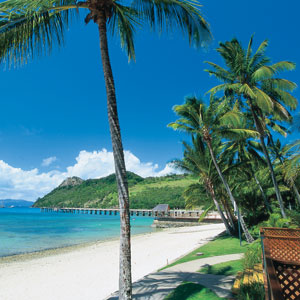 Queensland's beaches rank right up the top with the best beaches in the world, with visitors flocking from every direction to enjoy the long white coastal stretches and shimmering waters. From Coolangatta through to
Daintree
in the far north, you are guaranteed a taste of paradise. The ideal choice of travel is by
campervan hire
, as you have the freedom and flexibility to stop as long as the waves are rolling and the sky is blue. There are plenty of caravan parks dotted up and down the Queensland coast, ideal to be used as a base to swim and explore.
Growing up in
Queensland
, I spent most of my holidays on the Gold Coast, and today's favourite tourist beaches were my playground. Coolangatta, located about half an hour from Surfers Paradise, has an esplanade perfect for small children to paddle, and is also a popular meeting place for surfers. Further up is beautiful Burleigh beach, known for its pine trees lining the sand. Although a lot more populated than all those years ago, this is still one of the premier beach locations on the coast. Nobbys and Main beaches are long and inviting. There is plenty of space for families, surfers and sunbathers. Sunrise is one of the favourite times to enjoy the salt air and meet the early morning walkers, populating the shoreline up and down the coastline. Surfers Paradise is the most famous and known as the tourist strip for obvious reasons. The beaches are fantastic and excellent for surfing, but I would stick to the local beaches just to get some towel space.
The
Sunshine Coast
beaches have a more relaxed pace, Maroochydore being my favourite. With excellent surfing beaches, ideal caravan parks (Cotton Tree is one of the best) and large shopping centres you could spend weeks here and always have something to do. Alexandra Headland is one of the most popular locations for surfers, with breaks to be found along most of the coastline.
Noosa Heads is one of the most well known destinations on the north coast, with an abundance of holiday choices. There are four beaches, the most popular at Hastings Point for swimming and surfing. Tea Tree and Granite Bay are more suitable for experienced surfers. From Hastings there are some easy beach walks taking you around the headland to a lovely beach alcove. The beach is the heart of Noosa and every walk seems to wind back to its sandy stretches.
Once you start the trek up to
Cairns
and beyond, you need to plan your itinerary and then take the plunge as there are a lot of miles in between. However, the rewards are priceless, with exquisite pure white beaches waiting for you. Close to three hours from Brisbane, Fraser Island is the world's largest sand island, with the equally beautiful Rainbow Beach a complete destination in itself. The advantage is that crowds are smaller and the beaches are endless, the perfect place to escape. Halfway between Cairns and Townsville is an undiscovered paradise, Mission Beach. There are not many places where the sun shines every day of the year (well almost) and the rainforest meets the sand and coconut palms. Combined with the pristine, flat beach and rippling waves you have the ideal tropical holiday.
The beaches just north from Cairns are unique and unparalleled. The most famous is Palm Cove, offering something for every type of beach holiday maker. There is a long jetty for fishermen, plenty of water sports, tall palm trees lining the entire stretch of beach and a number of restaurants and shops when you need a break from the sun. Surfers may have to venture elsewhere, such as Yorkey's Knob where half metre waves are delivered which still a bonus for this region.
Trinity Beach is another favourite with locals and tourists and easily accessible from Cairns via the Captain Cook highway. The Cairns esplanade now features a large lagoon ideal for families, and a great retreat for those who would prefer to base themselves close to the city.
Heading further north to Port Douglas, Four Mile Beach is one of the last of Queensland's jewels. This is remote and beautiful, with the palms common to this area combine to create the perfect holiday destination. Although this area is common to stingers there are nets in place so you can still enjoy a swim.
Whichever location you choose, you will have to keep coming back to make the most of the sun, surf and sand in Queensland greatest treasures, its beaches in your
campervan hire Queensland
.
Jenny Brewer