Driving The Queensland Coast
The Barron Falls Near Cairns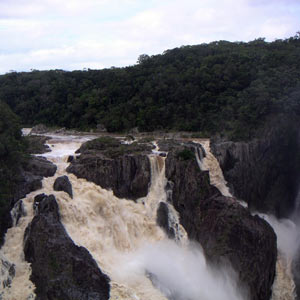 Some of my fondest childhood memories are of Dad piling us into the back of the old Ford and heading north on a road trip from Brisbane via Gladstone, Mackay, Townsville and eventually tropical Cairns. The enjoyment was not just in the destination, but the sights, smells and adventures along the way. Combine this eternal route with the freedom of a
campervan hire
and you have the ideal framework for a memorable road trip. You could allow just over a week through to one long, sunny month (or more) enjoying the diversity of each region up and down our famous coastline.
The beauty of the
Queensland
coast is that every town has a story, plus a landmark that often becomes personal. As we navigated the coastal roads annually, each town we passed became more familiar. Heading away from the grips of
Brisbane
, the sunshine coast beaches were a prelude to what lay ahead. Caloundra through to Noosa are havens in themselves, each area worth a few days to explore the inland river systems and brilliant beaches.
Keep driving and you reach Hervey Bay, gateway to the famous Fraser Island National Park and Queensland's whale watching capital. There are a number of day trips across the barge, showcasing one of our greatest national treasures. Less than an hour afield, beautiful Bundaberg is an ideal base to visit Lady Elliot and Lady Musgrave Islands, each uniquely distinctive offering popular day trips.
Head further north to Gladstone and maybe stay a while. Now marked as a premier tourist destination, Gladstone offers a plethora of attractions. Beautiful Heron Island can't be missed, and a wealth of national parks, including Cania National Park, offer excellent caravan parks and gorgeous bush walks. Decades before on our quick road trips, we bypassed Gladstone playing eye spy, unaware we were missing out on such beautiful reefs, islands and scenery.
Rockhampton
has plenty to offer, with fun Great Keppel Island perfect for a day trip, or fabulous national parks inland, and is close enough to half way to deserve some attention before the final stretch to Cairns. Coastal Yeppoon and Emu Park are worth a visit, or maybe jump on a charter boat for some serious fishing action.
Close to three hours later, just before you reach Mackay you will find a hidden jewel, the Serenity Coast, merging from the small town of Sarina. This coastal road will take you along some fantastic scenery with plenty of spots to stop for a while to enjoy the views.
Mackay is not only surrounded by sugar cane plantations, but is also home to the beautiful Brampton Island, Eungella National Park and Finch Hatton Gorge, each with amazing lookouts and incredible walks. Further north are the amazing Whitsunday Islands located just off
Airlie Beach
. This entire area deserves slow exploration. Whitehaven Beach stands out as a 'must see', with sand so white it's dazzling. There are plenty of day trips that will take you island hopping as well as to this natural wonder.
The next stretch to Townsville always had me wide eyed. There are mango trees everywhere, and the coastal views of the Whitsunday Islands are fantastic. Townville has grown into a thriving tropical metropolis, and there is plenty to do in every direction. Visit majestic Magnetic Island, or take the family to Reef HQ, the largest living reef aquarium in the world. It's all palms and reef from here to Cairns. You are in the heart of tropical paradise, with beaches right outside the steps of your
campervan hire Queensland
.
You have a choice of Dunk Island, Mission Beach or the Kuranda Railway once you finally arrive in Australia's tropical city. Green Island is always a favourite, visible from the city and so easily accessible. Cairns was always a favourite destination of mine, more than likely because we would anticipate our arrival for so long on our journey north. It was always worth every kilometre to arrive in paradise, right on the doorstep of the famous Great Barrier Reef.
The beauty of a campervan is that you can take your time to head home and turn your itinerary head to toe if you choose, or bask in the sunshine one of the hundreds of beaches and national parks anywhere on the Queensland Coast.
Jenny Brewer