Beautiful Brisbane
The Beach at South Bank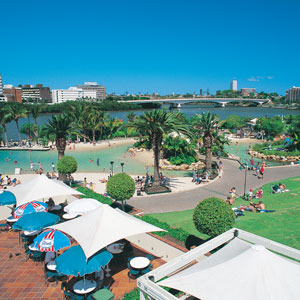 Brisbane city is relaxing, friendly and vibrant, and an ideal base for your campervan holiday. You will find cheap
campervan hire Brisbane
here, which means you can enjoy the city to its fullest. Brisbane deserves more than just a quick visit and a camper van will make your experience here an adventurous and enjoyable one.
With over two million residents, Brisbane is no longer the 'small country town', but Australia's third largest city. Located in South East Queensland, it is internationally appealing for many reasons, mostly it's accessibility to breathtaking scenery and tourist attractions.
There are not too many cities which could boast such diversity as city skylines, theme parks, island resorts, mountain ranges, pristine beaches and rolling countryside, all within an easy hour's drive.
The subtropical climate brings perfect sunny weather for most of the year, with an average temperature of 30 degrees, so bring your hat, sunscreen and light clothing. Winters are mild and still sunny, with an average of 15 degrees. You should also bring comfortable walking shoes as there are myriads of spectacular walking and bike tracks close to the campervan parks within Brisbane and surrounding suburbs.
Buzzing with culture and style, the city centre offers first class restaurants and an extensive shopping mall. A great idea is to park your
campervan hire
at South Bank and walk across the bridge to the city as parking can be expensive.
The South Bank parklands deserve a full day to explore the sandy lagoon, shops, cafes and restaurants. On weekends there are free concerts, plus unique art and craft markets. The promenade is always beautiful at night with the colourful lights of the city just across the river, and the Kookaburra Queen paddle steamer is a crowd stopper.
You can't miss the Brisbane Botanical Gardens at Mount Coot-tha, which offer over 50 hectares of world class gardens and attractions. Entry is free, and guided walks are available. The views from the top of Mount Coot-tha are exhilarating, with sweeping views of the city skyline through to the islands of the bay.
Also located on the north side of Brisbane is Lone Pine Koala Sanctuary which is Australia's largest koala research and refuge centre, and home to a huge variety of birds and wildlife species.
If you are keen for some adventure, drive on to Kangaroo Point for the ultimate Storey Bridge Adventure Climb. This is the third bridge climb in the world and takes in a magnificent 360 degree panorama of the Brisbane city.
Redland Bay is popular with Brisbane locals and tourists alike and easy to reach being only 40 minutes from the city centre. The bay islands offer great fishing, breath-taking beaches and unforgettable scenery. There are so many terrific spots to park and relax for a couple of hours, and if you have some time there are frequent ferry and barge services departing for Russell, Lamb and Macleay islands.
The barge to Stradbroke Island takes 45 minutes from Cleveland and is a worthwhile and popular day trip. The rugged scenery, inland islands and massive sand dunes are unforgettable. You might prefer to stay a few extra days to appreciate this magnificent island, and there are numerous camping grounds so you can enjoy your home away from home.
Brisbane is also a great location for exploring the
Queensland
countryside and surrounding country towns. Toowoomba, 'the garden city' is only a few hours away, and a memorable day trip with antique shops and fruit barns scattered along the highway. Fantastic day trips also include the famous Australia Zoo and Underwater World on the
Sunshine Coast
, with majestic scenery such as the Glasshouse mountains which can be enjoyed while you are driving.
Travelling south, the Gold Coast is host to major theme parks including Seaworld, MovieWorld and Dreamworld, not forgetting long brilliant beaches and the majestic Gold Coast hinterland, all only an hour from Brisbane. Just before Oxenford, take some time to visit the Strawberry Farm, pat the old camel and try one of their signature strawberry icecreams.
Brisbane has everything for the international traveller and local tourist alike and is the perfect base for a fantastic
campervan hire Queensland
holiday. Once you have discovered its treasures, it will be difficult to leave this sunny city.
Jenny Brewer