Beautiful Beerwah And Australia Zoo
Mt Coonowrin and Beerwah Mountain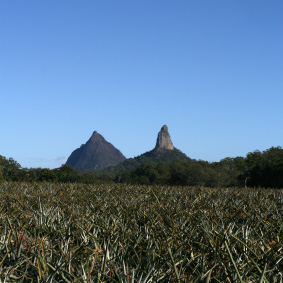 There are not many places in the world as loved and talked about as Steve Irwin's Australia Zoo, home of his beloved crocodile and myriads of other wildlife friends. Visiting South East Queensland would seem incomplete without a day or two allocated to this fascinating attraction.
You can find cheap
campervan hire Brisbane
and then head north an hour on the Bruce Highway, heading to the Sunshine Coast. This is one of my favourite drives, with pine trees lining the highway and clear open skies ahead. You know you're getting closer when the Glasshouse Mountains come into view, a mesmerising panorama of bluffs and sheer cliffs that rise up to the clouds. Many tackle Mount Tibrogargen and Mount Beerwah, with their spectacular views a drawcard for adventurers all over the world.
Once you have seen these mountains you will know you are close. Beerwah is accessed via the Steve Irwin Way just left off the Bruce Highway. Most visitors to this area have one destination in mind, Australia Zoo. And why wouldn't they? However, this part of the world was still gorgeous before the zoo, with the Blackall Ranges skirting the borders, and untouched natural beauty in every direction, it was just a matter of time before the world came to visit.
My first impression of Australia Zoo was of complete excellence and dedication to the preservation of wildlife. There is something for every age group, and each attraction is fascinating and educational. The Crocoseum is centre piece, with seating for thousands surrounding the crocodile pool. The shows are entertaining and passionate, just like Steve Irwin, with just as much support and enthusiasm from the audience.
Don't leave without a python photo, and some time out at one of the many food kiosks available. You could easily spend a few days here (or longer) learning about our valuable wildlife and getting back in touch with nature at its best. My children were in awe of the giant turtles, albino kangaroo and gentle elephants. It's an experience everyone who visits Australia will never forget.
If you want to stay a while, my choice would be the Landsborough Pines Caravan Park, located just two kilometres from Australia Zoo. With excellent facilities and a fantastic location surrounded by trees and parkland, you might end up here for a while. Just fifteen minutes to Caloundra, you can take a number of day trips from here to enjoy the
Sunshine Coast
hinterland or the sunny beaches.
Montville is perfect if you feel like a step back in time with craft shops and art galleries galore. There are fantastic bushwalking tracks, and spectacular views across the Blackall Range and through to the Coast. Take a relaxing drive with your
campervan hire
through to Maleny and Mapleton and enjoy the quaint shops along the way.
Head to Maroochydore (just fifteen minutes away) for a day trip and if you are heading further north to Noosa, don't forget to drop in on the famous Eumundi markets complete with entertainment, art and craft, local cuisine and fresh food. Held on Wednesday and Saturday mornings, try to time your itinerary around this fun outing.
There are plenty of activities central to Beerwah. Not only is their an abundance of mountain climbing and walking tracks available, but horse riding is also popular here, as is fishing, swimming and canoeing. The Beerwah Golf Club provides a challenge for the amateur through to the avid golfer, complete with kangaroos observing on the fringes.
Just down the road at Landsborough, still on the Steve Irwin Way, is the Big Kart Track, perfect for the kids and big kids at heart. Another attraction here is the Bungy Bullet, not for the faint hearted, but another great thrill close to home.
If you haven't already, mark Beerwah and Australia Zoo on your to do list when you next visit
Queensland
. There is such diversity in this region alone, with a great choice of attractions and things to do. You can put your feet up and relax a while in your
campervan hire Queensland
, or head out daily and never tire of the natural beauty so close to home. It's beautiful every day.
Jenny Brewer