The Discovery Coast of Queensland is the first place Captain Cook came into contact with when he discovered the continent, and one can't help but envy him the untouched sites he would have seen.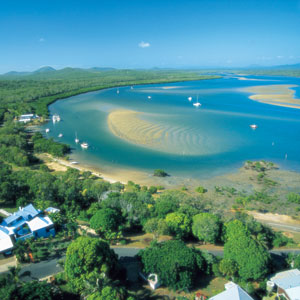 The Town of 1770 marks the first place that his crew landed, and together with its twin town of Agnes Waters they are Queensland tourisms best kept secret. The word is spreading and the crowds are flocking in, so hire one of our cheap campervans and go see what all the fuss is about. Have a read of this article for some extra persuasion.
The beaches are a highlight here, with everything and more you would expect to find in a coastal tropical paradise. Agnes is the location of the last beach where the waves reach the shore and surfing is available, any further north and the Great Barrier Reef gets in the way. Do a bit of exploring and you will find perfect, isolated spots on the coast where it is just you, nature and the water.
Lady Musgrave Island is a must-see whilst here. This unspoilt island sits on the edge of an 8 kilometre wide coral lagoon that offers the most amazing diving and snorkelling this side of the barrier reef. The island thick and lush and bordered by white beaches - just begging to be explored. Glass bottom boats do tours around the lagoon for those who want to see the marine life but dont fancy getting wet.
There are a couple of National Parks here, Deepwater and Eurimbulla, whose diverse landscapes are perfect for exploring in campervans. Cheap camping facilities are available and most areas are accessible on sealed roads. Enjoy the abundance of wildlife and the well preserved vegetation here.
So if Agnes Waters and the Town of 1770 sound appealing why not use our planner below to check the types of campervans on offer?