Queensland's Discovery Coast: Agnes Waters And The Town Of 1770
The Clear Waters of Round Hill Inlet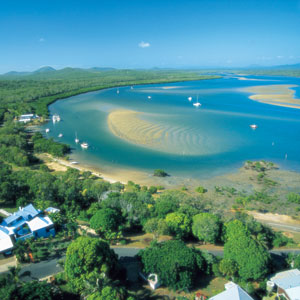 Queensland's Discovery Coast is named so because it was the first stretch of coast that Captain James Cook and his landing party made contact with. One can't help but marvel at what their first impressions of this continent were. Pristine white beaches merge into azure blue waters, and the presence of large groups of palm trees up the coast completes the picture perfect tropical setting of the region. The Town of 1770 marks the spot of their first landing in the year 1770, and just south is its twin town of Agnes Waters. Together they make up one of the most serene, relaxing and beautiful tourist destinations in the whole of Queensland, if not Australia.
The 495 kilometre drive from
Brisbane
is a pleasant and easy one to make in your
campervan hire Brisbane
, taking you past the beaches and through the thick forest of the Sunshine Coast and up past Hervey Bay and Fraser Island. Upon reaching Agnes you will be amazed by the lack of urban development and the manner in which the town blends in with its surrounds. Development laws are strict, limiting the height and the number of buildings allowed in the region. Locals are fiercely proud of their natural and historical heritage, and are determined to preserve the region in as close a form as to how Cpt. Cook would have found it.
With tourism being the biggest source of income for the region, all modern amenities you might need on your holiday are available, ensuring your stay in either of the towns will be pleasant, relaxing and well catered for. Locals are friendly and always keen to help visitors enjoy the region to its fullest potential.
The Great Barrier Reef is just a short boat trip away, and there are numerous tour operators that will take you out there for diving or snorkelling. However, the real selling point of the area is Lady Musgrave Island, an amazing unspoilt island that sits on the edge of an eight kilometre wide coral lagoon. Completely unique to the area and to the entire reef, the lagoon offers sheltered diving conditions that many divers claim to be the best in the world.
An incredibly colourful array of marine life is found in amongst the coral cay, with over 1200 species of brightly coloured fish complementing over 200 species of coral. There are many tours to the island, and if you don't feel like getting wet then you can still experience its underwater wonders through the glass bottom of specially designed viewing boats.
The island itself is covered in a thick coating of prisonia rainforest that is home to lots of tropical flora and fauna, and the white beaches that border it are perfect for some relaxing tanning.
Agnes Waters is famed as having the most northerly surf beach in
Queensland
, the last spot where you can catch a wave before the Great Barrier Reef stills the waters. Boards are available for hire, and experienced surfers are on hand to give lessons to beginners. There are plenty of beaches close to either town, and a bit of exploring in your
campervan hire
will undoubtedly lead to secluded white, sandy beaches that you will have all to yourself.
If you fancy doing a bit more exploring, then you have a choice of two National Parks to head to, Deepwater NP to the south and Eurimbulla NP to the north. Eurimbulla is characterised by stark transitions between vegetation and landforms, with plant communities changing between mangrove estuaries, paperbark swamps, eucalypt forests and rainforest. This makes for intriguing touring in your motorhome, as everyday will produce something different. Deepwater NP includes the catchment of Deepwater Creek, an undisturbed coastal freshwater stream. There is also an incredible diversity of coastal vegetation, and of course numerous beaches. Camping facilities are available in both parks, and offer rudimentary facilities. These camping grounds are subject to fees, so be sure to check in at the local ranger office.
Being situated on such an impressive coastline means that any drive to Agnes Waters and the Town of 1770 is going to be a scenic one, and the wealth of attractions in and around the towns makes the trip all the more worthwhile. With the popularity of the region growing amongst tourists, they are not going to be Queensland's best kept secret much longer. So if you are after serenity, lush tropical landscapes and beautiful coastline then be sure to look into the Discovery Coast for your next holiday.
Gavin Wyatt