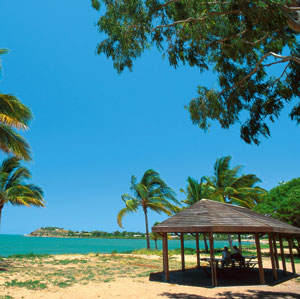 The size of Queensland makes it impossible to take in all the differing landscapes and environments of this great state without travelling long distances. There is one city, however, where the outback and the rainforest and the coast and the countryside all seem to meet. This city is Townsville, and the diversity of its immediate surrounds and the attractions in the town itself make it the perfect destination for a camper van holiday.
About 1500 kilometres north of Brisbane or 348 kilometres south of Cairns most people would fly to one of these airports, pick up their hire camper van and commence their tour from there.
A long and rich history and immeasurable depth of culture give this city a unique character that is very evident when walking through its centre and its streets. Restaurants and galleries will entice you in, and the shopping is second to none. And if you get bored of this, then just round the corner are some of the most beautiful palm tree-lined beaches in the country where you can soak up the sun and go for a dip. This article gives you more ideas on beaches to visit in Queensland.
A popular trip from Townsville is to head north to Mission Beach. Although this town is small, it is bustling with activity and energy, with many tourists coming to sample some of the fourteen kilometres of beachfront here. Thick rainforest often converges onto the sandy beaches, giving the feel of a real tropical paradise. There are any number of outdoor activities for you to pursue here, with kayaks, canoes, jet skis and fishing gear for hire in the town. Tours and hikes to see the flora and fauna of the surrounding rainforest will also help keep you entertained!
If you want more of an outback experience, then strike out for Charters Towers, an historic gold rush town ninety minutes drive south west of Townsville. This town is proud of its heritage, and on its streets there are over sixty buildings of historical significance. Do the tours and learn about the gold rush, but don't forget to try your hand at fishing the nearby rivers and lakes, as the barrumundi grow strong and thick in these parts.
If Townsville and its surrounds appeal to you then use our planner below to check out camper van hire prices and vehicles on offer.