Top 21 Victoria Hot Spots
The Twelve Apostles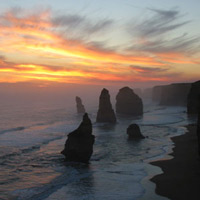 1. Melbourne
As Australia's second largest city,
Melbourne
is known for its diverse culture, fine restaurants, cafe and night life. Situated on the Yarra River, and inland from Port Philip Bay, there is so much to see and do. Attractions include Federation Square, Melbourne Aquarium, Melbourne Museum and of course the famous Melbourne Zoo. The parks, gardens, shopping and cultural ambience make this destination Victoria's number one top spot, and
campervan hire Melbourne
makes it easy to explore.
2. Ballarat
Known as Victoria's inland city, Ballarat is mostly known for its gold. It is still a big industry drawing tourists and gold seekers to this unique destination. You can choose from the Eureka Stockade Centre, Gold Museum or the Ballarat Fine Art Gallery. Sovereign Hill is a must see with its recreating of history during the 'Eureka Stockade'. Only 90 minutes from Melbourne on the Great Western Highway, it is great for a day trip or a stopover to enjoy all this city has to offer.
3. Geelong
Geelong is often known as the gateway to the Great Ocean Road, with amazing scenery in all directions. There are fantastic attractions close to the city. The Geelong Gaol is worth a visit, as well as the Ford Discovery Centre and the National Wool Museum which is great for the family. A very popular recreational spot is the Barwon River and Buckley Falls which are perfect for a bushwalk and picnic. Drive a bit further south to Ocean Grove for a swim and amazing scenery.
Geelong
truly has something for everyone.
4. Mildura
Mildura is Victoria's most productive fruit-growing area, with the mighty Murray River a drawcard for its many tourists. There is so much to see here, with Orange World, Gol Gol Fisheries and the Golden River Zoo some of the attractions. There are plenty of camping spots to choose from especially at the Mungal National Park, famous for its red sand dunes. Board a paddle steamer for a day to see the Murray River at its best. The PS Melbourne and the Rothbury both offer daily trips. Fantastic for a the whole family, Mildura is wonderful tourist spot.
5. Snowy River National Park
Known for wild horses and magical sunrises, this is Victoria's High Country at its best, with some of Australia's best ski fields close by, and popular for all types of outdoor sports such as abseiling, horse riding, canoeing, bike riding and hiking. There is incredible scenery here, with incredible gorges and river systems and plenty of fantastic camping spots for
campervan hire
. The best way to get there is via Buchan (from Jindabyne) along the Barry Way which will lead you to some amazing cave systems. The Buchan Caves are definitely worth a visit.
6. Macedon Ranges
Close to an hour out of Melbourne, this is a great spot to visit to escape the heat and enjoy the local wines and fruits of the region. With the Great Dividing Range and central highlands as a backdrop, visit attractions such as the Hanging Rock, and the
Macedon National Park
which has plenty of beautiful camping sights to choose from. The Cope Williams Winery, Mount Macedone Winery and Cobaw Ridge offer excellent local wine tasting and stunning scenery in every direction. Mount Macedon also has incredible gardens open to the public.
7. Lakes Entrance
If you love water sports, you will love this region. Located close to Ninety Mile Beach, Lakes Entrance offers panoramic ocean views in every direction. It is a popular holiday spot situated where the Gippsland Lakes meet the ocean. Lake Tyers is fantastic for a picnic, and perfect for a drive through its forest park. The most popular activities are fishing and boating, with so many waterways to choose from, and it is a perfect destination to relax and enjoy the surrounding coastal beauty.
8. Wilsons Promontory National Park
Wilsons Promontory can be found at the Victoria's southern tip along the South Gippsland Highway. With incredible scenery, wildlife and rock formations, it is a stunning place to visit, and there are plenty of walking trails and beaches accessible mostly by foot. Camping facilities can be found at Tidal River which is the closest town to the Promontory. It is a remote location, but the natural beauty is worthwhile for those who love the wilderness of Australia.
9. Bendigo
Close to the centre of Victoria and known for its gold mines, Bendigo is a thriving urban city that is fascinating to visit. There are a multitude of options for the traveller. Visit the pottery museum, take a tram tour or visit the central Deborah mine for an underground experience you won't forget. The Whipstick Forest outside of the city is perfect for a picnic and stroll, but if you are opting for a day trip, you have the choice of Elmore, Castlemaine, Maldon and Heathcote all equally as impressive.
10. Grampians National Park
The third largest national park in western Victoria, the Grampians offer incredible bushwalking, camping and scenery. Halls Gap is a central tourist destination in this fantastic region, and is a great base for your adventures. If you are travelling from the south, Dunkeld is the ideal entry point and a picturesque place to stay for a while. It is perfect for
campervan hire Victoria
, with plenty of safe roads and driving routes to take you into the heart of this amazing Victorian paradise.
11. Mansfield
Mansfield is on this list for its country appeal, proximity to popular attractions and stunning beauty. Especially well known to horse lovers and favourite 'Man from Snowy River', this is the high country with a long history. It is also popular for bike riding, fishing and snow skiing at nearly Mount Buller and Mount Stirling. Situated a few hours north from Melbourne, there are plenty of adventure activities available, and the drives in all directions are spectacular.
12. Great Ocean Road
This is without doubt one of Australia's most scenic drives which takes close to four hours to complete. Stretching from Torquay through to Warrnambool, you will see cliff faces, ocean rock formations, rainforests and stretches of coast that can not be described. The road close to the Port Campbell National Park offers incredible scenery, and there are plenty of camping spots and accommodation offered along the way if you want to spend more time here. With waterfalls and walking trails inland and the best drives in the world along the coast, you need to experience this incredible Victorian hot spot.
13. Phillip Island
Known for its penguins and incredible sunsets, the remoteness and natural beauty of this island captures the heart of everyone who visits. Located south of Melbourne, the main town is Cowes which also has great beaches. There are plenty of walking tracks, and wildlife to see. The Philip Island Wildlife Park has to be seen, as well as the Koala Conservation Centre. The Penguin parade is by far the drawcard to this island, the best time being dusk as they return from a day out fishing.
14. Yarra Valley
Known for its wines, the
Yarra Valley
has a country appeal and also a great place to bushwalk, cycle and drive. One of the prettiest towns is Marysville, with amazing waterfalls and walks nearby. This area is perfect for a getaway day trip or overnight stay, with plenty of camping spots and accommodation to choose from. There are a number of national parks in the Valley, including the King Lake and Yarra Ranges National Parks. You will leave feeling relaxed and invigorated after your stay here.
15. Dandenong Ranges National Park
The Dandenong Ranges are made up of forest parks and beautiful gardens. A popular way to see the ranges is from the Puffing Billy steam train that takes you through scenic areas you normally would never see. Ferntree Gully National Park is a must with plenty of walking tracks and superb scenery. Located under an hour from Melbourne, it is a great day trip alternative with plenty to see and do. The Sherwood Forest and Thousand Steps are some of the natural attractions that draw plenty of locals and tourists to this incredible part of the world. The view from the Mount Dandenong Observatory also well worth the viist.
16. Apollo Bay
Located at the base of the Otway Ranges, and one of the most well known towns of the Great Ocean Road,
Apollo Bay
is the perfect place to relax and enjoy incredible ocean views. It is the ideal base to enjoy all this area has to offer, and you can do as much or little as you like. The harbour is a great place to picnic and watch the fishing fleets, or you can take a day trip to one of the waterfalls in the hinterland. You won't want to leave.
17. Bairnsdale
This is an ideal base to visit the lakes and wilderness area of East Gippsland, and is very pretty with the Mitchell River close by. It has everything you would expect in a city yet it is more a country town, and there is such unique wilderness on its doorstep that it can't be missed. There are a number of fascinating museums in town, but the best attractions are further out, with Raymond Island, Fairy Dell, Colquhoun Forest and Lakes Entrance all less than an hour away.
18. Mount Beauty
The name says it all. With scenic beauty in every direction, and easily accessible at the foot of the highest mountain in Victoria (Mount Bogong), Mount Beauty boasts incredible views and is close to plenty of amazing attractions. The popular Falls Creek is not far away and skiers often use this town as a base, as well as in the summer months to visit the Bogong plains. The drive here can be steep in some areas, but there are a number of picturesque lookouts, such as View Point, which will make the drive worthwhile.
19. Mornington Peninsula
This is one of the most ever changing scenic destinations in Victoria. With natural bushland, rugged coast lines, vineyards, orchards and farms dotting the countryside, the Mornington Peninsula is a relaxing and inspiring place to visit. Known for its superb wines, especially the Pinot Noir and Cardonnay, there are plenty of vineyards to stop in to wine and dine. With bed and breakfasts and a number of good camping grounds it is great to visit for a day trip or overnight stay.
20. Milawa
This is a very pretty little town set in the King Valley wine producing region, located in Victoria's high country. It is a great base for touring the area to visit the local produce including cheese, nuts, berries, honey, olives and of course, wine. Known for the famous Brown Brothers label, your palate will be satisfied as you enjoy a day trip to this hidden but incredibly picturesque region. Visit the Milawa Cheese Cafe and the Old Emu Inn. The Alpine National Park and Wabonga Plateau feature many walking trails with some sensational lookouts. There are plenty of festivals throughout the year, and the entire region is a top place to visit.
21. Halls Gap
Located in the Grampians National Park, just over 250 kilometres north west from Melbourne, Halls Gap can be found at the foot of the Mount William ranges and is the perfect base to visit the Grampians. There are plenty of bushwalking tracks, lookouts and waterfalls which will take more than a few days to explore. Abseiling, fishing and canoeing are popular, but for the less adventurous the Wildlife park and Zoo feature plenty of Australian wildlife. Some of the best inland fishing can also be found here. For all types of travellers, this is a unique and relaxing place for an enjoyable holiday.
Jenny Brewer 2007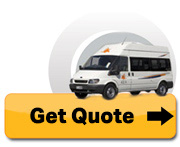 Related Information
Victorian Goldfields Railway Running through the Goldfields of Central Victoria, the Victorian Goldfields Railway brings to you the experience of Steam Train Travel.