Tall Trees Of The South West
A Winery in South West Australia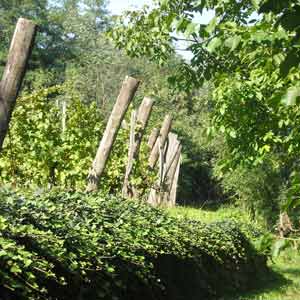 The south west region of Western Australia is one of the most beautiful locations in the southern hemisphere, with surfing beaches, diving reefs, limestone caves and ancient trees some of the natural attractions you will find here. It is a fantastic destination for your
campervan hire
holiday, with plenty of day trips and attractions to keep you coming back time and again.
The Margaret River Wine Region is one of the most popular areas to begin your sightseeing. It is central to most of the towns dotting the coast and known for its superb wineries and world class surfing. With its excellent camping facilities it is an ideal base to explore the stunning southern coastline located between Cape Naturaliste and Cape Leeuwin. You will need time to allow for photo stops, as it is a magnificent stretch of coast. There are myriads of bushwalking trails and national parks in the hinterland that make an ideal day trip with your
campervan hire Perth
.
Busselton is east of Margaret River and features one of the longest jetty's in Australia. This is also a stones throw from one of the most incredible artificial reefs in the world. The Underwater Observatory is a well known attraction, perfect for those who would rather keep their feet on dry land. There are plenty of windows to enjoy the coral and marine underwater world at least eight metres below sea level. You won't want to leave this captivating seaside town.
Apart from the coastal towns, there is so much natural beauty heading inland from the coast. A great way to see it up close is via the famous Bibbulmun Track, winding from Perth to Albany. The entire walk stretches over 1000 kilometres, which is a lot of walking. You can enjoy different sections of the track up and down the coastline, and there are many campsites along the track giving you more time to enjoy the scenery and walking experience.
If you did attempt the entire walk you would end up in
Albany
, famous for its incredible diving expeditions visiting the HMAS Swan wreck. There is also a whale museum giving you a closer look at the history of this coastal town, and of course a number of whale watching trips available. It is easy to feel like you are the first person to visit this untamed coastline, with miles and miles of pristine water stretching out as far as you can see.
A few hundred kilometres south from
Perth
, and west of Albany, you will find Walpole, which really does need to be experienced for its raw beauty. It is the perfect spot for a weekend away in the wilderness with its forests, rivers and national parks creating the ultimate haven for nature lovers. There are also plenty of sporting activities for the more adventurous, such as sailing, white water rafting, canoeing and fishing along the rivers.
Walpole is known mostly for its giant tingle trees, home of the Valley of the Giants Tree Top walk. Some of these trees are over 400 years old, and are so large you could almost park a car inside them. You will love the peace and tranquillity here among the enormous tingle trees, with a suspended bridge forty metres high taking you to the tree tops for incredible views.
Once again, travel on to Pemberton and you will be blessed with more towering trees which captivate every visitor. The Gloucester Tree is one of the most popular, as it can be climbed up to sixty metres for those not afraid of heights. To top it off, this town has amazing wines, food, lakes and even a steam train to take you back in time. Big Brook Dam is a popular spot for a picnic with the Beedelup Falls worth the walk for the stunning views. Pemberton is a central town to visit the South West region with many well known attractions within an hour's drive.
There is so much to see in this rich and diverse corner of Western Australia. Margaret River attracts thousands with its annual surfing competitions and wineries, and the national parks and forests in this area are so unique and untouched that they can never be forgotten. Time seems to stand still when you are faced with century old icons from the past. Wherever your campervan takes you, there will be plenty to talk about when you finally return home.
Jenny Brewer 2007