Shark Bay - Where The Dugongs Play!
Eagle Bluff Near Denham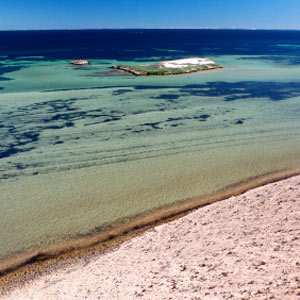 Don't let the name conjure up images of deadly, man-eating predators in your mind and prevent you visiting the amazing part of
Western Australia
that is Shark Bay.
This World Heritage listed region is in fact a haven for marine life of all kinds, and a favourite haunt of scuba divers and snorkellors who come to get up close and personal with the dolphins, dugongs and whale sharks that call the protected waters of Shark Bay home. The coastline of the bay is over 1500 kilometres long, and ranges from rugged rocky cliffs to soft, sandy beaches and everything inbetween. The bird and wildlife on the shore complements the diversity and population of the marine life under the surface, providing plenty of opportunities to acquaint yourself with uniquely-Australian nature. With numerous campsites and good roads throughout, you and your
campervan hire
are set to have the holiday of a lifetime exploring Shark Bay!
Denham, the most westerly Australian town, is the largest centre on the shores of Shark Bay and a popular place for people to base themselves whilst visiting the area. Located on the Peron Peninsula, it is 830 kilometres north of the state capital Perth, so if you are travelling from there in your
campervan hire Perth
allow at least a day or two to reach Denham. The small and friendly town caters towards campervans with a number of campgrounds, and of course there are other accommodation options available if needs be. In Denham you will find the recently-opened Shark Bay World Heritage Discovery Centre, which is a must see on the itinerary of any visitor to the region. Exhibits in the centre use electronic media, specimens, models, artefacts and all the rest to introduce and educate guests as to the unique wonders, the history and the culture of Shark Bay. Its a great place to kick start your holiday!
One of the chief tourist attractions of Shark Bay lies thirty minutes north of Denham. Monkey Mia is a resort where a very special and unexplained occurrence takes place. Every day a particular pod of dolphins makes its way right into the shallow waters and close to the shore, where they frolic and play with the tourists waiting for them there before leaving again for the deeper waters. Seven dolphins do this daily, but a total of twenty others join them at various times. It's been going on since the 1960's now, and three generations of dolphin have been involved in the daily pilgrimage to the shores of Monkey Mia. No visit to Shark Bay is complete without checking them out!
Shark Bay seems to be a haven for some of the more bizarre aspects of the natural world, and its not just the dolphins. Just south of Monkey Mia lies Hamelin Pool, where an immense collection of the worlds oldest living organism can be found- stromatelites. The name sounds pretty extra-terrestrial, and the mushroom-shaped, fifty centimetre high domes look like they could be from another planet. Formed by the activities of micro organisms, these rock hard domes are the earliest known form of life on earth. There is a boardwalk via which you can access them without damaging the stromatelites. Another amazing attraction just forty five kilometres south of Denham is Shell Beach. This startlingly white beach stretches for 100 kilometres, and is unique because it consists entirely of tiny white coquina shells, sometimes as deep as twenty five feet. Along its length there are numerous camping grounds, picnic areas and other such designated relaxation spots that you can take advantage off whilst on your campervan tour.
Another famous feature of Shark Bay is the Wooramel Seagrass Banks, which cover almost 1000 square kilometres. The limestone sands forming these banks are made up from calcium carbonate precipitation, and they form the perfect habitat for the gentle giants known as the dugongs. Also known as 'sea cows', dugongs thrive in the calm waters of Shark Bay with almost ten per cent of the world population making this region their home. You are likely to bump into them on your travels around the bay, but there are guided tours that take you closer to the dugongs.
The underwater delights don't end with dugongs. Another gentle giant that calls these waters home is the whale shark, the largest species of shark and a favourite amongst divers who are able to swim amongst these ponderous creatures. Large turtles and manta rays also glide ceremoniously through the blue Shark Bay waters, ensuring any underwater adventure you take will be an exciting one. An immense variety of tropical fish and large coral populations provide the colour in this sub surface wonderland, and will enchant adults and kids alike.
So with all this awaiting you, its time to start planning that holiday to the magnificent Shark Bay. Its perfectly suited to a campervan holiday, and with 1500 kilometres of coastline to explore you can't go wrong! A campervan from Discovery is an ideal means to traverse the bay's shoreline, and there are numerous camping grounds throughout where you can base yourself and check out the local attractions. Don't forget your snorkelling gear!
Gavin Wyatt