Queensland Walking Trails
A Trail Near Crows Nest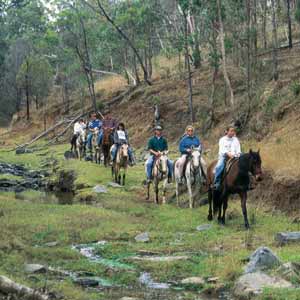 Queensland offers some of the most picturesque and enjoyable bushwalking experiences in Australia. There is such a diversity of walks to choose in South East Queensland, with wide coastlines, rainforests, waterfalls, mountains and vast plains all within easy driving distance from
Brisbane
. Take the drive up to Cairns via Townsville and Rockhampton and you will be on the road to incredible camping grounds and walking tracks that are hidden treasures just waiting to be discovered.
The benefit of
campervan hire Brisbane
is the freedom to choose when and where you are going to stop and for how long. If you are an avid bush walker, this is one of the best ways to enjoy getting from one park to another in comfort and with plenty of flexibility. Plan a rough
itinerary
ahead of schedule, with plenty of room to make changes along the way.
Most national parks in
Queensland
are closer to the coastline and run up and down the east coast of Australia. As the climate is mainly tropical, most times of the year are perfect for heading out and enjoying some of the most beautiful and hidden treasures the sunny state has to offer. Be careful in the middle of summer and bring plenty of water and sunscreen as the temperatures can rise quickly. You will also need to plan ahead if you are camping, with permits required in most national parks.
Queensland's highest mountain, Mount Bartle Frere, is more for the advanced bushwalker but the views are certainly worthwhile. Located not far from
Cairns
, you will need to set aside a few days to reach the summit. Further north there are walks covering a few days in the famous Daintree rainforest. You need to plan well for these walks as they take two to three days, but cover some incredible scenery.
Fraser Island and Hinchinbrook Island are both worth visiting for their long walks and spectacular scenery. Both large national park islands, they have walks for all levels of fitness, from one day to five days on Hinchinbrook.
Carnarvon Gorge has fantastic walks for the whole family. With a large and well maintained camping ground, you can set off straight from your doorstep to see some of the most breathtaking views and natural rock formations. It takes about nine hours from Brisbane via Roma, but stay at least a week and enjoy the peace and tranquillity of a true oasis in the heart of the outback.
Closer to south east Queensland, there are plenty of national parks in each direction. Mount Barney is popular to locals and tourists especially as it is the highest mountain in South Queensland. Set up camp below and then set off for a day or two to experience a diversity of terrain as you head up the mountain. This is not for beginners, with steep climbing involved in some sections, however the summit is worth the trek for a birds eye view of the surrounding park through to the coastline. We took the family to the lower portals on a day trip, it was still a trek taking close to two hours, but worth the rest at the rock pools.
If you are looking for a lot of walks in one area, Lamington National Park, located closer to the New South Wales border, is one of the best choices as there is so much available for all fitness levels, there is an abundance of birdlife and wildlife, and it covers an extensive rainforest area. There are a number of shorter walks leading to some incredible views, and there are a number of overnight walks for keener bushwalkers.
The Sunshine Coast offers some incredible walks in the Great Sandy National Park. The crystal clear streams running through pristine white sands is something you have to see, and there are a number of amazing camping grounds available for your
campervan hire
, especially in Rainbow Beach and across to Fraser Island. The Cooloola Wilderness Trail is the most popular and from start to finish is a three day walk. It covers some of the best rainforest and freshwater sections of the park and is worth the visit.
The Hinterland Great Walk in the Sunshine Hinterland starts in Montville and meanders over some of the most breathtaking mountainous scenery, including the famous Kondalilla Falls, ending in the Mapleton forest. You can enjoy this walk in sections or complete the full seven hour walk over a few days.
This is only a handful of some incredible walking tracks available in Queensland. Maybe choose a few and plan your campervan holiday around them. There is nothing better than getting outdoors and enjoying nature at its best in spectacular surroundings, and there is no better time to start planning your bushwalking holiday than now.
Jenny Brewer