Port Douglas And The Daintree
A Tropical Waterfall in the Daintree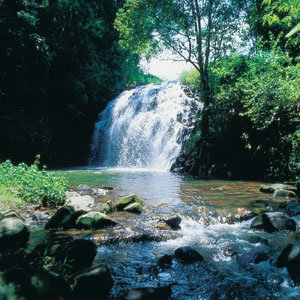 Just mentioning Port Douglas brings visions of palm tree beaches, lush rainforests and sarongs. Far North Queensland is one of the most visited and well known tourist destinations in
Queensland
, and for good reason. With a close to perfect tropical climate, any time is a good time to visit, and there is an abundance of choices as you plan each day. Some days a good plan is to do nothing but enjoy the beauty of this premier location.
The drive is as enjoyable as the destination. From
Brisbane
the coastal stretch is dotted with major tourist attractions along the way, and you could allow three days to enjoy the beauty of Rockhampton, Mackay, Townsville and the surrounding scenery. Once you reach
Cairns
you might want to stay for a while or take a day trip to pretty Green Island or one of the Quicksilver cruises to the outer reefs. The beauty of
campervan hire Cairns
is you have complete freedom to come and go as you please, and as there are so many picture perfect spots to visit along the way, you will want to take your time.
Port Douglas is sixty kilometres from Cairns along the Captain Cook Highway, and you will enjoy every minute of this stunning coastal drive. Once you have arrived you won't want to leave. You have the best of the Great Barrier Reef and the world heritage listed Daintree Rainforest at your front and back door. There are plenty of accommodation choices such as Pinnacle Village Holiday Park and Daintree Riverview Caravan Park, both within close proximity of all attractions and with excellent facilities.
Once you are settled, you can enjoy your tropical home away from home. Port Douglas offers a wide selection of dining choices, such as the zany Zinc Restaurant, not only offering an excellent and affordable meal selection but a large aquarium which is sure to provide tropical entertainment while you dine.
For some outdoor experiences, you can jump on a guided tour into the depths of the Daintree, or head to the brilliant colours of the reef. Both choices could take up the majority of your holiday with so much to do in each direction. There is also the option of heading out to the outback on a train, or spending time on the famous white beaches soaking up the sun.
You can swim all year round, but between April to October you are less likely to encounter the box jellyfish known to visit these waters between November and March. Nets are still in place so you can enjoy the warm waters any time of the year. Four Mile Beach is one of the most famous, and for good reason. With palm trees, perfect weather and crystal clear waters it will keep you coming back.
For a wildlife experience (without the danger) visit Hartley's Crocodile Adventures located in the MacAlister Range in between Port Douglas and Palm Cove. You will see all types of natural habitats and local wildlife which is informative and interactive.
The award winning Rainforest Habitat is situated right in Port Douglas and is a 'must see', with close to two thousand animals and displaying four different environments prevalent in far north Queensland. This attraction is fantastic for the whole family and don't forget your camera!
You can't visit Port Douglas without a visit to the breathtaking Daintree. Once you are in the heart of this lush rainforest, the Discovery Centre should be your first stop, with interactive displays, theatre, scenic views and plenty of information on the surrounding area. Stop for a while here for a coffee and relax before you set off to explore. The Daintree treetop walk will give you a fantastic aerial view of the rainforest canopy, and back on the ground the Bush Tucker trail is an easy walk which will take you through the beauty of the rainforest.
You can divide the Daintree into three main sections. Mossman Gorge is popular and located along the Daintree River. It is great for bird watching but does not allow camping. Daintree National Park is the most well known for its lush rainforest and crocodiles. Cape Tribulation allows camping north of the Daintree River. With more swamps, beaches and mangroves it is a completely different experience. As the Daintree is the world's oldest tropical rainforest, there is incredible natural beauty and scenery in every direction.
Any time is a good time to experience Port Douglas and the Daintree. Plan a few days to do nothing but enjoy the sunshine and the chance to unwind in one of the worlds most beautiful locations, and then make sure you visit the world heritage listed attractions right on your doorstep. Whatever you decide to do, you will be glad you came to visit in your
campervan hire
.
Jenny Brewer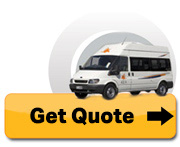 Related Information
Cape Tribulation Accommodation Cape Tribulation Accommodation .com offers you the complete range of accommodation in Cape Tribulation and around the Daintree region, from small Bed and Breakfast lodges to camping, budget backpackers accommodation, rainforest accommodation, holiday
Mason's Tours Cape Tribulation and Daintree Rainforest Day and Night Jungle Walks and 4WD Safaris up the famous Bloomfield Track and to historic Cooktown, with Masonís Tours experienced local guides providing expert commentary.
Rainforest Hideaway Cape Tribulation Accommodation Bed and Breakfast accommodation and sculpture trail in the Cape Tribulation Daintree rainforest.