Discover Mt Isa
Rodeos are Popular Entertainment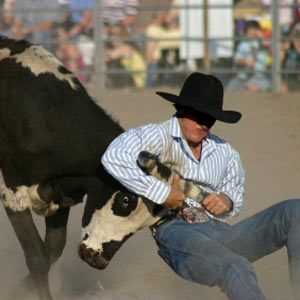 Dominating Western Queensland's countryside is the widespread mining city of Mount Isa. With borders extending for hundreds of kilometres in each direction, including some of the country's most beautiful national parks, the most obvious choice of transport is
campervan hire
. It is one of the best ways to traverse the long roads to this diverse region and take time to enjoy the outback scenery at its best.
You won't be stuck for a caravan park as there are plenty to choose from, but just further out is the Argylla Tourist Park which has a country appeal without being too far from the city. Many visitors base themselves in Mt Isa and take day trips, although some attractions require a few days at least to enjoy.
Once you have settled into your
campervan hire Queensland
, one of the most obvious 'attractions' in Mt Isa are the mines, employing a large percentage of the community and producing some of the worlds richest supply of lead, silver, zinc, copper and ore. It's a once in a lifetime experience to learn more about how these minerals are mined, so join one of the underground Mine Tours for an up close and personal visit. The Tourist Information Centre has all the information you need, but they do book up quickly so you may need to book early.
Whenever I visit a new city I always head for the nearest lookout. You can see the region from a new perspective and appreciate even more the beauty of the surrounding scenery. Dawn and dusk are prime times to embark on your lookout venture, with Mount Isa's located opposite the Tourist Information Centre. The City Lookout has an urban appeal, still rewarding you with views of the mines and the city at its best.
For history buffs, head to the Frank Aston Underground Museum. There is a well preserved collection of mining equipment from the early years. You really feel like you have stepped back in time when you enter the old chambers and explore the ancient cavities that were once busy with machinery and miners making great wealth for a quickly growing city.
Pack your swimmers and picnic basket for a day trip to the beautiful lakes surrounding Mt Isa. Lake Moondarra is closest with plenty to offer including great barramundi fishing, swimming, plenty of space to relax and enjoy a game of cricket or just explore the shoreline and enjoy the beauty of the lake. Lake Julius is another hundred kilometres north and is just as popular, with incredible birdlife and recreational facilities.
There is always room for another day trip, and the Clem Walton Park is another beautiful landmark, featuring an immense lake and abundant birdlife. Located between Cloncurry and Mt Isa, the drive to this park will reward you with stunning scenery in every direction.
Outback Queensland is all about long drives and wild beauty. One of Australia's hidden treasures is Lawn Hill Gorge, located just over four hours drive from Mt Isa. This is worth including in your itinerary if you are planning ahead, as the pristine beauty of the waterfalls, gorges and walks are like nothing you have seen. There are six main walks at Lawn Hill, one of them covering the Constance Range. The views here are outstanding, with ample wildlife and blue waters everywhere you look, and the four kilometre walk is best undertaken at sunrise or sunset.
The pristine camping grounds, located next to Lawn Hill creek, are an ideal base to explore the gorge, and even if you stay in this area alone you are rewarded with nature at its best. My impressions of Lawn Hill have stayed with me for a few decades now. The views are indescribable, and the magnitude of the national park is difficult to describe. You are alone (it seems) in a true oasis, with red earth surrounding you in every direction.
Visit Mt Isa for a diverse view of the ever changing Queensland Outback. It is the perfect destination for someone looking for a blend of comfort and adventure; beauty and long, red roads all leading to hidden treasures.
Jenny Brewer