Mildura And The Great Murray River
The Murray River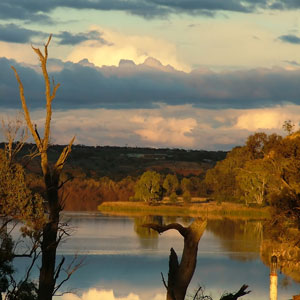 Mildura, known for its citrus fruits, fishing and outback national parks, is a traveller's delight. With an endless list of travel choices including the great 'Walls of China' and the vast Murray River, the city and surrounding attractions will keep you enthralled. Mildura is a fantastic location for a
campervan hire
holiday with plenty of camping spots and places to visit.
Located on the banks of the Murray River in the north west of Victoria, the city's climate is warm and dry, and known for its plentiful days of sunshine. The wettest month is October, but any time of year is good to visit this picturesque region, with orchards, wineries, indoor attractions and an amazing inland botanical garden.
The Murray is popular of course for fishing, houseboats, canoeing or just hiring a boat and exploring. For a relaxing day trip, board the Paddlesteamer Rothbury and enjoy the wildlife along the riverbanks. Winding through the heart of town from Swan Hill and ending in
South Australia
, the Murray supports an abundant ecosystem of wildlife and vegetation.
There are plenty of local wineries on the outskirts of town, many offering vineyard walks and wine tasting. Yearly festivals, such as the wine, food and jazz festival or country music festival, also add a vibrant atmosphere to town.
Orange World is a must as Mildura is proud of its citrus fruit, and it is no surprise that inside you can find out everything you wanted to know about oranges. There is a tour on how to grow your own fruit trees, and a train ride to take you through the huge citrus orchard. You also won't be able to leave without visiting the fruit market filled with the best selections.
If you are a seafood lover you can't go past the Gol Gol Fisheries, which offers an interesting tour of Murray's cod breeding techniques, and there are plenty of live or cooked fish to choose from, specialising in yabbies.
Calder Caravan Park is an ideal base to see Mildura and its surrounding attractions in your
campervan hire Victoria
. Located in the middle of town, you have all amenities at your doorstep with four star amenities, and perfect place to relax.
Mungo National Park is located over 100 kilometres from Mildura, and is a unique paradise with a wealth of animals to discover. It is best visited in the colder months as the temperatures can soar quickly. You would hope to catch a glimpse of the red and grey kangaroos or the prickly echidnas. The geckos and bearded dragons are always a favourite with the kids. The pink cockatoos will dazzle you with their performances at dusk, and you will be captivated by the wedge tailed eagles as they soar high above.
What makes this park stand out even more is it desert landscapes, most famous being the 'Walls of China', aptly named because of the naturally formed sand formations, easily viewed from a large boardwalk. The many dunes, sand hills and craters all give an eerie appearance; however after rain the wildflowers explode with colour and provide a soft carpet over the harsh terrain.
There are some relatively easy walks here. The Grassland Nature Trail starts at the camping area, and the Foreshore walk is longer but just as picturesque. Whatever your fitness level you would still enjoy the walks and scenery along the way.
Main Camp and Belah Camp both offer basic facilities if you want to stay longer. There is plenty of room but you will have to bring all your own supplies. For those who love the solitude of the bush, this region will be relaxing especially at night under the canopy of stars.
There is a direct contrast between the stillness of the Murray and the cosmopolitan culture of the city of Mildura. The nearby towns such as Gol Gol, Buronga and Red Cliffs are just as lively with food, wine and great entertainment that will keep you coming back. This region is fantastic for all tourists who are looking for the remoteness of the outback but the comforts of the city. You have it all here.
Jen Brewer