Crossing The Kalbarri
The Impressive Kalbarri Coastline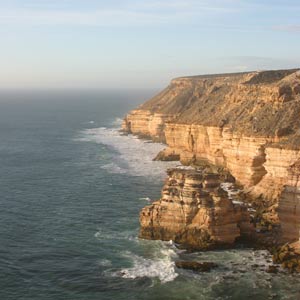 Between
Exmouth
and Geraldton you will find the Kalbarri National Park. This is one of the most spectacular destinations for a relaxing holiday on the beach combined with the adventure and rugged beauty of the adjoining gorges and bushwalks of the national park. It will take you close to five or six hours to travel here with
campervan hire Perth
, but the long coastal stretch is just as enjoyable with so many beautiful places to rest and enjoy the views.
The winding Murchison River takes you into magnificent scenery, and there is every imaginable type of bird and marine life to enjoy. This is ideal for a
campervan hire
holiday, with plenty of spots to set up for the night, and endless views and driving stretches that will take your breath away.
One of the best times to visit is between September and November, as the wildflowers are prolific and temperatures are lower. The heat rises in December to March to over 40C, and the autumn months of April to May drop back down to 25C. The winter months bring rain June through July.
Now that you have arrived, where do you begin? One of the best places to stay is the Murchison Caravan Park, which is nestled in central Kalbarri with great views of the Murchison River as well as the Indian Ocean. You might want to enjoy the short walks around town, and get to know the locals before you head further out.
Most of the year myriads of wildflowers sweep through the national park. With so many species to choose from, you could spend an entire day marvelling at their beauty so common to
Western Australia
.
Enjoy the solitude of the beach and maybe hire a boat for some fishing or to explore the river. There are all types of water sports available here or you can grab a book, find a private spot and keep your eye out of whales and dolphins which frequent this area. A great idea is to hire a push bike and ride along the coastal road to enjoy the scenery up front. Then enjoy a swim before you head home in one of the pretty bays. The pelican feeding at dusk is also popular for locals and tourists.
The coastal gorges have to be seen to be believed. The most amazing is the Natural Bridge and Island Rock, which is now a sea stack standing alone and surrounded by the ocean. Rainbow Valley is named for its beautiful colours from the compacted sands and silts. Eagle Gorge offers a fantastic beach below, and Pot Alley and Shellhouse are all equally as mesmerising with panoramic views. Spreading for kilometres along the coastline is Red Bluff, which are rugged coastal cliffs that go on endlessly, creating an incredible vista. There is also a two hour walking trail from Mushroom Rock.
Pack a decent picnic lunch and experience some of the inland gorges of the Kalbarri which are also accessible by campervan. Nature's Window, aptly named for its sheer natural beauty, is a natural rock arch which is a great place to stop and enjoy the views. Hawkes Head Lookout has impressive views of the gorge, and Ross Graham lookout is very easy to reach with pretty river rock pools just below. As you cross deeper into the national park you will see why this region has been protected so carefully, so that travellers can enjoy its treasures for years to come. Be careful as some of these roads are not sealed so check in town before you head out.
You won't want to leave the Kalbarri paradise. Its spectacular scenery is some of the best in the world, and there is so much to do by the sea or on land. You will return home feeling refreshed and invigorated by the incredible views, bush walks and activities offered here. Kalbarri promises an amazing campervan holiday and is fantastic as a weekend getaway or a destination in itself.
Jenny Brewer 2007