7 Fantastic Caravan Parks Along The Great Ocean Road
The Twelve Apostles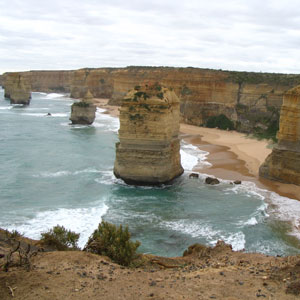 Ever dreamt of getting away from it all, hiring a motorhome and campervanning your way along the entirety of Victoria's Great Ocean Road?
Dream no longer and start planning what will in future be described to your friends and family as the holiday of a lifetime. Home to picturesque towns like
Apollo Bay
and Torquay, famous beaches such as Bells Beach and iconic natural wonders, like the 12 Apostles, the Great Ocean Road is a must-do on any Australian holiday experience.
A
campervan hire
is an ideal way to experience the area at its best, as it will give you the freedom of time to do and see what you want. The Great Ocean Road is bursting with some of Victoria's best caravan parks, which will make your holiday an enjoyable and stress-free one.
1. Great Ocean Road Tourist Park
The Great Ocean Road Tourist Park is located smack bang on the road in Peterborough,
Victoria
and boasts 12 great reasons to stay:
1. Great base for exploration of the Great Ocean Road
2. Loads of family fun attractions nearby
3. Boasts a spa and a wide range of powered sites in a picturesque, tranquil setting.
4. All the sites are grassy and well protected, with some even offering riverfront views.
5. Peterborough still maintains an untouched uniqueness and is the perfect place to escape the crowds.
6. The amazing sights.
7. A multitude of surrounding day trips.
8. The park is positioned just a three hour drive from the capital, Melbourne.
9. Staying here will give you no excuse not to explore the rest of the Great Ocean Road.
10. The park offers great family rates
11. Easy to find special offers and package deals.
12. Easy to book.
If these 12 great reasons aren't enough, once you arrive you will find so many more that will make this the caravan park stay of a lifetime.
2. Narrawong Holiday Park
Nestled on the picturesque banks of the Surry River, just outside the historic town of Portland, the Narrawong Holiday Park is a great place to escape to for a few days on your Great Ocean Road campervan adventure.
Peace and relaxation come naturally here, along with fun family activities like swimming, fishing, boating, tennis, beach volleyball and bushwalking.
Perfect for families, this park is a must for
campervan hire Victoria
travel along the Great Ocean Road.
3. Aireys Inlet Holiday Park
Enjoying an idyllic position between the bush and the beach, Aireys Inlet Holiday Park is the true gateway to the
Great Ocean Road
.
This Top Tourist Park offers 16 powered sites and all the amenities to make your stay a comfortable one.
With the Otway Fly Treetop walk just around the corner, and horse riding, mountain biking, surfing and fishing also nearby, this park is a must.
4. Eldorado Tourist Park
This is Geelong's premier tourist park and acts as the perfect base for exploration of this vast city.
The park is close to all the major shops, waterfront, restaurants, beaches and of course, Adventure Park, Victoria's first water theme park.
The park's central location just 5 minutes outside the heart of
Geelong
makes it a place you simply must stop in on your campervanning journey.
5. Apollo Bay Holiday Park
The Apollo Bay Holiday Park is set in a quiet, central location just off the Great Ocean Road in Apollo Bay. Ideally close to the Otways, this modern park is an ideal stop off point on any campervan holiday.
This shady park offers a pool, plenty of grassy areas, an adventure playground and is only 100 meters to the beach.
A friendly family atmosphere will make this park a true highlight of your Great Ocean Road campervanning experience.
6. BIG4 Anglesea Holiday Park
This BIG4 Park is another of the Great Ocean Road's locations where the bush meets the sea. Situated at the beginning of the stretch, in close proximity to the city of Melbourne, the Anglesea Holiday Park is a great place to start your holiday.
Nearby to stunning beaches, majestic rivers, world-class restaurants and some of the state's most amazing attractions, this is a park that will welcome you with open arms, making you wish you never had to leave.
7. Torquay Holiday Park
Set in the beautiful town of Torquay, the Torquay Holiday Park is a truly beautiful park that will entice visitors with its wonder and uniqueness.
Offering fun for the whole family, this park offers plenty of powered sites at reasonable rates and a great family atmosphere.
Christine Barton