Exploring The Eyre Peninsula
Sunset Over Coffin Bay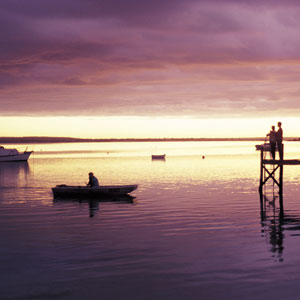 The magnificent coastal stretch of the Eyre Peninsula has it all. Located south of
Port Augusta
, incorporating Wyalla and Port Lincoln right through to the Nullabor Plain, there is such a diversity of scenery, attractions and natural beauty in one region. With the capacity to fulfil all expectations of the campervan traveller, it is certainly worth the journey to visit.
You can expect to visit areas of the coast that seem completely untouched, without another person in sight. There are often whale sightings up and down the coastline, and Baird Bay is the best spot to see the dolphins and sea lions. For the more adventurous, the great Nullabor Plain offers incredible campsites rewarding you with incredible starlit skies and magical panoramic vistas. Further on, the Gawler Ranges are just as wild, with salt lakes dominating the landscape and red and grey kangaroo frequently sighted.
The climate in the South is mild and welcoming, with summers under 30C and winters down to 15C. Further inland the temperatures are higher but on a whole the temperatures have a Mediterranean feel and are enjoyable any time of the year. There is plenty of rainfall June through to August, so come prepared.
Travelling is so much fun when you have great places to sleep, with the sound of waves lapping the shore. There are an abundance of excellent caravan parks and camping facilities in this region, a few located at some of South Australia's best kept secrets.
The Waterloo Bay Tourist Park is one of the prettiest places to visit on the west coast of
South Australia
, and located at Elliston right next to the bay. It's a great spot to set up and travel the coastline for a day or two, exploring the area on foot or on the road. The Ceduna Tourist Park is another jewel, close to fantastic tourist islands known for fishing, snorkelling and excellent seafood. Perfect for water lovers, it is worth staying here even for a night.
Port Lincoln Tourist Park is located on Boston Bay. Everything is close so you have the option of staying on site and enjoying the beach or exploring the area and its beautiful surroundings. The deep blue water is mesmerising, protected by Boston Island, making it a safe place for swimmers and boaters.
Port Lincoln
is seen as the capital of the Eyre Peninsula, with plenty of great attractions such as its Maritime Museum and Winery. If you have some time, head north to Tumby Bay which is known for its incredible underwater world, fishing and day cruises out to the islands alongside the bay. Geese are common in this area, adding to its uniqueness. It is an awesome place to relax for a few days, enjoy long walks, fossick for shells, snorkel or just snooze in a hammock and forget about everything else.
Whyalla
is South Australia's third largest city, and is often great as a base to visit the surrounding coast. The Whyalla Maritime Museum is fantastic for an afternoon to learn more about the history of the area. Not far from here is a fascinating mining museum at Iron Knob.
There are also plenty of pretty bays in this area, one of the most protected being Coffin Bay, which has incredible scenery along the coastline.
Keen for a day of fishing? Head to Cowell to relax in the sunshine hopefully reeling in some good catches, and finish off the day discovering the beauty of the jade gemstone, prominent in this section of the coast. There are also superb fresh oysters available here, perfect for dinner.
The Eyre Peninsula has such an abundance of wildlife, beautiful beaches and bays, restaurants and places to stay. It is wild, diverse and breathtaking. Visiting here you feel like you are being treated to a smorgasbord of treasures, almost too good to dive into. Even if you drive up and down the coastline in a
campervan hire
, you will be treated to incredible panoramic views, perfect for those holiday moments that keep you coming back again and again.
Jenny Brewer 2007