The Rugged East Macdonnell Ranges
A Rocky Peak in the Ranges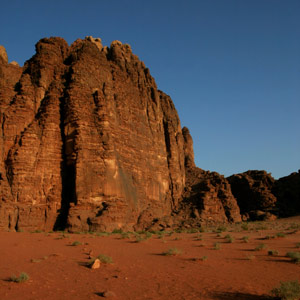 It doesn't matter if you are travelling from Ayers Rock, Adelaide, Darwin or Tennant Creek, all roads lead to
Alice Springs
…and with two majestic ranges on either side it is so worth exploring the wilderness just outside the city. Only one hundred kilometres to the east from Alice are the breathtaking Eastern MacDonnell Ranges. Although not as well known as the ranges to the West, they offer incredible walks, magnificent views and a diversity you will find hard to match. The natural gorges are the drawcard to this rugged wilderness, with Ruby, Trephina and Ndhala Gorges all equally spectacular, and plenty of incredible landmarks accessible by campervan.
If you would prefer to base yourself in Alice, the MacDonnell Range Holiday Park is one of the best you will find, with every convenience and extra facility to make your holiday even more relaxing. Just a few kilometres out of town, there are playgrounds, bike tracks, go carts, swimming pools, games room and spacious grounds so you can get settled in style before you start exploring.
To get to the East MacDonnell Ranges, head south from Alice with your
campervan hire Alice Springs
and turn into the Ross Highway. There are enough signs along the way, as well as a few nature parks well worth a visit.
Starting with Trephina Gorge Nature Park, you could spend a good week here exploring the winding creeks, clear waterholes and panoramic lookouts. Eagles dominate the skyline, and there is plenty of wildlife for nature lovers. It would be easy to feel like you had already experienced the diversity of the ranges with so much to offer in this gorge alone. It is one of the most popular of the gorges, being the nearest to civilisation, with five beautiful walks suitable for most fitness levels ranging from under an hour to over six hours.
One of the most popular destinations for many travellers to this remote spot in the Territory is Ross River Resort, the ideal base for all your adventures, or a chance to unwind with the eagles and wilderness for company. Along with cosy log cabins, there is a fantastic caravan park which is ideal for a night or two in rich outback territory. For the adventurous there is camel riding and horse riding available, or for those who would prefer to keep their feet on the ground, fossicking for gold is an enjoyable past time as this area.
Head another fifteen kilometres into the ranges and you will reach N'Dhala Gorge Nature Park. This is perfect for lovers of aboriginal history, with rock carvings everywhere you look within the walls of the gorges. This area is mostly accessible but some roads require a four wheel drive.
Another popular camping spot is the Gemtree Caravan Park. With lush grounds and plenty of room to move, it's a great place to set up your
campervan hire
and enjoy nature at its best. Take another fossicking tour, or enjoy a campfire and billy tea. There is even a golf course for those who feel like a hit. Ruby Gap Nature Park is another forty kilometres away, and only accessible by four wheel drive. It is worth the trek, if you can get there, and an overnight camping experience here is one of life's pleasures you would find hard to beat as this region is one of the most beautiful in the Northern Territory.
The East MacDonnell Ranges is the ultimate oasis in the desert. Although often compared to the popular
West MacDonnell Ranges
, it is appealing that there are not as many tourists and more locals. The scenery is rugged and magnificent, and if you are looking for adventure and wildlife at its best than this is one place you need to find yourself.
A
Northern Territory
adventure couldn't be easier to organise, with our campervans available for pick up and drop off in Darwin or Alice Springs. The freedom to come and go as you please makes a campervan adventure one of the most enjoyable ways to travel. And the East MacDonnell Ranges have never looked better.
Jenny Brewer