The Central Flinders Ranges
Wilpena Pound in the Flinders Ranges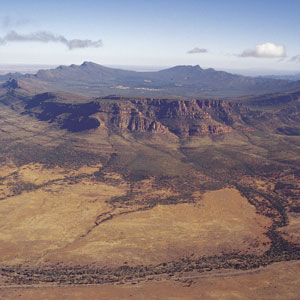 There are few regions in Australia which combine ancient landscapes with ancient aboriginal history like the Flinders Ranges, just over 200km inland from
Adelaide
. If you are looking for the adventure of a lifetime, then look no further than this remote, diverse and breathtaking destination. There are plenty of sealed roads for the
campervan hire
traveller, and there is always be a fantastic spot to set up and enjoy the scenery.
Port Augusta
is known as the gateway to the Flinders Ranges. What is unusual about this city is that the main highways which enter South Australia from Western Australia, Northern Territory and New South Wales all meet here, so it really is a central hub for more reasons than one. It is a perfect base to enjoy all that the city and surrounds has to offer. A great attraction for the family is the Wadlata Outback Centre, offering interactive displays and a thorough history of the area, perfect for your pre Flinders experience. Before you leave, visit the Australian Arid Lands Botanic Gardens, an ideal place to understand more about the vegetation and animals in this region. It is great for a relaxing stroll with guided tours available.
North from Port Augusta is Quorn. It is the typical outback town and it is from here that you can visit Warren Gorge and the Dutchmans Stern Conservation park. The Pichi Richi Railway has been protected and is now open to tourists, a favourite with children. The incredible historical buildings are quite a contrast to the surrounding outback landscape, with art galleries and museums adding to the culture of this town. The Kanyaka Ruins are also worth a visit just out of town.
There are some walking trails to the south of Quorn which will take you on a number of walks to Devils Peak. There are panoramic views of the entire area from here, and you can often see the Waukarie Falls. Come prepared though, as you can choose from an eight hour or six hour trek to the peak and back.
One must see town is Hawker, known as the most beautiful of the Flinders Ranges. You can access the Flinders Ranges National Park from north from here, so it is ideal as a base if you would prefer to be close to the shops and conveniences.
Once you have entered the park, you will discover Wilpena Pound. This is a tourist destination in itself, with plentiful wildlife including emus and kangaroos, and an extensive visitor centre which is worth a visit to learn more about the area.
Often indescribable, the Flinders Ranges National Park is simply breathtaking, with incredible mountainous scenery, vegetation and all types of animal species that will keep you captivated. There are walks for all fitness levels, including a walk to Rawnsley Bluff, and another to Wilpena Lookout. The trek to Ferntree Falls is just as beautiful as the destination, and if you are quiet enough you will come across some local wildlife, and hear a chorus of birdlife in the trees.
Although longer and more challenging, Wilcolo Creek bush walk, which takes five hours, includes amazing scenery and take you on a circuit that will bring you to face to face with wildlife, panoramic views, winding creeks and undiscovered terrain.
For the more adventurous, the Brachina Gorge Geological Trail has been mapped out to trace the geological history of the region. These maps can be picked up at the Wilpena Pound Visitor Centre. The Bunyeroo Gorge is a mild and enjoyable walk for the family and takes about two hours. If you take the creek through the Heysen Range you end up at waterholes and cliff faces that will take your breath away, and is also a great spot for a relaxing picnic.
This area is also the end of Australia's longest
bushwalking trail
, which covers the beauty of the South Australian landscape close up. The Heyson Trail begins at Cape Jervis and ends at Parachilna Gorge in the Flinders Ranges, and visitors come from all over the world to experience this walk of a lifetime.
What is most impressive about the Flinders Ranges is that it is so extensive, large and overwhelmingly magnificent. If you want to escape from the day to day pressures of life, start making plans to visit a place where time seems to stand still. It is easily accessible by campervan from Adelaide, yet you feel as though you are away from all civilisation. Truly the perfect destination for those who love the outdoors and the extremes.
Jenny Brewer 2007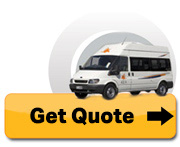 Related Information
Arkaroola Wilderness Sanctuary Located 600km north of Adelaide and 130km east of Leigh Creek, and in the ruggedly spectacular northern Flinders Ranges, this 610sq km multi award-winning Wilderness Sanctuary, operated by the Sprigg family, contains some of Australia's most spectacu