Captivating Carnarvon
Monkey Mia Pelicans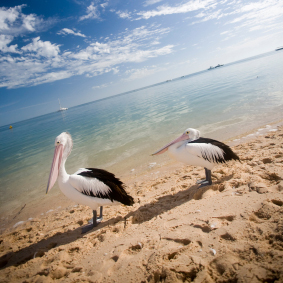 Carnarvon is located in the middle of the western coast of Australia. The fact that it is a 900 kilometre trek from the capital city of Perth makes it a feat in itself to reach, however its isolation can be a drawcard for the discerning traveller. If you are ready for adventure, beautiful coastlines and a relaxing, tropical holiday then start making your plans to visit this unique part of the world.
Your
campervan hire
truly will feel like home if you have ventured on this once in a lifetime journey. Everything you need is with you every kilometre of the way, and it is best to plan a few days stopover in Geraldton located almost half way between Perth and Carnarvon. The
Kalbarri National Park
is a few hundred kilometres north from Geraldton and worth a decent exploration.
Once you reach Carnarvon, there is raw beauty in every direction. The Indian Ocean is a treasure trove of sea life, divine sunsets and endless white beaches. Inland are the ever present wildflowers, the Gascoyne River stretching into the hinterland and the wonder of the Kennedy ranges. The climate is moderate and tropical, ideal for yummy fruits such as bananas and mangoes. Summer reaches its high of 32 degrees from December through to February and the winter months of June to August drop down to 12 degrees. Expect most days to be balmy and sun kissed.
There are plentiful caravan parks in this region, and everything you need is here, so you could plan to stay a few weeks or more enjoying the tropical atmosphere and lazy days in the sun. The four star Wintersun Caravan and Tourist Park is right in the heart of town, with all the amenities and grassy sites you need, or you might prefer the Coral Coast Tourist Park which is equally as central and not far from the beaches. You might prefer a quieter location further out of town. The Big4 Plantation Caravan Park offers all the shade you need and with a back drop of plantations and remote bush.
So once you have settled, where do you begin?
Shark Bay
is a well renowned World Heritage listed natural attraction, and this would at the top of my 'things to see' list. Head south to come face to face with the friendly dolphins at Monkey Mia, see a dugong for the first time, discover the beach made entirely from gorgeous shells or just enjoy the raw beauty of the bay. There are numerous walks and plenty of rest stops. Pack a picnic lunch and enjoy the fact that you have made it to this wonderful part of the world.
Not far along are the famous Blowholes which are popular with the locals and also offer a great camping ground and picnic spots. Many visitors prefer to sit and enjoy the pounding waves and of course the blowholes which provide an amazing natural display. The calm lagoon can be deceptive as the swell can turn into huge waves so keep your children close.
Head north to Ningaloo Reef and you will discover a hidden world of life and colour beneath its blue waters. There are over five hundred special of fish and two hundred and fifty species of coral. If scuba diving or snorkelling is not your passion, walking on the beach just might be just your thing, or perhaps a quiet siesta before a picnic lunch.
Travel east and you will experience the Kennedy Ranges at their best. With over seventy kilometres of cliffs that rise a hundred metres above the valley, you won't be disappointed by nature's architecture. Mt Augustus is the world's largest monocline, and is worth the journey with its minute by minute colour changes. Watching this rock formation change its colours from pink, indigo and orange to red and even green will leave you mesmerised. Some things can't be explained unless you have been there, and this landmark is one of them. Nature lovers will enjoy this region, with emus, goannas and red kangaroos roaming wild, and heaps of birdlife such as swans, ducks and kookaburras.
Closer to town a short stroll will take you to One Mile Jetty, a lovely place to enjoy the water and the sights and sounds of the town and its people. Fishing is one of the favoured past times here, and for good reason. This is just to spot to throw a line as many of the big fish can be found here such as Taylor, Tuna and Mackerall. If you are here in May to June make sure you enter the local fishing competition - the Carnafin.
Carnarvon is a unique destination that will need a lot of planning but will provide you with an adventure of a lifetime. The remoteness of Western Australia's coastline is perfect for the
campervan hire Perth
traveller, and needs to be seen to be believed. It is nature at its best.
Jenny Brewer