Cairns And The Great Barrier Reef
Snorkelling the Reef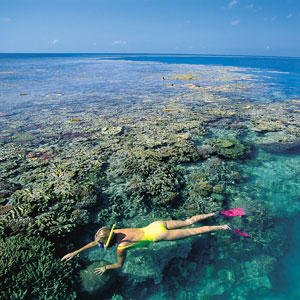 Famous for its tropical rainforests, Great Barrier Reef and sunny skies, Cairns is the hub of North Queensland, and is the ideal destination for the
campervan hire
traveller searching for rugged wilderness and beauty.
There are only two main seasons, the wet and the dry. You don't really get cold in Cairns, but the wet season (November to May) is known for its heavy downpours and occasional tropical cyclone. The dry season (June to October) brings sunny skies and high temperatures. Most days are sunny with a light breeze, bringing perfect days for your holiday.
One of the newest attractions in the city is the Esplanade Swimming Lagoon which is great for the whole family. Similar to Brisbane's South Bank, it also features a salt water lagoon and it is the perfect place to relax after your shopping and sightseeing.
Outside of the city centre, there is so much to see and do with your
campervan hire Queensland
Just north of Cairns, Lake Placid Tourist Park is situated on 14 acres of rainforest, next to Lake Placid and close to the World Heritage listed Barron River Gorge National Park. A fantastic base for your campervan trip, this beautiful hideaway of the north offers many rainforest walking tracks with birds and wildlife everywhere.
Not far away is the Crystal Cascades Caravan Park which is a perfect spot for the nature lover. You will find a number of small waterfalls, and a fantastic walk to the top where you can also jump into the pool. Great for a day trip, or a relaxing few days getaway.
Kuranda is located on the edge of the
Atherton Tablelands
, and is known for its skyrail which descends for 7 kms over the rainforest treetops for an experience you will never forget.
Another scenic drive takes you to Copperlode Dam which is the city's water supply. Stretching for 25km on Lake Morris Road, it is an enjoyable drive which includes sweeping views of the valley below, spectacular rainforest and of course the picturesque dam.
The Northern Beaches are a must for any campervan trip. From 10 to 25 minutes away you will find white sandy beaches such as tree-lined Palm Cove, Trinity, Ellis and Yorkeys Knob. Jellyfish stingers are present from October through to May so make sure you swim in the netted areas to avoid any injuries. The
beaches
of northern Queensland are world class and there are camping and picnic spots throughout the beach road.
A Cairns experience is not complete without a day trip to the islands. One of the most popular is tiny Green Island located 45 minutes from the mainland. It is an easy walk around its 15 hectares of rainforest , and is surrounded by coral reef and fantastic for snorkelling. Half day tours are also available on the Reef Rocket catamaran which gives you a good two hours to explore the island.
Fitzroy Island is just as beautiful with brilliant white beaches, world class diving and budget resort accommodation available if you want to stay overnight. Located 45 minutes from the mainland, it is over 300 hectares of National Park. Lizard Island is 240km from the mainland and 1000 hectares of beautiful rainforest. It offers luxurious resort accommodation (with a price tag) and is an absolute island haven. The world renowned island is famous for its monitor lizards.
The Great Barrier Reef is one Australia's most protected and valuable treasures. Alive with coral reefs, thousands of fish species and a myriad of sea creatures, make sure you find a way to experience this marine wonderland.
Whether you visit Cairns to sightsee and relax, or leave the open track and explore all there is to offer, you will always leave with lifelong memories of the beauty of North Queensland.
Jenny Brewer