Best Of Bribie Island
The Northern Tip of Bribie Island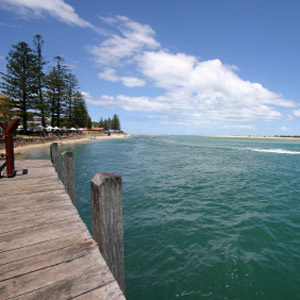 Bribie Island would have to be one of my favourite places to visit. There is something about its relaxed atmosphere, unspoilt beaches and layer upon layer of natural beauty that brings you back again and again. This holiday destination is perfect for the
campervan hire
traveller, with a number of parks to choose from, and a number of things to do within a short distance.
Located just seventy kilometres north from
Brisbane
from the Bruce Highway, this is one of Queensland's best kept secrets. The climate is almost perfect, with sunshine most of the year round. Being uniquely connected to the mainland by a long bridge, taking you over the Pumicestone Passage, gives you the feeling of being a million miles away from civilisation. The passage itself is full of activity, being frequented by locals and keen fishermen from all over Brisbane and the Sunshine Coast, enjoying the wide, blue waters.
Bribie is an island of amazing diversity. On one side is the quiet river system, with all the benefits of fishing, boating and adjoining parklands and bike tracks, also including a quiet wading beach perfect for small children. On the other side of the island is the famous stretch of wild beach setting off the miles of untouched national park. Perfect for bushwalking, this is as uncivilised as you can get so close to Brisbane. Migrating whales are often seen from this side, with the Glasshouse Mountains a brilliant backdrop.
Bongaree is Bribie's main thoroughfare, with café's, restaurants and great shopping just a stone's throw away. There is a fantastic grassy spot near the shops to sit and eat fish and chips and enjoy watching the fishing boats or kids playing by the water's edge. The playground is always a hive of activity, with bikes in every direction as there are cycle tracks all over the island.
Woorim is on the other side of the island, with over thirty kilometres of white beaches and café's and restaurants not far away. There are plenty of delightful spots where you can set up your
campervan hire Queensland
, unpack your chairs and enjoy a cup of tea in front of the beautiful blue waters. Hopefully you can stay longer than a day, as this is the ideal place to unwind and do nothing if you wish, or enjoy everything Bribie has to offer.
Set in a wonderful location not far from Woorim Beach, and a bit further away from the tourist stretch of the island, is the Bribie Island Caravan Park. Perfect for families, with activities, mini golf, tennis court, swimming pool and games room, this place has all you need for lots of lazy, sunny days. There are trees in every direction, and plenty of cosy spots all close enough to beach to hear the waves rolling in. The weekends bring movie nights so pack some extra popcorn and snacks for some great family memories.
The Bongaree Caravan Park is closer to the Pumicestone Passage, with a completely different appeal. This is more open, with the added bonus of dolphins and dugongs often spotted swimming up and down the passage. You are close to everything here, especially the great fishing on your doorstep, and all the best shops and cafes.
On one of our many day trips to Bribie Island, we drove over the bridge and straight ahead, past the main shopping strip, and into the heart of the island to a tiny takeaway shop which has more than likely been serving the locals for a few decades or so. Once we had enough burgers, chips and drinks (and for a family of seven it is always a big order!) we headed straight ahead to Woorim beach to enjoy some quality family time, away from any other distractions. It doesn't get much simpler than this, which is why Bribie Island is fast becoming a destination in itself!
Jenny Brewer