Apollo Bay - Seaside Spectacle
Fishing is the Main Income of Apollo Bay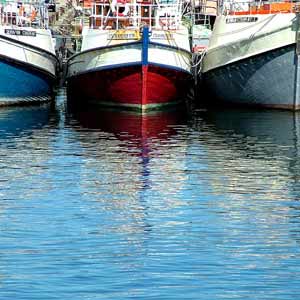 The scenic delights of the Great Ocean Road in
Victoria
are well known to campervan travellers who traverse its length in droves, taking in the stunning ocean views, weird geological formations and thick forest. Over hills, along steep cliffs, through rainforest and next to beaches- the road passes through an immense variety of landscapes in a relatively short distance, stunning first time visitors and temporarily satisfying the yearnings of those who return again and again.
Many people unfortunately do not take the time to truly appreciate this part of the world- they feel they have got enough out of the
Great Ocean Road
itself. Truth is they are missing out on a lot- the small coastal towns they drive through harbour rich cultures, and there are attractions large and small lying just off the road that justify a few days stopover in various places with your
campervan hire Victoria
.
One such place is the cosy hamlet of Apollo Bay, which lies on Cape Otway about 190 kilometres from central Melbourne. Extremely popular amongst the city folk as a weekend getaway, Apollo Bay is one of the key towns on this stretch of coastline and its population of 1700 people depend largely on tourism and fishing to support themselves. Known by many as 'Paradise by the Sea', Apollo Bay is built on a perfect semi circle beach with pristine white sands and azure blue water which helps justify this label. The laid back attitude of its locals, the excellent tourist facilities and its proximity to the rugged Otway Ranges go a long way to justifying its sobriquet, as you will no doubt discover if you visit there.
The fishing industry in the town dates back over a century, and the large fleet of commercial boats moored in the harbour have become something of a tourist attraction. Its a pleasant morning spent wandering through the wharves looking at the boats, followed up by a lunch in one of the seaside cafes. My suggestion- try the seafood, because it doesnt get any fresher than this! If you fancy taking some of the seafood home with you, visit the fishermans co-op on the wharf, where you can buy fish literally straight off the boats. If you would rather catch the fish than eat them, then look into the charters available that will take you out to sea. Alternatively you can cast a line from the shore along with many other keen anglers.
The hinterland of Apollo Bay matches the shoreline for sheer grandiose beauty. The Otway Ranges are a stones throw away, and these rugged ranges are a naturalists delight. Thick forest covers the spectacular mountain scenery and is home to a myriad of birds and animals that cause no end of delight and entertainment to bushwalkers. Protected by the expansive Great Otway National Park, these mountains are renowned for their waterfalls. The most popular would be Triplet Falls, which has become a visitor icon here and should definitely be on your 'to do' list. Set amongst tall ferns and towering blackwood trees, there are boardwalks here that take you deep into the forest and to the base of the falls. Another popular waterfall is Stevensons Falls, which is reached via a lengthy walking track which has some stunning views.
Back in town, you will find a strong tradition of arts and crafts is prevalent in Apollo Bay. This is epitomised by the Apollo Bay Music Festival which is held every March, and attracts performers and attendees from all over the globe. There are also plenty of galleries displaying work from local artists, who gain inspiration from the beautiful surrounding landscapes and the tranquil setting of Apollo Bay. Much of their inspiration comes from the sea, and this is particularly evident in the 24 large sculptures built on the foreshore of the town. Every Saturday morning a market opens up on the foreshore where you can purchase crafts and local produce from the region. Its a great spot to hunt down a bargain and support the local economy as well.
An established tourist resort, Apollo Bay has a large range of accommodation options so you will find a caravan park for your
campervan hire
easily enough. From here there are numerous touring opportunities you could take, obviously the most common is to continue on down the Great Ocean Road to Port Campbell and the Twelve Apostles. Numerous drives into the Otways will take you past some stunning views and landscapes, and day trips to the waterfalls there come highly recommended. Whichever way you go from here, no doubt you will be thankful for your refreshing and relaxing time spent in beautiful Apollo Bay.
Gavin Wyatt