Melbourne - A Touch Of Class
The Melbourne Skyline at Night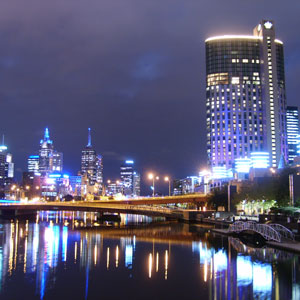 Melbourne is the trendy metropolitan city of Australia. Known for its cafes, restaurants, stylish shopping and shows, it is an excellent location for a campervan holiday with magnificent scenery and attractions all within an hours drive of the city centre. It is easy to find a
campervan hire Melbourne
, with some of these among the cheapest in Australia.
Victoria's capital promises to keep you fascinated from dawn to way past dusk. In the heart of the city, visit the lush Royal Botanic Gardens, popular for a quick lunch or stroll. Federation Square is a meeting place which has become a well known landmark within the city, and Brunswick Street is known for its eclectic cafés, shops and atmosphere. You also can't miss the extensive Melbourne Museum which displays some of the best art, sculptures and technology this city has to offer.
In summer there are free programmes organised in the parks and gardens of Melbourne for people of all ages. The fun in the sun programme encourages everyone to get outdoors and enjoy a picnic and some activities together.
Maybe you could plan your stay to coincide with the Royal Melbourne Show, held 20-30 September each year? The show is Victoria's largest public event with rides, fantastic food, rural displays and of course, plenty of showbags.
How could you visit Melbourne without shopping? The Queen Victoria Market will keep you captivated with its myriad of stalls and food halls. You can catch a tram or walk here from the centre of the city. Why not end your spree with a trip to the Rialto Towers, the tallest office building in the city? A small charge gives you a tour guide and one of the most incredible panoramic views of Melbourne.
For a touch of class, board a dinner and cabaret cruise on the Yarra River, or dress up for an opera or show at the Melbourne Arts Centre. The busy restaurants, clubs and shows bring the city to life at night.
If you want to stay a while longer in the city, there are two main caravan parks located in central Melbourne which are ideal as a base. Located at Coburg, Melbourne Big 4 Holiday park is an excellent choice, or the Hobsons Bay Caravan Park at Williamstown is another option for your
campervan hire
.
Just ninety minutes drive from Melbourne, Philip Island offers a rare opportunity to see fairy penguins at play as you watch the 'Penguin Parade'. Sunsets are also exciting as guided tours are available to watch the penguins march. There is plenty of wildlife in this nature reserve. The fur seals will steal your heart at Seal Rocks, as will the cuddly koalas at the Koala Conservation Centre. There is a fantastic walk along Philip Islands headland that gives you breathtaking views plus a look at the Pinnacles which are unique rock formations off the coast.
Journeying on, the scenery keeps getting better with natural beauty such as Wilsons Promontory National Park at the most southern end of Australia, featuring long white beaches and incredible wildlife. The
Great Ocean Road
would have to be one of the most scenic drives in Australia, with 300 kilometres of winding roads which stretch from the headlands to beach views and rainforests. It is absolutely fantastic for a self drive holiday as there are so many places to stop and admire the views. It is most famous for its Twelve Apostles. These giant limestone rocks have been formed over the years by the pelting waves, and are best admired at sunset as the colours change before your eyes.
If you love adventure and rugged scenery, there are plenty of exhilarating moments waiting for you further out from the city.
The Grampians
are three hours drive west of Melbourne, and are especially stunning in Spring when almost 1000 species of flower are blooming. The Wimmera Lakes Caravan Park at Horsham is a great place to stay with the bonus of views of the Grampians as you set up camp. There is also Mt Buller, famous for its accessible ski fields and resorts. Mansfield Caravan and Camping Ground is the most popular place to stay if you are going to stay here for a while. With view of the mountains in the distance it's a great place to relax after a day of adventure.
With so many sights and dynamic attractions, it is hard to know where to start. Depending on your tastes you can sit at a cafe admiring views of the city skyline and enjoy watching the world go by, or you can set off to explore the wonders of the surrounding areas. One thing is sure, Melbourne will capture your heart and call you back again and again.
Jen Brewer