Just a two hour drive south west of Darwin in the Northern Territory of Australia lies the impressive Litchfield National Park. The rugged mountains and the thick rainforests of this beautiful park are easily accessible on sealed roads by your motorhome, making it one of the premier destinations in the country for a touring holiday.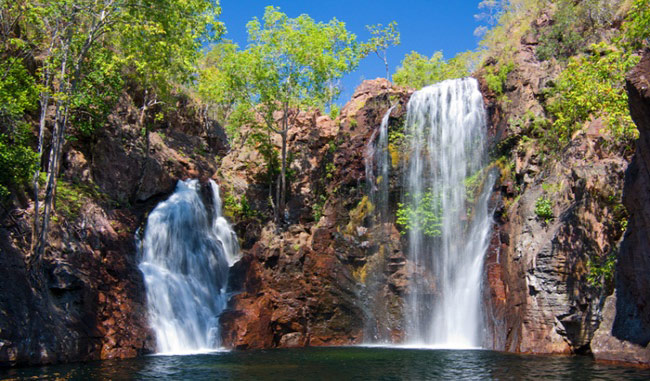 The towering Tabletop Ranges are the central attraction in this Park. The thick rainforest vegetation in their gorges contrasts with the bare and arid hills at their upper reaches, making this a diverse and interesting park. Four large waterfalls at different parts of the range provide excellent sight seeing and swimming opportunities, and there is no threat of crocodiles here.
The campsite at Wangi Falls is the perfect place to rent a spot for your motorhome and explore the rest of the park from. There is a kiosk here and hot showers and toilets, and the swimming rock pool of the falls is just a short walk through the rainforest away. There is also a campsite at Florence Falls, which has the added bonus of being close to Buleys Rockhole, a series of small rapids and waterfalls that make for exciting swimming. For more in depth information on this park, have a read of this article of ours.
Another interesting spot to visit in your motorhome is the magnetic termite mounds. These feats of natural engineering are all aligned perfectly north-south to minimise exposure to the sun. If you have a 4WD motorhome then visit the Lost City, a series of geologically formed sandstone pillars that look eerily like the remains of an ancient civilisation.
The diverse landscapes and the abundant wildlife of Litchfield make it an essential place to visit if you are in the Northern Territory. If it sounds appealing, then use the planner below to check out motorhomes on offer.