Which is the Right Campervan for You?
---
Friends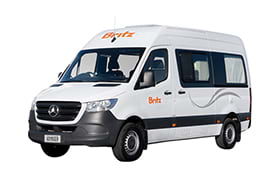 Traveling with friends is a great way to share the road trip experience and save some dollars by splitting the rental cost at the same time!
When you opt for a 4 Berth size, you can choose a vehicle with or without a toilet and shower on-board, depending on if you will spend most of your nights in camping grounds or whether you prefer to do some free camping.
A 4 Berth campervan without shower and toilet will have 2 double beds, ideal for 2 couples or a Boy/Girl road trip (if you don't mind sharing beds!). The sleeping area in the roof of the vehicle will make you feel like you are really camping, and its size makes camping in National Parks and the Camp grounds easy. Ideal if you're planning a longer trip and are travelling on a budget.
If you feel like upgrading to a larger vehicle with shower and toilet, check out some 4 Berth or 6 Berth Motorhomes; these are ideal for extra living space and generally include air-conditioned living area (240v power required) and outdoor awning.
Suitable Brands: Mighty, Let's Go, Britz, Maui, Cruisin Motorhomes, Go Cheap Motorhomes, Apollo
---
Backpackers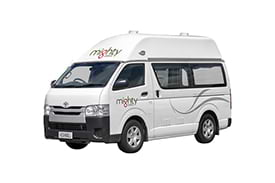 The 2 Berth and 3 Berth Hitop style vehicles are great, as backpackers tend to travel in pairs and the standing room inside gives a little bit extra room. For those on a tighter budget and who just need a place to lay their head, the sleeper vehicles with budget companies like Jucy and Spaceships are perfect.
If you're after a slightly larger vehicle, then the Camperman or Travellers Autobarn vehicles may be more suited to your needs. If you prefer an option with a shower and toilet (and some extra living space too!), then we recommend the Go Cheap or Mighty range for a great deal.
Suitable Brands: Mighty, Let's Go, Camperman, Jucy, Spaceships, Go Cheap Motorhomes and Travellers Auto Barn.
---
Over 55's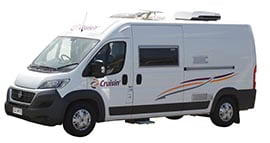 The 2 Berth and 3 Berth vehicles with toilet and shower are easy to drive, but still feature all the necessary mod-cons to enjoy a relaxing road-trip.

If you are after something with extra space then take a look at the larger 4 Berth options with economy brands such as Britz, Cruisin, Apollo… or LUXURY brands like Maui, Star RV and Let's Go. They come with all the essentials, from a shower and a toilet to a microwave and a DVD player.
Maui also has an Elite range which are guaranteed under 1 year old. See the full Maui Full range
Suitable Brands: Britz , Maui , Star RV, Apollo, Let's Go or Cruisin Motorhomes
---
Couples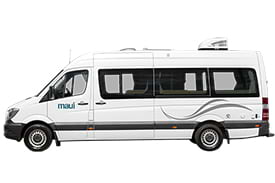 The 2 Berth or 4 Berth vehicles are the ideal choice for a couple, depending on budget and how much living space you would like on-board. A toilet and shower included means you have more freedom, because you are not tied down to camping ground facilities. Let's Go vehicles include an awning, even in their smaller vehicles and Britz or Maui have some great mid-size vehicle options in between a van and a Motorhome size.
Suitable Brands: Britz , Maui , Star RV, Apollo, Let's Go or Cruisin Motorhomes
---
Families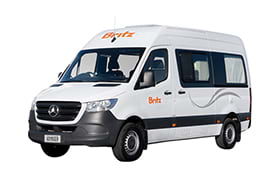 Motorhomes are perfect for a family road-trip to connect and spend quality time together! If you just need enough seatbelts and bedding to accommodate a family of three or party of four, there are many options to choose from in either a self-contained vehicle or a more basic hi-top. Maybe you prefer all the bells and whistles of a 6 Berth Motorhome; which generally include 2 anchor points for the kids, 3 double beds and an awning for outdoor living.
Suitable Brands: Britz , Maui , Star RV, Apollo, Let's Go, Go Cheap Motorhomes, Mighty or Cruisin Motorhomes
---