Travel North: Sydney to Brisbane
Day 1: Sydney to Nelson Bay (207 KM ' 2 hrs, 49 mins)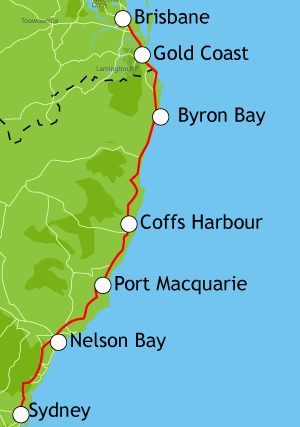 This pretty little town is situated on the southern coastline of Port Stephens. Acting as an ideal base to explore this remarkable region of New South Wales, Nelson Bay is home to an interesting variety of attractions, with spotting dolphins high up there on the list. Whale watching is another popular pastime here, ensuring that nature is a prominent aspect of this sleepy little town.
Where to stay:
Halifax Beachside Holiday Park
Nestled in natural bush land right on the water,
this incredible holiday park
is located just 15 minutes outside the town centre of Nelson Bay. Offering top class facilities, this park is ideal for those seeking a quiet place to stay, right by the water's edge.
Don't Miss:
Dolphin Watching
Dolphins frequent the bay area most of the year round so be sure to head down there one afternoon to catch these clever creatures having the time of their lives.
Day 2: Nelson Bay to Port Macquarie (250 KM ' 3 hrs, 18 mins)
Port Macquarie, at the mouth of the Hastings River, is a Mecca for water sports. The Hastings and Camden Haven Valleys are scenic wonderlands. Port Macquarie is rich in history, too. St. Thomas Church is one of the oldest in Australia. Life here is geared very much towards tourism. Experience things like boat hire, mini-golf, camel rides and scenic flights and also shops, caf's, restaurants and theme parks.
Where to stay:
Sundowner Break Wall Tourist Park
Located right in town, adjacent to lifeguard-patrolled Town Beach in Port Macquarie, this four-star rated park features the largest resort swimming pool on the mid north coast. Other amenities include free Internet, camp kitchen, children's playground, kiosk, and free kid's club during NSW school holidays. Accommodations include bayside and riverside cottages, spa cottages, conventional cottages, superior and small ensuite cabins, powered sites and units for backpackers. Take the free Koala Hospital Tour. (www.sundownerholidays.com)
Don't Miss:
Cassegrain Winery
The Cassegrain Winery is just south of Port Macquarie on the Pacific Highway near the Hastings River. The Cellar Door opens early for wine tasting. Reserve ahead for special private instruction in oenology. The Ca Marche restaurant is award winning, or you can picnic at the vineyard. The Winery has frequent special events and often hosts concerts in its natural amphitheater. (www.cassegrainwines.com.au)
Other Attractions:
The Sea Acres Rainforest Centre
Begin your visit to the Sea Acres Rainforest Centre with a stop at the ecology display to deepen your understanding of the flora and fauna and how they interact. Then take the long boardwalk to see the rainforest up close. You can purchase a souvenir or educational material at the shop, and dine at the Rainforest Caf'.
Aboriginal Tour
The local Aboriginal guide, Wiruunngga, from Gambaari Tours, will guide you from nearby Bellingen to see the Promised Land and the Never Never. He will tell you the story of Old Man Dreaming and teach you the skill of ochre painting. You also learn a traditional dance and sample bush tucker. While you are in Bellingen, visit Heartland Didgeridoos, to learn how this instrument is made. (www.heartdidg.com/Cultural/gambaarri.htm)
Day 3: Port Macquarie to Coffs Harbour (163 KM ' 2 hrs, 23 mins)
Beaches and balmy weather brings tourists to this area. Make your way down to Jetty Beach to enjoy a lovely strip of coast that looks out to Mutton Bird Island and the Pacific Ocean beyond. You can even take a stroll up and over the Island to have a feeling of being on the edge of the world. From August to April the island is an important seabird colony crammed with the burrows of more than 10,000 pairs of mutton birds, hence the name. If visiting from June to November keep an eye peeled for humpback whales as they pass offshore on their migrations to and from tropical calving grounds; cruises allow a close-up view.
Where to Stay:
Darlington Beach Holiday Park
The largest holiday park in the state of New South Wales, Darlington Beach Resort Park is only a 25-minute drive north of Coffs Harbour. The resort is bordered by Split Solitary Marine Park and Wedding Bells state forest. This resort offers two swimming pools, a golf course, two tennis courts, six kilometers of beachfront, a playground, cafe, Internet, movie and bingo nights, and is close to public transportation. Choose from ensuites, powered and unpowered sites, and self contained units priced from deluxe to value. (www.darlingtonbeach.com.au OR www.big4.com.au)
Emerald Beach Holiday Park
This award winning beachside park is located only minutes north of Coffs Harbour. Nearby are the beautiful Moonee Beach Reserve and the famous "Big Banana.' This park offers disabled access, convenience store, video rental, playground, a solar heated pool, a game room and basketball court. Accommodations include ensuites, self-contained units, and powered and unpowered sites. (www.emerald-beach.com)
Don't Miss
Pet Porpoise Pool
Close to the Jetty is the Pet Porpoise Pool with much marine life including dolphins, seals and penguins as well as Cockatoos, Peacocks, emus and many more. If you ever wanted to swim with the dolphins or seals for an up close and personal encounter you can! We would recommend pre-booking to avoid disappointment. (http://www.petporpoisepool.com/)
Other Attractions:
The Big Banana
The Big Banana is a banana plantation and much more. The theater shows films of life on the plantation. You will visit a hydroponics glasshouse, the banana packing shed and historic exhibits, the toboggan ride, the ice skating rink and much more. A favourite with the kids would have to be the candy shop. (www.bigbanana.com/)
Day 4: Coffs Harbour to Byron Bay (240 KM ' 3 hrs, 30 mins)
Byron Bay is one of New South Wales' premier tourist destinations. As a town relying solely on the tourism industry, Byron Bay certainly offers a lot, with superb beaches, a laid-back lifestyle, surrounding green hills and the rocky Cape Byron rising in the distance. Main Beach is a short walk from the town centre and is where all the action takes place. It is not unusual to see dolphins and their calves feeding not far from the shores or jumping through the breaking waves.
Where to Stay:
Clarkes Beach Holiday Park
Situated right on the beach front, this park is the ideal place to stay for those seeking the complete ocean living experience. Located within a close proximity to the town centre and Cape Byron lighthouse, visitors can enjoy the peace and serenity of this incredible area in style and comfort, while still avoiding the hoards of crowds. (www.clarkesbeach.com.au/)
First Sun Holiday Park
Located on the beachfront in the heart of beautiful Byron Bay. First Sun Holiday Park is literally metres from shops, restaurants and pubs, with direct beach access and views towards The Wreck, Byron Lighthouse, Mount Warning and beyond. Drive up, park your car and unwind!(www.firstsunholidaypark.com.au)
Don't Miss:
The Beaches
Byron Bay is home to many beaches, and while some can't escape the draws of commercialism, many have remained untouched. Catch some rays as you enjoy the calming effect of the lapping waters or take a dip, do a spot of snorkeling or simply enjoy watching the windsurfers cruise by. (www.byron-bay-beaches.com/)
Other Attractions:
The Cape Byron Lighthouse
Known as Australia's most easterly lighthouse, the Cape Byron Lighthouse offers everything a traditional lighthouse should. Visited by half a million people every year, the most enjoyable aspect of the lighthouse is perhaps the spectacular views of the coastline that surround it. (www.lighthouse.net.au/lights/nsw/Cape Byron/Cape Byron.htm)
Day 5: Byron Bay to Gold Coast (102 KM ' 1 hr, 30 mins)
Queensland's Gold Coast is one of the most visited tourist attractions in the state. Home to the fabulous Surfers Paradise and the known destination for ultimate family fun, the Gold Coast boasts the country's best theme parks, including Dreamworld, Movieworld, Seaworld and Wet'n'Wild. The Gold Coast offers something for everyone, whether it is a romantic coastal escape or the family holiday of a lifetime.
Where to Stay:
Ashmore Palms Holiday Park
This resort-style caravan park is one of the Gold Coast's best. Offering guests a wide range of accommodation options, this park boasts first class facilities and is in close proximity to attractions such as Southport, Main Beach, Surfer's Paradise and all the major theme parks. (http://www.ashmorepalms.com.au)
Don't Miss:
Dreamworld
Known as the park with all the worlds in one, this theme park is a must on any Gold Coast holiday, for both those young and young at heart. Experience the thrills of the Claw, the Giant Drop and the Tower of Terror and cool off in the afternoon when you pop next door to the ultimate water theme park, White Water World. (www.dreamworld.com.au)
Other Attractions:
Surfer's Paradise
The name kind of gives it away, but Surfer's Paradise offers so much more than surfing. Explore the many shops and cafes that line the beaches and spend an afternoon frolicking in the water or simply relaxing in the sun. (www.surfersparadise.com/)
Day 6/7 ' Gold Coast to Brisbane (72.1 KM ' 1 hr)
Brisbane is the capital of Queensland and Australia's fastest growing city. Located on the Brisbane River, between the Great Dividing Mountain Range and Moreton Bay, Brisbane is a lush city with spectacular gardens and wonderful beaches. Brisbane offers visitors a wealth of sightseeing and dining opportunities, and you will need at least a full day to explore cultural and historical landmarks in Brisbane, and perhaps do some shopping at one of the outlet centers in and around the city.
Where to Stay:
BIG4 Brisbane North side Caravan Village
Located about 12 km from the heart of Brisbane in Aspley, the BIG4 Brisbane features a well-equipped recreation room with an Internet kiosk, a swimming pool, tennis courts, golf putting green, and laundry facilities. Guests can easily walk to a nearby shopping centre and to public transportation into Brisbane. Choose from self-contained, air-conditioned villas and cabins, all of which include kitchens, telephones, televisions, and toilets. (www.caravanvillage.com.au OR www.big4.com.au)
Gateway Village Resort
Located about 16 km south of Brisbane in Rochedale, the Gateway Village features a recreation room, tennis court with floodlights, swimming pool, children's playground, laundry facilities, landscaped gardens, and Internet kiosks and wireless throughout, camper's kitchen, and free video games. Buses run from the resort into Brisbane and to the major regional shopping centres. Choose from one- to three-bedroom villas, and full-serviced, powered sites. (www.gatewayvillage.com.au)
Don't Miss:
Lone Pine Koala Sanctuary
Located just outside of Brisbane in Fig Tree Pocket, the Lone Pine Koala Sanctuary is home to over 130 koalas. Stop by on the way to your accommodations near Brisbane, and you can enjoy some actual koala cuddling, feed kangaroos from your hand, and see parrots, kookaburras, emus, wombats, a Tasmanian devil and an Eastern water dragon! You can have your picture taken with a koala; eat at the on-site restaurant or in the picnic area. (www.koala.net)
Other Attractions:
St. John's Cathedral
Under construction for the past 100 years, this 19th century Gothic-Revival cathedral was designed in 1888 and features the only stone vaulted ceiling in Australia. Take the Stained Glass Tour, watch as masons cut stone using medieval methods, and see more than 200 needlepoint cushions hand-stitched by art students. www.stjohnscathedral.com.au
The Queensland Cultural Centre
Situated on the banks of the Brisbane River, the Queensland Cultural Centre is a series of buildings celebrating the arts. Visit the Queensland Arts Gallery and the Queensland Gallery of Modern Art (www.qag.qld.gov.au), both with Aboriginal collections. Also in this arts complex is the Queensland Performing Arts Centre (www.qpac.com.au), where you can take a tour of the four separate theatres, and backstage areas. The Queensland Museum (www.qm.qld.gov.au/) is the place to see fossils, models of a blue whale and dinosaurs, and even a German tank from WW1.