Victorian & New South Wales Outback Roadhouses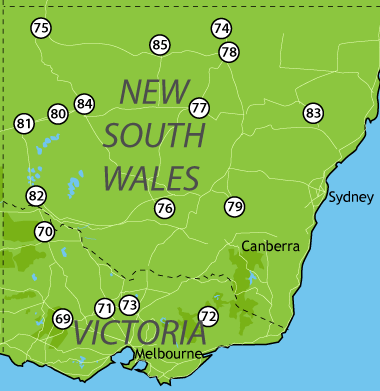 69. Lhangi Ghiran Roadhouse
This BP station is located in the Victorian town of Ararat and offers a service station and garage services, along with a wide range of refreshments,
Location: Corner Ingor and Collings Sts, Ararat, VIC 3377
70. Queen Bee Roadhouse
Situated on the junction of the Calder and Mallee Highways, the Queen Bee Roadhouse is popular with the truckies, but is also a great place to stop for all other sorts of tired and weary travellers.
Location: 79 Farrell St, Ouyen, VIC 3490
71. Castlemaine Top End Servo
Open from 6am til 11pm, this s a servo that is open when you need it. Whether it's just passing through or you're thinking of staying a night or two in Castlemaine, this is the service station for you.
Location: 315 Barker St, Castlemaine, VIC 3450
72. Dargo Roadhouse
Dargo is one of Victoria's most remote communities so dropping in at the local roadhouse is a must. This town is the ideal base for exploration of the Alpine National Park and Avon Wilderness so be sure to check it out.
Location: Dargo High Plains Road, Dargo, VIC 3862
73. Heathcote Northend Roadhouse
While driving through Heathcote, the Northend Roadhouse is simply a must-visit. Stop to refuel, stock up on supplies and talk to the locals about the road ahead.
Location: 212 High St, Heathcote, VIC 3523
74. Lightning Ridge Roadhouse
Lightning Ridge is a famous opal mining town in outback New South Wales and is home to the world's richest deposits of black opal. The town itself is quite impressive so make sure you stop in at the roadhouse for a decent home-cooked meal.
Location: Bill Obrien Way, Lightning Ridge, NSW 2834
75. Cameron Corner
Cameron Corner lies at the intersection of the New South Wales 'Queensland border and is one of the state's most visited outback destinations. The local store is iconic and is perfect for restocking your supplies.
Location: Cameron Corner, Tibooburra, NSW 2880
76. Griffith Roadhouse
Griffith is set amongst a fertile backdrop of vineyards and orchards, offering a pleasant change from the dry outback scenes. Stop by the local roadhouse to fill the fuel tank up and experience the rich culture that this town boasts.
Location: Griffith, NSW 2680
77. Nyngan Powers Service Station
The town of Nyngan is a little bigger than many Australian Outback towns, but the roadhouse here is still a must. Relax by the Bogan River and stock up on supplies before you continue your adventure along the Mitchell Highway.
Location: Nyngan, NSW 2825
78. Woodhams Roadhouse
Walgett is a fantastic place to visit and is brimming over with history and outback culture. Meet some of the locals at the Woodhams Roadhouse and listen to stories of the days gone by.
Location: Castlereagh Highway, Walgett, NSW 2832
79. Young Roadhouse
Young is another one of those Australian outback towns that have a lush and pleasant feel. Home to stunning vineyards and orchards, this is the perfect place to rejuvenate before you once again hit the open, dusty roads.
Location: Wombat Rd, Young, NSW 2594
80. Little Topar Roadhouse
The road between Broken Hill and Cobar is a dry and dusty one. Lucky the Little Topar Roadhouse is on hand to look after you. Stop for refreshments and take some time to appreciate the vastness of the country around you.
Location: Barrier Highway, Little Topar, NSW
81. Packsaddle Roadhouse
The Packsaddle Roadhouse is a sight for sore eyes, nestled between Broken Hill and Tiboorburra. It is also the home of one of the best keep memorabilia from the Australian wool industry, while also offering meals, cool beer and fuel.
Location: Packsaddle Roadhouse, via Broken Hill, NSW 2880
82. Coombah Roadhouse
The Coombah Roadhouse is the only retail premises on the long road between Wentworth and Broken Hill in Far Western New South Wales. Relax and refuel, after enjoying a pleasant sit-down meal.
Location: Silver City Highway, Wentworth, NSW 2648
83. Murrurundi Roadhouse
Once famous for it's signage: 'The Turkey Lurkey Tank and Tummy', the Murrurundi Roadhouse is now a popular place to refuel and stock for food supplies.
Location: New England Highway, Murrurundi, NSW 2338
84. Emmdale Roadhouse
Situated midway between Cobar and Wilcannia, the Emmdale Roadhouse may be a small one, but it's useful for your number one outback necessity: Fuel.
Location: Barrier Highway, Wilcannia, NSW 2386
85. North Bourke Roadhouse
Bourke is a great Australian town and the local roadhouse encompasses this spirit well. Stop by to refuel and re-energize, taking some time to explore the history and sights around town.
Location: Mitchell Highway, Bourke, NSW 2840