Queensland Outback Roadhouses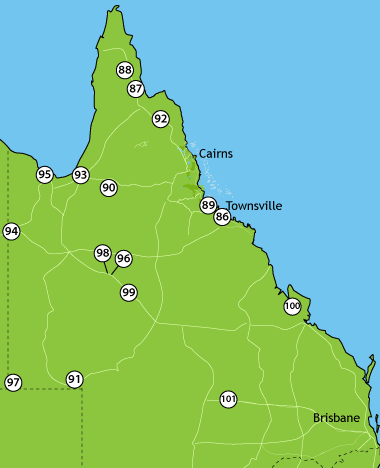 86. Alligator Creek Roadhouse
Situated just outside of Townsville, the Alligator Creek Roadhouse is a great place to stop to enjoy views of the nearby Muntalunga Range or stock up before exploring the nearby waterholes and cascades.
Location: 1 Allendale Dr, Alligator Creek, QLD 4816
87. Musgrave Station
Musgrave Station is a welcome sight to those travelling up north to Cape York. Situated around halfway between Cohen and the Archer River, this station has camping facilities, fuel and an air strip.
Location: Peninsula Development Road, Musgrave, QLD
88. Archer River Roadhouse
The Archer River Roadhouse is located just 66 kilometres north of Coen and is open seven days a week, selling fuel, meals and take-away. Campers are accommodated and dogs are permitted.
Location: Peninsula Development Rd, Peninsula, QLD 4871
89. Blue Water Springs Roadhouse
Positioned on Stockyard Creek, this roadhouse is also relatively close by to Balgal Beach and offers fuel, food and supplies.
Location: Gregory Development Rd via, Charters Towers, QLD 4820
90. Gulf Gate Roadhouse
The Gulf Gate Roadhouse offers basic accommodation, along with a licensed restaurant and fuel station.
Location: William St, Croydon, QLD 2132
91. Haddon Corner
Positioned right on the border between South Australia and Queensland, Haddon Corner is a must before crossing the state line.
Location: North Eastern Corner South Australia
92. Hann River Roadhouse
This roadhouse and campground is a great stopping point if you want to throw in your line and catch your dinner. Browse the souvenirs and stock up on supplies before you head out.
Location: Peninsula Development Rd, Laura, QLD 4871
93. Bourke and Wills Roadhouse
Providing a pleasant break from the road, Bourke and Wills Roadhouse offers a licensed restaurant and plenty of places for camping for the night. The friendly staff will make you feel welcome and the revamped atmosphere is sure to make you want to stay longer.
Location: Matilda Highway, Normanton, QLD 4890
94. Camooweal Roadhouse
This is the perfect place to stop after a good day's drive from Mt Isa on the way to Tennant Creek. This is also a popular spot for anglers on their way to Booroola and other Gulf Fishing hot spots.
Location: Barkly St, Camooweal, QLD 4828
95. Hells Gate Roadhouse
Regarded as the frontier in pioneering Queensland, Hells Gate offers shady campgrounds and lawns and is somewhat of an oasis for travellers.
Location: Hells Gate Roadhouse, Burketown, QLD 4830
96. Kynuna Roadhouse
Kyuna is regarded as the second home of the Brolgas and is the ideal place to visit to catch a glimpse of these magnificent creatures. Relax with a nice meal, fuel up and enjoy the lively atmosphere.
Location: Matilda Highway, Kyuna, QLD 4823
97. Poeppel Corner
Positioned on one of the nation's best known state corner's (QLD/SA/NT), Poeppel Corner is situated in the Simpson Desert and is only accessible with a 4WD vehicle. Stop in at the roadhouse ad be sure to fuel up because there isn't another one for a while.
Location: Intersection of QLD, NT AND SA
98. Tirranna Roadhouse
Although small, the Tirranna Roadhouse offers friendly service and the fuel you will need to continue your journey through Tropical Queensland.
Location: Tirranna Roadhouse, Burketown, QLD 4380
99. Winton Roadhouse
Winton is the birthplace of our national song 'Waltzing Matilda', making it a must to stop in at while in this area. It is also the home of Queensland's Boulder Opal.
Location: 35 Chirnside St, Winton, QLD 4735
100. Marlborough Roadhouse
The Marlborough Roadhouse is positioned on what was once known as a 'Horror Stretch', where many mishaps occurred. Today, the roadhouse and its surrounding area don't experience quite so much drama, but it does provide a good stopping point on the road from Rockhampton to Mackay.
Location: Bruce Highway, Marlborough, QLD 4705
101. Morven Roadhouse
Open from 6am until 11pm daily, the Morven Roadhouse is sure to take care of your every need while you are travelling in this remote part of the Queensland outback.
Location: Warrego Highway, Morven, QLD 4468