Mighty Deuce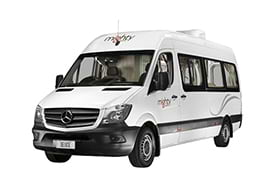 Floorplans
Image Gallery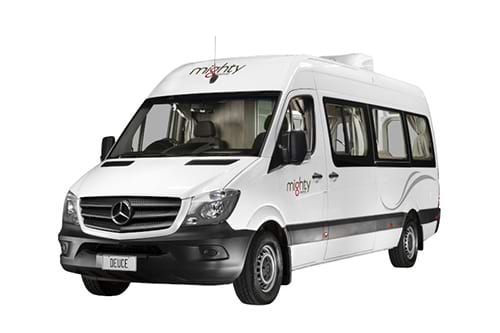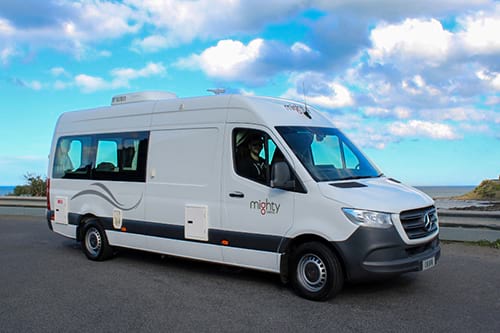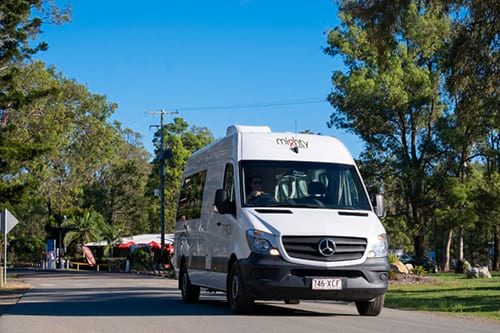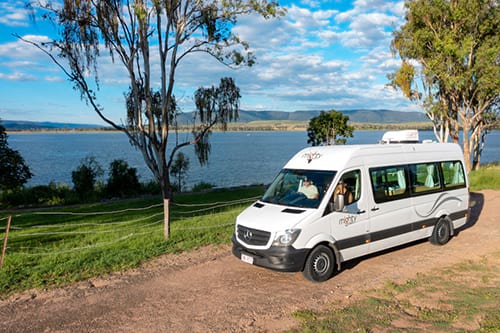 Vehicle Details
Vehicle
Vehicle Age
2015 - 2018
Seating
Maximum Passengers
2
Seatbelts
2 in Drivers Cabin
Child Restraints
Total Child Restraints Permitted - 1


Rear FacingNot Permitted




Forward FacingNot Permitted




Booster

Maximum 1
Internal Access
Yes
Living Area
Crockery Cutlery Pots Pans Supplied
Yes
Fire Extinguisher
Yes
Fridge & Freezer
Yes
Fly Screens
Yes
Gas Cooker
Yes + Built in BBQ
Gas Bottles
Yes
Hot & Cold Water Supply
Yes
Linen Supplied
Yes
Microwave
Yes (requires 240v)
Air Conditioner in Living Area
Yes (requires 240v)
Air Conditioning in Drivers Cabin
Yes
Sink
Yes
Sleeping Configuration
1 x Double Bed OR
2 x Single Beds
Shower and Toilet
Yes
Entertainment
Audio System
Radio / CD
TV - DVD
No
Vehicle Specifications
Dual Battery
Yes
Engine Specifications
2.2 Litre, Turbo Diesel
Fuel
Diesel, 75 Litre Fuel Capacity
Fuel Consumption
Approx 10 Litres per 100 km
Power Equipment
Power Steering
Power Supply
12v & 240v
Solar Panel
Yes
Roof Racks
No
Transmission
Automatic
Water Tank
Yes
Waste Water Tank
Yes
Vehicle Dimensions
Length
7.00m
Width
2.04m
Height
2.80m
Interior
1.90m
Disclaimer:
Actual vehicles may vary according to year of manufacture & availability, but vehicle will be suitable for required number of people and have similar specifications to those on this website. Specific specifications cannot be requested. Measurements are approximate, not guaranteed and specifications may change at any time without any prior notice.
29 Reviews for Mighty Deuce recently
Tim Farrell
02 October 2021
Tyres were concerning about depth of tread. Television did not work Curtains behind drivers seat barely held on my pegs
Geoff Taylor
14 August 2021
I hired a Mighty Deuce (Mercedes Sprinter) The signage had not been redone so it was still in Britz colours. That of course is of no consequence but it appeared to be an upgrade. The vehicle had done 233000 Km and drove like new. I was very impressed with the fuel consumption. I averaged 10.8 Lt/100 Km over 7600 km. Driving into the wind increased consumption and slower parts of the trip saw markedly better, but that is the total average. In transit to Alice springs and Newcastle I free camped. Travelling each day (except for one) kept the house battery charged The water and house battery where adequate. The hot water system is great as is the BBQ for my evening meals. The vehicle was pleasant to drive. The seat comfortable.
Brian Johnson
07 August 2021
Older vehicle by choice. Everything worked fine. Instructions on tuning the radios onboard would be good. TV aerial would also have been good. The bathroom floor could have been cleaned better and there was a sell from the toilet. Consequently the toilet and shower were not used. Chicle drove well and the bed etc were comfortable, the doona cover had a bad stain on it. The good thing was we left from home and so we took a lot of things from home that a traveller would not be able to take. Flannel sheets, frozen food and extra blankets.
Fiona Redgrove
10 July 2021
We found the on board computer difficult to navigate
Great to Drive good bed well equipped. Radio did not work very well. A tv would have been good. But overall a great way to have a holiday
Andrew Litynski
26 June 2021
Good to drive and plenty of space for what it is. Bottom drawer holding plates etc kept coming open when driving. Fan in drivers cabin squeaky.
Well kitted out campervan. Microwave plate was clearly not the original as it made an awful scraping noise as it turned during cooking. Would also have been nice to have 2 pillows each as they were pretty flat and we needed to stuff the pillowcase with jackets to get a good nights sleep.
easy and fun to drive, had everything we needed.
Graeme Anderson
10 April 2021
Excellent to drive.Surprisingly stable for such a large vehicle . Very well set out inside and everything you need is in a cupboard . My only complaint was the bed was too short .I am only 5 feet 7 in and I was too tall for it and had to sleep on an angle or with my legs bent .I would hate to see a normal 5 foot 10 inch person (or taller ) in that bed .
Mrs Sharon Rasmussen
27 March 2021
Design of the vehicle well suited my needs and performed well. Vehicle required some additional cleaning, in particular the vent overhead the dining/ bed area needed a really detailed clean and empty of leaves. Overall was satisfied with my rental. Felt it was value for money.
Roger Van Itallie
30 January 2021
Vehicle performed well with power and fuel economy, had all the comforts of home except bed cramped for tall people.
Elizabeth smith
27 December 2020
Was an amazing trip to Kalbarri with me and my beautiful girlfriend for her birthday. Was so easy to drive and the aircon kept us cool from the heat of summer. Would definitely do it again we love it.
Helen Scott
13 November 2020
Great space for two. Had some trouble with the water tank. Couldn't fill it even though the gauge said it was on reserve. Didn't use it in the end. Otherwise all good.
Helen Scott
07 November 2020
Great space for two. Had some trouble with the water tank. Couldn't fill it even though the gauge said it was on reserve. Didn't use it in the end. Otherwise all good.
Barry Pryor
15 August 2020
No mechanical problems curtains a bit warn Storage for chairs and table for outside not secure when driving.
Rhonda Donaldson
09 August 2020
The vehicle was great to drive and very comfortable, number of issues . I left a list with Mighty so they can deal with them.
Aydin Caydamar
08 August 2020
perfect
Debra Harris
12 July 2020
Easy to drive. Bed a little short but comfy. Hot water took some working out but nice shower eventually. Cooking outside was great. Awning would be handy.
Chris Harvey
11 July 2020
Excellent to drive - great fuel economy- fully equipped kitchen.
Helen Branson
11 July 2020
Apart from one of the BBQ elements not going & a smelly toilet, the van was superb 😊
Chris Harvey
11 July 2020
Excellent to drive - great fuel economy- fully equipped kitchen.
Janie ribbink
04 April 2020
The van was well equipped. A backup camera would have been helpful.
Barry Johns
28 March 2020
It was fine for the 2 weeks we rented it accept the ensuite was minuscule. We only used the toilet as the shower uses too much water even for the 2 minutes we would have showered for. We are experienced caravaners and showered at other public facilities as the very limited water storage capacity meant we would have had to fill daily. Just washing and the usual cups of tea, filling the hot water bottle, cooking etc the water lasted maximum 3 days. Otherwise the vehicle was superb, handled like a car and was economical (1730km and only 180lL of fuel). I actually looked forward to driving it.
Graham Smith
08 February 2020
Vehicle was a bit old, and we were expecting a 3 year old one. No problems with it however.
Tane Gray
08 February 2020
Economical on diesel. Spacious for a young couple. Needs shade, so I suggest getting an awning or buying a portable gazebo. Stereo both up front for driving and in the back is great!!
Anthony Keats
11 January 2020
Mechanically terrific, I was delighted with the fuel consumption and the comfort for driver and passenger. The "house" however was an entirely different story. The plus one arrangement meant that everything was either too short, too narrow or too small. I found the constant advice to pre-register to "save time" unhelpful and view it merely as an excuse to complete prepayment.
Rodney Hyatt
30 November 2019
Easy to use and drive.
Rodney Hyatt
30 November 2019
Easy to use and drive.
Anne McNamara
21 October 2019
Great size for 2 people. Spacious and well equipped. Easy to drive.