Sydney to Sydney in 5 Days (925 km)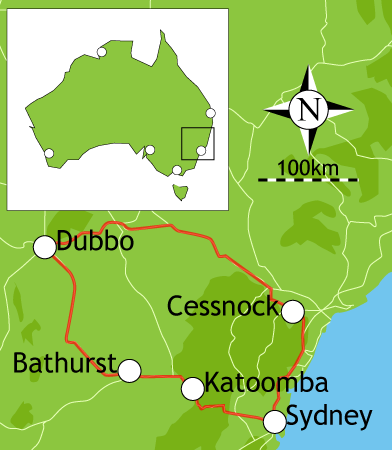 There is a whole lot of scenery, history, and activities packed in to this five-day itinerary. Stops in Katoomba and Bathurst take you through the Blue Mountains, exploring the history of gold mining, the Abercrombie caves, and numerous historic sites. Then you are off to Dubbo, where you can tour the Western Plains Zoo and the Old Dubbo Gaol. The last two days of your trip take you to Cessnock in the Hunter Valley Region with its many vineyards, and finally back in Sydney, for some nightlife and fun on the Darling Harbour waterfront.
Day 1 ' Sydney to Katoomba
The first leg of your adventure takes you 102 km west (almost 2 hours) to the bushwalking capital of the Blue Mountains, the cliff-side town of Katoomba. Just north of the Blue Mountains National Park, Katoomba looks out on the Three Sisters. Adventure sports such as abseiling are available, or you can take bus or scenic rail tours.
Where to Stay
Katoomba Falls Caravan Park
Located on scenic Cliff Drive, only two kilometers south of the Katoomba train station and minutes from King's Tableland, Dante's Glen and Wentworth Falls Lake, this park offers a camp kitchen, laundry, and BBQ facilities. Choose from self-contained units, ensuites, and powered and unpowered sites. (www.katoomba-nsw.com/KatCaravanPark.html)
Don't Miss
Scenic Railway
From the Cliff Drive at Scenic Railway bus stop, swoop down into the rain forest. The infamous Orphan Rocker Roller Coaster may still not be operating, even after all of these years, but that shouldn't stop you enjoying the mythology that it has produced. Take the wheel-chair accessible boardwalk into the rain forest. You can see the coalmine exhibit in a cave mouth, drink pure mountain water from Marrangaroo Spring, and go on to a pleasant break at the Rainforest Room. (infobluemountains.net.au)
Other Attractions
Katoomba Fine Art
When it comes to art, Katoomba knows what it is talking about. The Blue Mountains has long been an artistic and bohemian centre and this is clearly evident with a visit to the area's favourist art gallery. Displaying the work of some of the best local talent, Katoomba Fine Art is a truly inspiring gallery and a must-see while in town. (www.katoombafineart.com.au
Echo Point and Cliff Drive
At the Echo Point Visitors Centre you can get current information on all tours and bushwalking opportunities. Enjoy the view of the Three Sisters from here, then walk, drive or take an excursion bus along Cliff Drive, stopping often to enjoy the views. Or descend the Giants Stairway to the Jamieson Valley, hike the Federal Pass trail through the rainforest to Katoomba Falls. The Furber Steps will take you up the cliff to Cliff Drive. (www.infobluemountains.net.au/)
Day 2 ' Katoomba to Bathurst
Today you will drive about the same distance as the first leg, just under 100 kilometres (about an hour and a half) on the Great Western Highway to Bathurst. Bathurst has several National Trust houses you can tour, including the Abercrombie House mansion, the pioneer-era Miss Traill's House and the simple home of former Prime Minister Ben Chifley. Gold was first noticed here, and gold mining, industrial technology and transport make up a big part of Bathurst's history and made accessible in its museums.
Where to Stay
Big 4 Bathhurst Panorama Holiday Park
Located in the town of Kelso about five kilometers from Bathurst and historic Mount Panorama, this park offers a solar heated swimming pool, playground, rec room, tennis courts, and BBQ area and is near to public transportation. Accommodations include two-bedroom, self-contained cabins, ensuites, basic self-contained units, and powered and unpowered sites. (www.bathurstholidaypark.com.au OR www.big4.com.au/)
Don't Miss
Abercrombie Caves
The Abercrombie Caves in the Abercrombie Karst Conservation Reserve are about an hour's drive from Bathurst through some spectacular vistas of the Abercrombie Ranges. Inside the caves see stalactites, stalagmites and the magnificent Abercrombie Archway'the largest natural limestone arch in the southern hemisphere. Caravan camping is available at the Reserve. (www.nationalparks.nsw.gov.au)
Other Attractions
Australian Fossil and Mineral Museum
Visit the dinosaurs and other fossils in the world-famous Somerville Collection. The mineral exhibits are also stunning. (www.somervillecollection.com.au)
Bathurst Goldfields Museum
The Bathurst Goldfields Museum is hands on, both indoors and out. Learn what it was like to be underground in an old gold mine and see how all of the equipment was operated. Understand the impact of gold mining on the indigenous people and discover how the Chinese were involved in the mining. Then try your hand at panning gold! (www.bathurstgoldfields.com.au)
Day 3 ' Bathurst to Dubbo
Today you head 205 km west, and then north on the Mitchell Highway. In just under three hours you will arrive in Dubbo, a fast-growing town at the center of NSW, where you can shop at galleries, visit a winery and even learn to throw a boomerang. Three government astronomical observatories are close by, and Dubbo is home to one of the world's premier zoos.
Where to Stay
Dubbo Cabin and Caravan Parklands
Located across the street from the Dubbo Golf Course and next to the Western Plains Zoo, this resort features a swimming pool, convenience store, camp kitchen, playground, LP gas refills, and a game room. Choose from drive through sites, back on sites, unpowered campsites, ensuites and power suites. (www.dubboparkland.com.au OR www.big4.com.au/)
Don't Miss
Western Plains Zoo
The Western Plains Zoo is the best open range zoo in Australia. Large open displays reflect the natural habitat of over a thousand animals from around the globe. Early morning guided walks are sometimes available. Dubbo Observatory is across from the zoo, and takes you from the ecosystems of earth to the star systems of the galaxy. (www.taronga.org.au/western-plains-zoo.aspx)
Other Attractions
Old Dubbo Gaol
Dubbo Gaol was built in 1871. Nowadays, animatronic models tell the story of the prisoners who lived and died here. See it all, from the gallows-pole to solitary confinement cells to the exercise yard. The self-guided tour takes about one hour. (www.olddubbogaol.com.au/)
Throw a Boomerang
Jedda Boomerangs has been handcrafting boomerangs for years and have been showcased on several television shows. Watch the artisans make boomerangs, then learn to throw one. The shop has many other local arts and crafts.
Day 4 ' Dubbo to Cessnock
Today is the longest driving day on your itinerary. In just under five hours you will drive 347 km from Dubbo southeast to Cessnock, traveling on the Newell, Golden, and New England Highways. Cessnock is the gateway to the Hunter Valley Region, one of Australia's oldest wine-growing regions. Cessnock began as a traveler's rest on the convict-built Great North Road and is now surrounded by history.
Where to Stay
Valley Vineyard Tourist Park
Located across from the Oaks Gulf and Country Club, this park features two large spools with shaded seating, camp kitchen, and laundry and BBQ facilities. Accommodations include two bedroom cottages, one and two-bedroom cabins, standard cabins with private exterior ensuites, powered ensuite sites, and powered sites in a unique vineyard location with plenty of shade. (www.valleyvineyard.com.au)
Don't Miss
Hunter Valley Gardens
At the foot of the Brokenback Ranges, the Hunter Valley is home to many vineyards. Hunter Valley Gardens includes a vineyard and a dozen themed gardens. The gardens include a rose garden and a storybook garden and cover 25 hectares. Hunter Valley Gardens Village includes shops and cafes, a wedding chapel, a picnic area and a children's playground that is fully enclosed. (www.hvg.com.au)
Other Attractions
The Great North Road Convict Trail
This 240 km road was built in the early 19th century by convict labour. Now local communities work together to preserve the road and its associated relics. Watch for stone walls and other relics of the convict past. Bimbadeen Lookout on the Great North Walk offers spectacular views. (www.convicttrail.org)
Golf
As you might expect in a town with Scottish roots, Cessnock is home to a championship golf course'The Oaks Golf and Country Club. The Jack Newton International Junior Classic is played here. Bookings are recommended, but the course keeps a schedule that allows time for visitors to play. (www.theoaksgolfclub.com.au)
Day 5 ' Cessnock to Sydney
Make your way back to your starting point, heading south 151 km (about two hours) and mainly on the Pacific Highway. In Sydney, you can indulge in some of the Emerald City's "Mod Oz" cuisine and a little of the city's famous nightlife. This is where you may wish to extend your trip once you return your rental, and stay at a hotel in the Rocks Historic District long enough to take in Sydney's many world-class attractions.
Where to Stay
Sydney Lakeside Holiday Park
Located 25 km north of Sydney's central business district, this resort offers connections by ferry and bus to Manly, Palm Beach and Sydney's attractions. Amenities include a seven-day reception and tour desk, disabled access, a coastal environment center, landscaped gardens and garden walkways. Choose from ensuites and drive through suites with or without power. (www.sydneylakeside.com.au OR www.big4.com.au)
Don't Miss
Sydney Opera House
Located in Sydney Harbour, the roof of this iconic structure was designed to resemble sailboats. The Opera House features five performance venues, as well as shops, restaurants and bars. The basic tour includes tea and coffee, but the real treat is the backstage tour. A little pricey, but an experience you will not soon forget. (www.sydneyoperahouse.com)
Other Attractions
Royal Botanical Gardens
Enjoy a tour of more than 45,000 plants at this 80-acre park. You can also explore on your own, but do make time for the Rare and Threatened Plants Garden, and a meal in the Botanic Gardens Restaurant surrounded by flowers.
Darling Harbour
Several attractions are located in this popular spot, including the Harbourside Festival Marketplace, the Sydney Aquarium, the Powerhouse Museum, and the Australian National Maritime Museum. Dozens of fantastic restaurants operate out of Darling Harbour; don't forget to check out those located in the area hotels. (www.darlingharbour.com)
End of Trip
Return your campervan and begin working on that scrapbook!