Sydney to Sydney in 10 Days (1,787 km)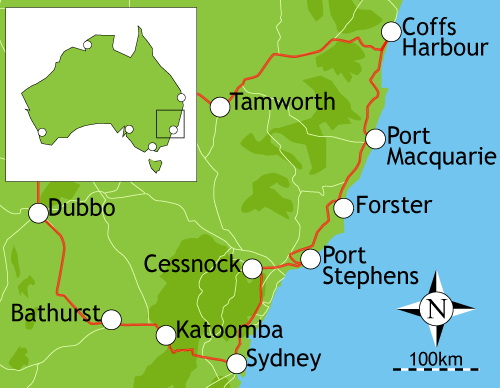 An amazing adventure awaits you as you travel round trip from Sydney, on a route that is completely different going back! Stops in Katoomba and Bathurst take you through the Blue Mountains, exploring the history of gold mining, the Abercrombie caves, and numerous historic sites. On to Dubbo and the Western Plains Zoo, and then the "Australian Country Music Capital", Tamworth, followed by a half-day's drive west to the coast and up to Coff's Harbour to see the dolphins.
The final days of your travels take you to Port Macquarie's vineyards, to Forster and the Myall Great Lakes area, the coastal villages of the Port Stephens Region, on to Cessnock and the famed Hunter Valley Gardens, finally arriving in Sydney for some city fun.
Day 1 ' Sydney to Katoomba
The first leg of your adventure takes you 102 km west (almost 2 hours) to the bushwalking capital of the Blue Mountains, the cliff-side town of Katoomba. Just north of the Blue Mountains National Park, Katoomba looks out on the Three Sisters. Adventure sports such as abseiling are available, or you can take bus or scenic rail tours.
Where to Stay
Katoomba Falls Caravan Park
Located on scenic Cliff Drive, only two kilometers south of the Katoomba train station and minutes from King's Tableland, Dante's Glen and Wentworth Falls Lake, this park offers a camp kitchen, laundry, and BBQ facilities. Choose from self-contained units, ensuites, and powered and unpowered sites. (www.katoomba-nsw.com/KatCaravanPark.html)
Don't Miss
Scenic Railway
From the Cliff Drive at Scenic Railway bus stop, swoop down into the rain forest. The infamous Orphan Rocker Roller Coaster may still not be operating, even after all of these years, but that shouldn't stop you enjoying the mythology that it has produced. Take the wheel-chair accessible boardwalk into the rain forest. You can see the coalmine exhibit in a cave mouth, drink pure mountain water from Marrangaroo Spring, and go on to a pleasant break at the Rainforest Room. (www.infobluemountains.net.au/a>)
Other Attractions
Katoomba Fine Art
When it comes to art, Katoomba knows what it is talking about. The Blue Mountains has long been an artistic and bohemian centre and this is clearly evident with a visit to the area's favourist art gallery. Displaying the work of some of the best local talent, Katoomba Fine Art is a truly inspiring gallery and a must-see while in town. (www.katoombafineart.com.au/)
Echo Point and Cliff Drive
At the Echo Point Visitors Centre you can get current information on all tours and bushwalking opportunities. Enjoy the view of the Three Sisters from here, then walk, drive or take an excursion bus along Cliff Drive, stopping often to enjoy the views. Or descend the Giants Stairway to the Jamieson Valley, hike the Federal Pass trail through the rainforest to Katoomba Falls. The Furber Steps will take you up the cliff to Cliff Drive. (www.infobluemountains.net.au/)
Day 2 ' Katoomba to Bathurst
Today you will drive about the same distance as the first leg, just under 100 kilometres (about an hour and a half) on the Great Western Highway to Bathurst. Bathurst has several National Trust houses you can tour, including the Abercrombie House mansion, the pioneer-era Miss Traill's House and the simple home of former Prime Minister Ben Chifley. Gold was first noticed here, and gold mining, industrial technology and transport make up a big part of Bathurst's history and made accessible in its museums.
Where to Stay
Big 4 Bathhurst Panorama Holiday Park
Located in the town of Kelso about five kilometers from Bathurst and historic Mount Panorama, this park offers a solar heated swimming pool, playground, rec room, tennis courts, and BBQ area and is near to public transportation. Accommodations include two-bedroom, self-contained cabins, ensuites, basic self-contained units, and powered and unpowered sites. (www.bathurstholidaypark.com.au OR www.big4.com.au/)
Don't Miss
Abercrombie Caves
The Abercrombie Caves in the Abercrombie Karst Conservation Reserve are about an hour's drive from Bathurst through some spectacular vistas of the Abercrombie Ranges. Inside the caves see stalactites, stalagmites and the magnificent Abercrombie Archway'the largest natural limestone arch in the southern hemisphere. Caravan camping is available at the Reserve. (www.nationalparks.nsw.gov.au)
Other Attractions
Australian Fossil and Mineral Museum
Visit the dinosaurs and other fossils in the world-famous Somerville Collection. The mineral exhibits are also stunning. (www.somervillecollection.com.au)
Bathurst Goldfields Museum
The Bathurst Goldfields Museum is hands on, both indoors and out. Learn what it was like to be underground in an old gold mine and see how all of the equipment was operated. Understand the impact of gold mining on the indigenous people and discover how the Chinese were involved in the mining. Then try your hand at panning gold! (www.bathurstgoldfields.com.au)
Day 3 ' Bathurst to Dubbo
Today you head 205 km west, and then north on the Mitchell Highway. In just under three hours you will arrive in Dubbo, a fast-growing town at the center of NSW, where you can shop at galleries, visit a winery and even learn to throw a boomerang. Three government astronomical observatories are close by, and Dubbo is home to one of the world's premier zoos.
Where to Stay
Dubbo Cabin and Caravan Parklands
Located across the street from the Dubbo Golf Course and next to the Western Plains Zoo, this resort features a swimming pool, convenience store, camp kitchen, playground, LP gas refills, and a game room. Choose from drive through sites, back on sites, unpowered campsites, ensuites and power suites. (www.dubboparkland.com.au OR www.big4.com.au)
Don't Miss
Western Plains Zoo
The Western Plains Zoo is the best open range zoo in Australia. Large open displays reflect the natural habitat of over a thousand animals from around the globe. Early morning guided walks are sometimes available. Dubbo Observatory is across from the zoo, and takes you from the ecosystems of earth to the star systems of the galaxy. (www.taronga.org.au/western-plains-zoo.aspx)
Other Attractions
Old Dubbo Gaol
Dubbo Gaol was built in 1871. Nowadays, animatronic models tell the story of the prisoners who lived and died here. See it all, from the gallows-pole to solitary confinement cells to the exercise yard. The self-guided tour takes about one hour. (www.olddubbogaol.com.au)
Throw a Boomerang
Jedda Boomerangs has been handcrafting boomerangs for years and have been showcased on several television shows. Watch the artisans make boomerangs, then learn to throw one. The shop has many other local arts and crafts.
Day 4 ' Dubbo to Tamworth
Allow 4 ' hours to get to Tamworth. The 342 km drive takes you north-east, first on Newell Highway, and then on Oxley Highway. Tamworth is the Australian home of country music. Tamworth is friendly and close to nature, boasting the Kamilroi Walking Track and the Oxley Scenic Lookout (great for a picnic) as well as famous bird watching trails.
Where to Stay
City Lights Caravan Park
Located in Tamworth, City Lights offers a modern amenities park, which includes a swimming pool, convenience store, laundry, Internet, and a baby-friendly restroom. Accommodations include self-contained units (for both single travelers and families), drive-through powered sites, powered sites with annex slabs, and grassed unpowered sites. Pets are welcome. (www.citylightscaravanpark.com.au)
Paradise Tourist Park
Located on Tamworth's main street adjacent to the tourist information center, this park features a swimming pool, playground, BBQ areas, camp kitchen, and laundry facilities. Accommodations include ensuite cabins, standard cabins, budget cabins, bunkrooms, ensuite powered sites, and powered and unpowered sites. (www.paradisetouristpark.com.au OR www.big4.com.au)
Don't Miss
Big Golden Guitar Tourist Centre
Tamworth is Australia's country music capital. A great spot to pick up souvenirs, the Big Bolden Guitar Tourist Centre is hard to miss ' it has the big golden guitar outside. In it's museum you will find waxwork dioramas that let you see and hear Australia's country music history. Touch-screen computers let you interact and get your facts 'hands on.' Then go to the Pub for free country music'some of Australia's finest musicians are known to drop by. (www.biggoldenguitar.com.au)
Other Attractions
Gamilarart Gallery Co-operative Limited
Gamilarart Gallery Co-operative Limited is a gallery where 55 local indigenous and non-indigenous artists exhibit their work, which has won many awards. The Gamilaroi or Kamilaroi people live west of Tamworth. You will be able to see modern Aboriginal art and its influence.
Botanic Gardens
The Tamworth Regional Botanic Garden will relax and refresh you with its gorgeous roses and native plant life. Just up the hill is a Marsupial Park where you can see kangaroos, emus and other wildlife. The peacocks are friendly. You can see lots of local bird species in the Aviary. (www.anbg.gov.au/chabg/bg-dir/tamworth-nsw.html)
Day 5 ' Tamworth to Coffs Harbour
Today you are heading to the coast, as you drive 422 km east on the Oxley Highway and then north the Pacific Highway. After a 5/12-hour drive you will reach cliffside Coffs Harbour. This seaside town has wonderful beaches for swimming, surfing and fishing; rivers for white-water rafting and a glorious botanic garden. Coffs Harbour was voted one of Australia's most livable cities, and boasts a wide variety of outdoor activities, including some of the best scuba diving off the Solitary Islands and accessible rainforest at Dorrigo National Park.
Where to Stay
Darlington Beach Holiday Park
The largest holiday park in the state of New South Wales, Darlington Beach Resort Park is only a 25-minute drive north of Coffs Harbour. The resort is bordered by Split Solitary Marine Park and Wedding Bells state forest. This resort offers two swimming pools, a golf course, two tennis courts, six kilometers of beachfront, a playground, cafe, Internet, movie and bingo nights, and is close to public transportation. Choose from ensuites, powered and unpowered sites, and self contained units priced from deluxe to value. (www.darlingtonbeach.com.au OR www.big4.com.au)
Emerald Beach Holiday Park
This award winning beachside park is located only minutes north of Coffs Harbour. Nearby is the beautiful Moonee Beach Reserve and the famous "Big Banana.' This park offers disabled access, convenience store, video rental, playground, a solar heated pool, a game room and basketball court. Accommodations include ensuites, self-contained units, and powered and unpowered sites. (www.emerald-beach.com)
Don't Miss
The Big Banana
The Big Banana is a banana plantation and much more. The theater shows films of life on the plantation. You will visit a hydroponics glasshouse, the banana packing shed and historic exhibits, the toboggan ride, the ice skating rink and much more. A favourite with the kids would have to be the candy shop. (www.bigbanana.com/)
Other Attractions
Pet Porpoise Pool
The Pet Porpoise pool is one of two marine parks in Australia where dolphins perform. It is an interactive park where you can pet the dolphins and get kissed by a sea lion. Book ahead to swim with the dolphins. (www.petporpoisepool.com)
Beaches
Jetty Beach near the Marina is protected by a breakwater and offers calm conditions for swimming. Park Beach is open and offers great surfing, with some sheltered areas for swimming. Boambee Beach is also open. Check locally about safety patrol conditions.
Day 6 ' Coffs Harbour to Port Macquarie
Today's drive is 163 km (about two and a half hours) south on the beautiful Pacific Highway. Port Macquarie, at the mouth of the Hastings River, is a Mecca for water sports. The Hastings and Camden Haven Valleys are scenic wonderlands. Port Macquarie is rich in history, too. St. Thomas Church is one of the oldest in Australia.
Where to Stay
Sundowner Breakwall Tourist Park
Located right in town, adjacent to lifeguard-patrolled Town Beach in Port Macquarie, this four-star rated park features the largest resort swimming pool on the mid north coast. Other amenities include free Internet, camp kitchen, children's playground, kiosk, and free kid's club during NSW school holidays. Accommodations include bayside and riverside cottages, spa cottages, conventional cottages, superior and small ensuite cabins, powered sites and units for backpackers. Take the free Koala Hospital Tour. (www.sundownerholidays.com)
Don't Miss
Cassegrain Winery
The Cassegrain Winery is just south of Port Macquarie on the Pacific Highway near the Hastings River. The Cellar Door opens early for wine tasting. Reserve ahead for special private instruction in oenology. The Ca Marche restaurant is award winning, or you can picnic at the vineyard. The Winery has frequent special events and often hosts concerts in its natural amphitheater. (www.cassegrainwines.com.au)
Other Attractions
The Sea Acres Rainforest Centre
Begin your visit to the Sea Acres Rainforest Centre with a stop at the ecology display to deepen your understanding of the flora and fauna and how they interact. Then take the long boardwalk to see the rainforest up close. You can purchase a souvenir or educational material at the shop, and dine at the Rainforest Caf'.
Aboriginal Tour
The local Aboriginal guide, Wiruunngga, from Gambaari Tours, will guide you from nearby Bellingen to see the Promised Land and the Never Never. He will tell you the story of Old Man Dreaming and teach you the skill of ochre painting. You also learn a traditional dance and sample bush tucker. While you are in Bellingen, visit Heartland Didgeridoos, to learn how this instrument is made. (www.heartdidg.com/Cultural/gambaarri.htm)
Day 7 ' Port Macquarie to Forster
Drive 110 km south (around an hour and a half) on the Pacific Highway to Forster. Situated on Wallis Lake with both the Tasman Sea and the Myall Lakes nearby, Forster is a paradise for water lovers. Whether sun-bathing on the golden sand beaches on the coast, or fishing in one of Australia's Great Lakes or swimming with wild dolphins, this is a place to relax and enjoy your stay.
Where to Stay
Lakeside Resort Forster
Located on the shores of Piper's Bay in Wallis Lake, this award winning resort features an amenities block, playground, game room, BBQ areas, a basketball court, and a kiosk. The resort offers a wide range of accommodations, including deluxe waterfront villas and spa villas, family villas, budget cabins, and waterfront powered and unpowered sites. (www.lakesideresortforster.com.au)
Smuggler's Cove Holiday Village
This Big 4 nautical-themed resort is located a short drive from Forster on 20 acres of sub-tropical gardens. The park features a swimming pool, toddler's pool, spa, sundeck, restaurant, amenities block, shop, game room, TV lounge, library, camp kitchen, car and boat wash, and playgrounds. Accommodations include luxury cabins, ensuite cabins, economy cabins, powered grass and powered slab sites, and powered and unpowered tent sites. (www.smugglerscove.com.au OR www.big4.com.au)
Don't Miss
Myall Lakes National Park
Myall Lakes National Park is a system of coastal lakes with 40 km of beaches and sand dunes. You can visit the Grandis, a 76 meter-high rose gum tree. Hire a boat for some of the best fishing ever. Cast your line for bream, jewfish, flathead, whiting and bass. (www.greatlakes.org.au)
Many marked trails are available, from walks through rain forest to wild flower walks to birding adventures. Myall derives from the word for 'wild' in the local aboriginal language, and you can find your own touch of wilderness in the park.
Take Mungo Brush Road via Hawks Nest, as it sealed all the way to the ferry.
Other Attractions
Swim with the Dolphins
At the corner of Little Street and Memorial Drive in Forster, you will find Dive Forster at Fisherman's Wharf. You can charter a boat for snorkeling or diving, take diving lessons, or, best of all, swim with wild dolphins. Dive Forster offers the only cruise on Australia's east coast that is licensed to let you swim with dolphins.
Wallamba Oysters
The first oyster lease in Wallis Lake was granted in 1884 and the local Wallamba oysters deserve their great reputation. Enjoy fresh oysters and fresh seafood after a stroll along the Breakwater, where you can see pelicans and other sea birds.
Day 8 ' Forester to Port Stephens Region
Drive 168 km (around 2 and a half hours) south on the Pacific Highway to the Port Stephens Region. Port Stephens is linked to the Lakes Area by the Myall River and sits on one of the finest bays in Australia. Water sports are widely available and the area terms itself the 'Dolphin Capital of Australia.' Humpback whales pass through on their migrations. Tomaree Head marks the beginning of Tomaree National Park, where you can find war relics and over two hundred species of birds.
Where to Stay
Big 4 Karuah Jetty Holiday Park
Located in Karuah, this park boasts a 100-meter jetty with beautiful views of Nelson Bay. This park offers a convenience store, showers, washing machines and dryers, and a small golf course. Choose from ensuites, powered and unpowered sites. (www.karuahjetty.com.au OR www.big4.com.au)
Fingal Bay Holiday Park
Located only five minutes from Nelson Bay and Shoal Bay, this park has a patrolled surfing beach and is surrounded by a national forest. It also offers a pool, camp kitchen, private water connections, BBQ's and a rec room. Accommodations include self-contained units, powered tent sites and powered van sites. (www.beachsideholidays.com.au)
Don't Miss
Dunes at Stockton Beach
Stockton Beach has 32 km of dunes. Enjoy great fishing and watch seabirds at the water's edge. Watch professional fishermen work their nets. Find a shell mound left behind by the Aboriginal Woromi Tribe. Grab a piece of cardboard and slide down the steep side of one of the dunes. This is the largest mobile continuous stretch of sand in New South Wales and it has been covering and revealing forest for over 6000 years. Do watch for barbed wire and tank traps'relics of World War II.
Other Attractions
Tanilba House
Lieutenant Caswell built this stone house in 1831 as a home for a sailor on the waterfront. It has a little gaol (it was built by convict labour), an elaborate gazebo and an ancient olive tree. If you are lucky you will see the ghost of Elizabeth Gray who was a governess here shortly after the house was built. Tanilba House is in the midst of a koala habitat.
Port Stephens Shell Museum
If you would like to know what some of the shells you have found on the many beaches you visited on this tour, stop at the Port Stephens Shell Museum. You can identify your finds and see some of the rare shells you didn't find. Souvenirs are available in the gift shop.
Day 9 ' Port Stephens to Cessnock
This next leg is a short one, just 85 km (one hour and forty minutes) southwest. Cessnock is the gateway to the Hunter Valley Region, one of Australia's oldest wine-growing regions. Cessnock began as a traveler's rest on the convict-built Great North Road and is now surrounded by history.
Where to Stay
Valley Vineyard Tourist Park
Located across from the Oaks Gulf and Country Club, this park features two large spools with shaded seating, camp kitchen, and laundry and BBQ facilities. Accommodations include two bedroom cottages, one and two-bedroom cabins, standard cabins with private exterior ensuites, powered ensuite sites, and powered sites in a unique vineyard location with plenty of shade. (www.valleyvineyard.com.au)
Don't Miss
Hunter Valley Gardens
At the foot of the Brokenback Ranges, the Hunter Valley is home to many vineyards. Hunter Valley Gardens includes a vineyard and a dozen themed gardens. The gardens include a rose garden and a storybook garden and cover 25 hectares. Hunter Valley Gardens Village includes shops and cafes, a wedding chapel, a picnic area and a children's playground that is fully enclosed. (www.hvg.com.au)
Other Attractions
The Great North Road Convict Trail
This 240 km road was built in the early 19th century by convict labour. Now local communities work together to preserve the road and its associated relics. Watch for stone walls and other relics of the convict past. Bimbadeen Lookout on the Great North Walk offers spectacular views. (www.convicttrail.org)
Golf
As you might expect in a town with Scottish roots, Cessnock is home to a championship golf course'The Oaks Golf and Country Club. The Jack Newton International Junior Classic is played here. Bookings are recommended, but the course keeps a schedule that allows time for visitors to play. (www.theoaksgolfclub.com.au)
Day 10 ' Cessnock to Sydney
Make your way back to your starting point, heading south 151 km (about two hours) and mainly on the Pacific Highway. In Sydney, you can indulge in some of the Emerald City's 'Mod Oz' cuisine and a little of the city's famous nightlife. This is where you may wish to extend your trip once you return your rental, and stay at a hotel in the Rocks Historic District long enough to take in Sydney's many world-class attractions.
Where to Stay
Sydney Lakeside Holiday Park
Located 25 km north of Sydney's central business district, this resort offers connections by ferry and bus to Manly, Palm Beach and Sydney's attractions. Amenities include a seven-day reception and tour desk, disabled access, a coastal environment center, landscaped gardens and garden walkways. Choose from ensuites and drive through suites with or without power. (www.sydneylakeside.com.au OR www.big4.com.au)
Don't Miss
Sydney Opera House
Located in Sydney Harbour, the roof of this iconic structure was designed to resemble sailboats. The Opera House features five performance venues, as well as shops, restaurants and bars. The basic tour includes tea and coffee, but the real treat is the backstage tour. A little pricey, but an experience you will not soon forget. (www.sydneyoperahouse.com)
Other Attractions
Royal Botanical Gardens
Enjoy a tour of more than 45,000 plants at this 80-acre park. You can also explore on your own, but do make time for the Rare and Threatened Plants Garden, and a meal in the Botanic Gardens Restaurant surrounded by flowers.
Darling Harbour
Several attractions are located in this popular spot, including the Harbourside Festival Marketplace, the Sydney Aquarium, the Powerhouse Museum, and the Australian National Maritime Museum. Dozens of fantastic restaurants operate out of Darling Harbour; don't forget to check out those located in the area hotels. (www.darlingharbour.com)
End of Trip
Return your campervan and begin working on that scrapbook!