Perth to Perth in 5 Days (1,066 km)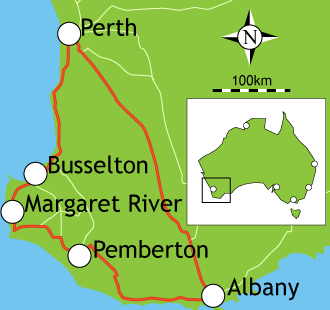 Beginning and ending in Perth, your five-day campervan adventure through the southern half of Western Australia takes you through Busselton, Margaret River, Pemberton, and Albany. Perth, with its Mediterranean climate and rich art and cultural opportunities is an excellent place to extend your trip. The beauty of Busselton's Geographic Bay, followed by the charming vineyards, and cheese and chocolate factories of Margaret River, will get your trip off to a great start. The second half of your trip takes you through the magical forests of Pemberton, surrounded by national parks, and on to the historic town of Albany. Bon Voyage!
Before you leave on your trip, visit Western Tourist Radio (www.touristradio.com.au) for up-to-date information about traveling through Western Australia. The site has useful info, but also will tell you how to learn more as you are driving through the area.
Day 1 - Perth to Busselton
The first leg of your trip takes you 233 km south-west (almost four hours) via the Kwinana Freeway, Old Coast Road and Bussell Highway to Busselton. Located on the shores of Geographe Bay, where the Leeuwin current has produced a bounty of tropical and sub-tropical sea life. In spring, the wildflowers are spectacular, and from October to December, you can watch the humpback whales as they migrate. Thirty miles of white sand beach let you enjoy windsurfing, diving, fishing and other water sports. (As you drive to Busselton, consider taking the tourist drive through Ludlow Tuart Forest, abundant in picnic areas, walking trails, and the only remaining natural stand of Tuart in the world.)
Where to Stay:
Peppermint Park Eco Village
Located in a natural bushland setting, yet only 300 meters from Geographe Bay, this award-winning park boasts an all-new game room and children's playground, a swimming pool, Internet kiosk, volleyball, free BBQs, cappuccino machine, camp kitchen, modern amenities block, laundry facilities, and private amenities for the disabled. Choose from self-contained units, powered and unpowered sites, and ensuites. (www.peppermintpark.com.au)
Beachlands Holiday Park
Located on Geographic Bay, considered the gateway to the Margaret River wine region, Beachlands Holiday Park features a saltwater pool, BBQ areas, camp kitchen, spa, boat ramp, Internet kiosk, wireless Internet, a children's playground with a giant jumping pillow, central TV system, movie nights, and a sausage sizzle. Accommodations include self-contained units from budget to luxury, private ensuite sites, and powered and unpowered sites. (www.beachlands.net)
Don't Miss:
Busselton Jetty
The Busselton Jetty is the longest wooden jetty south of the Equator and Australia's greatest artificial reef. Walk out to the Interpretive Centre to learn more about the jetty and check out marine life through the underwater camera. At the end of the jetty the Underwater Observatory takes you eight meters below the surface to a world of colorful coral, fish and mollusks. The jetty is one of Australia's top ten dive spots. You can fish from the jetty, too. (www.busseltonjetty.com.au)
Other Attractions:
Wonnerup House
The Wonnerup House, 10 km north of Busselton, was fist settled in 1834. The first house is now a dairy; and the 1859 home is a magnificent site. All the buildings, including kitchen, stables, smithy, school and teacher's house have been restored and furnished with original items.
Heritage Park and Trail
Pick up a map at the Busselton Visitor Centre and follow the Heritage Park and Trail. The trail begins just opposite the Visitor Centre at Peel Terrace and Causeway Road. You will see sculptures, the Ballarat Steam Engine, St. Mary's Church (Western Australia's oldest stone church), the Pioneer Cemetery and the 'Aboriginal Interpretive Garden'. (www.geographebay.com)
Day 2 - Busselton to Margaret River
Drive 48 km west (about 45 minutes) via the Bussell Highway to the Margaret River wine region. Margaret River offers some of the best surfing anywhere, with forty different spots where you can catch your wave. There are dozens of wineries in the area, as well as cheese and chocolate factories, such as the Margaret River Cheese Company, maker of boutique cheeses and yogurt.
Where to Stay
Taunton Farm Holiday Park
Located only 18 km north of Margaret River in a unique farm-like setting, this park offers a BBQ shed, children's playground, modern amenities block, and barn-style camp kitchen. Special features include farm animal feedings and wildflower walks. Accommodations include farm-style cottages, on-site caravans, drive-through sites, wood campsites, and semi-permanent sites. (www.tauntonfarm.com.au)
Don't Miss
Mammoth and Lake Cave
These spectacular caves are south of Prevelly Park, where you can enjoy a picnic lunch. Mammoth Cave was once home to Tasmanian tigers and giant kangaroos, for their bones are among the ten thousand animal bones found there. Here you can take a self-guided tour, but be sure not to miss the Marri Walk Trail. Just south is Lake Cave, arguably the prettiest of all the southern caves, with its lake and its dainty formations in white. Here you can take a guided tour every half hour and enjoy a meal at the Lake Cave Tearooms. (www.margaretriver.com)
Other Attractions:
Winery Tour
Margaret River is famous for its wineries. The Margaret River Visitor Centre shows how the local wines are made. Margaret River Tours offers full and half-day tours, or one tailored just for you. You will enjoy touring and tasting at several local wineries - local cheese and chocolate are also on the bill of fare. (www.margaretrivertours.com/pages/winery.html)
Margaret River Heritage Trails
While you are at the Visitor Centre, pick up the Heritage Trails brochure. All three trails start at the Rotary Park (with relics from the lumbering days at Margaret River) and follow the river for varying distances. All the walks take you through local flora, such as the Karri-tree forest.
Day 3 - Margaret River to Pemberton
Drive 139 km south and east (just under two hours) via the Bussel and Vasse Highways to Pemberton, a lovely town surrounded by forests of Karri, Jarrah and Marri trees. A lumber mill built in 1913 to supply wood for railway sleeping cars is still operating and can be toured. The famous Gloucester tree is one of the many tall trees in which fire-lookout cabins were built. Pemberton is almost surrounded by national parks, and you can book river cruises or guided canoe and hiking trips through them at the Tourist Centre.
Where to Stay
Pemberton Caravan Park
Located in Pemberton not far from Pemberton Station, this park features laundry facilities, a convenience store, bookshop, and children's playground. Choose from bungalows, ensuite cabins, budget cabins, drive-through sites, and grassy sites. Water, power, and BBQs are available for all caravan sites. (www.pembertonpark.com.au)
Don't Miss
Beedelup National Park
Beedelup National Park is 19 km west of Pemberton on the Vasse Highway. Covering 1,500 hectares, the park has both Karri and Marri forests. The Beedelup Falls can be viewed from suspension bridges or viewing decks. Be sure to stand inside the 'Walk Through' tree, where you will have 150 tons of living Karri overhead.
Other Attractions
Timber Museum
The Karri Forest Discovery Centre and Pemberton Pioneer Museum is in the same building as the Tourist Centre, on the main street. A film and exhibits explain the ecology of the Karri forest. The Pioneer Museum includes a full size settler's hut with its tools and furnishings. (www.pembertontourist.com.au)
Trout Fishing
The easiest way to catch a rainbow trout is to visit the King Trout and Marron Farm, seven miles south of Pemberton. You can rent a rod and fish in the stocked dam, and eat in the cafE if you come up empty. The Tourist Centre has maps of good fishing holes for trout and the local marron, a local freshwater crayfish, which is third largest in the world. At Yeagarup Beach and D'Entrecasteaux National Park, you can fish from the beach. (www.pembertontourist.com.au)
Day 4 - Pemberton to Albany
This next leg takes you 239 km east (about three hours) via the Vasse, South Western, South Coast, and Albany Highways to Albany. Beautiful Albany with its snug harbor became wealthy during the gold rush days of the 1890's. Many of its elegant buildings date from that time. Five different Heritage Walks lead you through various aspects of this historic town.
Where to Stay
Big 4 Albany Gardens Holiday Resort
Located just off of the Albany Highway one km from the center of town, this park features award-winning gardens and an on-site animal sanctuary. Other features include a modern amenities block, free undercover BBQs, camp kitchen, convenience store, swimming pool, tennis court, game room, and children's playground. Choose from enclosed unites, powered ensuite sites, and powered and unpowered sites. (www.big4albanygardens.com OR www.big4.com.au)
Middleton Beach Holiday Park
Located on Middleton Road just 3km south of Albany, this park boasts 500 meters of beach frontage. Other features include a new solar-heated swimming pool with an indoor hydro spa, an entertainment center, movie theater, convenience store, children's playground, camp kitchen, free BBQs, Internet kiosk, and wireless Internet. Choose from deluxe cabins, ensuite cabins, ensuite sites, and powered and powered sites. Keep in mind this park also has conference facilities, so plan ahead and make a reservation. (www.holidayalbany.com.au OR www.big4.com.au)
Don't Miss
Torndirrip National Park
Torndirrip National Park is on a peninsula just south of Albany on the Frenchman Bay Road. The sea has sculpted some fantastic natural wonders here. Stay on the marked paths and behind the guide rails, as people have been swept away by freak waves. Follow The Gap Road to viewing platforms where you can see the Gap and the Natural Bridge. A Park map will help you explore other roads and hiking trails.
Other Attractions
Whale World
Follow Frenchman Bay Road through the Torndirrip National Park to Whale World, on the side of the old Cheynes Beach Whaling Station. Twenty exhibits, including the eye-popping Giant of the Sea Skeleton Exhibit and the whale-chasing ship Cheynes IV, as well as a 3-D animated film will teach you about whales and whaling. The cafe features homemade food. (www.whaleworld.org)
Middleton Beach
Middleton Beach is one of many lovely beaches in or near Albany. Its five km of white sand beach is great for all water sports. The picnic area is delightful and the views are amazing. Take the Boardwalk from the Beachside Cafe for an hour and a half stroll or cycle. You will have great views of King George Sound and the islands as well as of the harbor.
Day 5 ' Albany to Perth
Start out early and drive 417 km north and west (about five hours) back to your starting point. Perth, on the Swan River between the Indian Ocean and the Darling Range, is the capital of Western Australia. Perth is famous for its cultural scene, with His Majesties Theatre, the Western Australian Art Gallery and the Perth Concert Hall. Beaches and sports, especially cricket, and the Mediterranean climate bring residents and visitors outside.
Where to Stay:
Discovery Holiday Park - Perth
Located on a scenic drive only 20 minutes from Perth, this park features a free BBQ station, camp kitchen, tourist information center, modern amenities block, and a TV and game room. Choose from accommodations ranging from luxurious spa villas, to budget standard cabins. Caravan sites include premium pull through, standard powered and unpowered, and grassy campsites. (www.perthinternational.com.au)
Perth Vineyards Holiday Park
Perth Vineyards Holiday Park is considered the Gateway to Perth, located only 14 km from the city. Situated in the picturesque Swan Valley wine region, it is easily accessible from major highways. This Big4 park offers features a convenience store, rec room, camp kitchen, Internet kiosk, children's playground, BBQ area and a swimming pool. Choose from self-contained units, ensuite family cabins, standard cabins, ensuite van sites, and powered and unpowered van sites. (perth-vineyards-holiday-park.wa.big4.com.au/)
Don't Miss:
Fremantle Prison
Just 20 km from downtown Perth, and on your way to Busselton, is Fremantle. Fremantle Prison is the biggest structure in Western Australia that convicts built. Guided tours show prison life, including art and humor, punishment and execution, escapes and the everyday. If you're feeling adventurous, book a torchlight tour. Leaving at sunset, this tour covers the darker side of the prison, complete with ghost stories and a few surprises! (www.fremantleprison.com.au)
Other Attractions:
Western Australia Museum
The Western Australia Museum's exhibits will introduce you to prehistoric times through fossils and Aboriginal artifacts, as well as modern flora and Fauna. Don't miss the recently discovered giant marsupial lion, Thylacoleo. (www.museum.wa.gov.au)
Aquarium of Western Australia
Twenty minutes north of Perth at Hillary's Boat Harbour, visit the Aquarium of Western Australia, which is the largest aquarium in Australia and has the biggest collection of Western Australian Marine life in the world. Qualified divers may swim with the sharks on the living coral reefs. Everyone can observe the sea life and pet the seals. (www.aqwa.com.au)
End of Trip
Return your campervan and begin working on that scrapbook!