Melbourne to Melbourne in 10 Days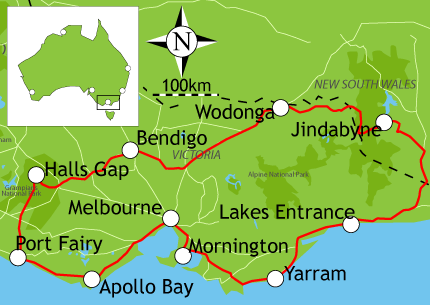 This big drive will astonish you with some of the most magnificent scenery Australia has to offer. It will seem like every day takes you through a different world, from the swoops and bends of the Great Ocean Road to the historic gold rush opulence of Bendigo and the rocky beauty of the Snowy Mountains.
Your first night is spent in Apollo Bay, a quaint fishing village from which you can explore other nearby coastal hamlets. Then continue up the coast, stopping on the way to witness the splendour of the 12 Apostles, the infamous limestone structures that have formed from the chalky cliffs of the Shipwreck Coast. Spare a thought for the 700 or so vessels that are said to have met their fate in these treacherous waters.
After a night in Port Fairy turn inland and north, heading towards the heart stirring views of the Grampians and the welcoming atmosphere of Halls Gap, a special little town in the mountains that you will not want to leave. A day and a night exploring the lush scenery of the Grampians and then it is time to strike out for the gold town, Bendigo. Originally a base for miners in the rush of the 1850's, the Victorian architecture acknowledges Bendigo's rich history, and you will enjoy sampling its treasures new and old. Then head on to Wadonga and the lakeside charm of Lake Hume.
A day of watersports and sun will vitalise you for the two days of long and winding drives through the stunning Snowy Mountains that follow. The first day through the mountains takes you to Jindabyne via the Alpine Way, a stretch of road that is truly one of a kind.
A day in Jindabyne could see you catching some trout from its Lake, or just relaxing amongst the mountain scenery before you start off south for Lakes Entrance. This drive also goes through the Snowy Mountains, and considerable care is required on the road. However, the views you see, and the unique sense of welcome you feel when you reach Lakes Entrance make it all worthwhile!
The drive is much easier from here on, with a two hour trip to rural Yarra through the Gippsland region being about as difficult as it gets. Then its onto the Mornington Peninsula for a day of relaxation in the mediterranean climate, fuelled by fine wines and wholesome food.
The short drive up to Melbourne will give you plenty of time to take in the bustling city, and experience some of its more famous landmarks before you drop off your campervan with Discovery Rentals at the end of your trip. So strap on your seatbelts.... here we go!
Day 1: Melbourne to Apollo Bay.
This 194 kilometre drive will take about two to three hours because of the winding nature of the road. Head west from Melbourne along the West Gate and Princes freeways and follow the signs to the Great Ocean Road. This drive takes you through Torquay, the surfing capital of Australia and home of the renowned Bells Beach, where the annual Rip Curl Pro surfing challenge is held. Stop in and and stock up on some cheap board shorts and bikinis at the many surf factory shops in the town.
This first section of the Great Ocean Road is touted as the most beautiful, with the 42 kilometre section between Lorne and Apollo Bay noted as being strikingly special. Apollo Bay is situated at the base of the Otway ranges, and can be used as a base to explore their walking trails and lookouts. It also has a long and safe swimming beach that is popular amongst surfers.
Dont Miss:
Apollo Bay Harbour
The ultimate harbour experience! The main income of this town comes from fishing, and visitors can take a stroll through its wharves and check out the large fishing fleet. Fresh fish and lobsters are available from the fishermen coming in with their catch.
Other Attractions:
The Waterfalls of the Otways.
The Otways are home to many waterfalls that cascade down into the dense green vegetation from great heights. A bush walk topped off with a swim at their base will be rewarding and refreshing.
Where to Stay:
Marengo Holiday Park
The Marengo Holiday Park offers affordable beach side accommodation (www.marengopark.com.au). Powered camping sites and unpowered camping sites are available, as are fully self contained cabins. Other facilities include a laundry, family and disabled bathrooms, a camp kitchen, an adventure playground and barbeque sites. Every single cabin or site has panoramic sea views! (www.marengopark.com.au/)
Day 2: Apollo Bay to Port Fairy.
This 192 kilometre drive will take about three hours if you do it in one hit, and brings you to the end of your drive on the Great Ocean Road. You would be foolish not to stop at the Twelve Apostles and take in their impressive limestone formation, said to be over 20 million years old. Like giant stalagmites these lonely pillars rise from the swells of the ocean, seperated from the cliffs that have been eroded back. Whilst only seven remain standing, the bases of collapsed rock where the rest stood are still visible.
Then on to Port Fairy, a busy fishing port that was one of the state's earliest settled villages. Over 50 nineteenth century buildings in the Port are classified by the national trust, and history and architecture enthusiasts are able to visit these.
Dont Miss:
The Twelve Apostles.
The Twelve Apostles and their associated limestone features such as London Bridge are the must-see attractions on this drive.
Wreck Beach
If you have time why not give Wreck Beach a look, which is near the Twelve Apostles and is the eastern point of the Shipwreck Coast, a 130 kilometre stretch of dangerous water that has claimed many a sailors lives. Wreck Beach is littered with the ancient remains of two ships that met their fate towards the end of the nineteenth century.
Other Attractions:
Whale Watching.
If the season is right you may be lucky enough to spot the majestic humpback whale surfacing off Logans Beach, near Port Fairy. Authorities have built viewing platforms and there are also whale watching charter cruises available.
Where to Stay:
Big 4 Anchorage Holiday Park.
The Big 4 Anchorage Holiday Park offers a wide range of accomodation to suit all budgets. Choose from powered camping sites, cabins, motel rooms or luxury accomodation. Perfect for kids, there is a mini golf course, a heated pool, a games room and an adventure playground. A fully equipped camp kitchen, a laundry and spotless bathrooms complete the package. (www.big4portfairy.com.au/ OR www.big4.com.au)
Day 3: Port Fairy to Halls Gap.
Turning North away from the Great Ocean Road, this drive is 158 kilometres and will take you about two and a half hours. The rugged scenery of the Grampian Mountains greets you as you near Halls Gap, which with only 300 residents is the tiny tourist hub of the Grampian National Park.
This Park is famed for its wide range of outdoor activities, its beautiful views and its heart stirring rock formations. So if you are feeling active you can choose from rock climbing, fishing, bush walking, canoeing, cycling and many more pastimes. If its relaxation you are after then just lie back and take in the awe inspiring views, or take a wander and look for some of the cheerful wildflowers that abound on the mountain slopes.
Dont Miss:
Dunkeld
Stop in at Dunkeld, a small township as you enter the Grampians. This historical town was first established in the 1830's, and since then has only grown slightly to a size of 450 residents. Over the years it has been home to many artists such as Nicholas Chevalier, who came to paint their impressions of the region. Historic and quaint, this town deserves at least a couple of hours of your time.
Other Attractions:
Aboriginal Rock Art.
The mountains have been inhabited by indigenous Australians for nearly 500 years, and contain the majority of the Aboriginal rock art in south-east Australia. The local indigenous communities are willing and happy to share this part of their heritage with visitors to the region.
Where to Stay:
YHA Halls Gap Hostel
The YHA Halls Gap hostel is the perfect stop for the budget traveller, offering friendly service and top notch facilities. It has the added bonus of being ecologically friendly, using solar electricity and state of the art water and energy conservation processes, ensuring the footprint you leave on the Grampians is as small as possible. Choose from double, twin or family rooms and make use of the barebeque, lounge and kitchen areas. (www.yha.com.au/hostels/details.cfm?hostelid=93)
Serenity on High
Serenity on High offers self contained homes that can be booked out for any length of time, from a single night to as long as you please. The magnificent bush setting is within walking distance of Halls Gap, and is perfect for families. (www.stayz.com.au/7117)
Day 4: Halls Gap to Bendigo.
This easy drive will take you about two and a half hours to complete its 206 kilometres. Get onto the Pyrenees Highway and turn north at Castlemaine to reach Bendigo. Take it slow through the remainder of the Grampians from Halls Gap, enjoying the jagged mountainous scenery for a last time. The country you drive through is far from flat however, as you traverse in and around the Great Dividing Range. Lush farmlands and wineries greet you as Bendigo and its surrounding Goldfields get closer.
Bendigo is a historically significant town, rising out of the gold rush of over 150 years ago. Lavish Victorian architecture is sure to enchant you, and although the gold rush is over Bendigo is brimming over with other riches in the guise of its arts, culture, food, wine and heritage.
Dont Miss:
Central Deborah Mine
For the full mining experience and to feel what miners in old and modern times go through, go to Central Deborah mine and go on the Deep Shaft tour that takes you way below the earths surface. You can also tour the surface of the mine with its vintage machinery, or try your hand at some gold panning. Take home souvenirs of your experience from the gift shop. (www.central-deborah.com)
Other Attractions:
Vintage Tram Tour
The Vintage Tram Tour gives you the luxury of a hop-on hop-off tour around the city, all done to audio commentary that informs you about the places you are viewing and the heritage of the town. (www.bendigotramways.com)
The Chinese Golden Dragon Museum
The Chinese Golden Dragon Museum is a tribute to the proud history and cultural importance of the Chinese community in Bendigo. Guided tours will allow you to experience Chinese arts and crafts and culture. (www.goldendragonmuseum.org)
Where to Stay:
Robinley Caravan Park
Robinley Caravan Park offers cabins, caravans and powered camping sites. Its a family owned complex that has clean and modern amenities. Tap into the local knowledge of the owners and use this as an affordable base to explore Bendigo
Gold Nugget Tourist Park.
The Gold Nugget Tourist Park has luxury accomodation, camping and caravan sites. A wealth of entertainment facilities include an internet kiosk, a heated pool, two playgrounds, a mini golf course and free wireless broadband to all sites. The toilets, the kitchen and all other amenities are kept spotless, and this park comes highly recommended. (www.goldnugget.com.au)
Day 5: Bendigo to Wodonga
This 306 kilometre drive will take about three and a half hours, so an early start is recommended if you want to experience some of the relaxed and friendly atmosphere Wodonga has to offer. Its an easy drive, mostly on the Hume highway, so take it slow and enjoy it.
Once in Wodonga you can choose to stay in a hotel in the town if you wish to be in the midst of the action and close to the modern amenities it has to offer. However, just a stones throw away is Lake Hume, and its expansive banks have peaceful tourist parks and other camping grounds that give you the option of spending the night close to the water. So spend the day undertaking water activities such as canoeing, fishing and swimming, and then head into town for a meal in one of Wodonga's many restaurants.
Don't Miss:
Lake Hume
It would be crazy to go to Wodonga and not head out to Lake Hume. The accessible water provides lots of opportunity for boating, yachting, swimming and fishing, with numerous operators providing you with these facilities. If you have time take a trip to the impressive dam wall that has created this body of water. The large hydro electric power station and the impressive views make it a worthwhile trip.
Wodonga Market
The Wodonga Market, which is open every saturday, is the perfect place to browse for a souvenir of your trip. Local handmade crafts, entertainment and an array of foods provide the perfect means to filling your day.
Ettamogah Wildlife Sanctuary
A few kilometres north of Wodonga, past Albury, is the Ettamogah Wildlife Sanctuary. Home to most of Australia's wildlife, this is the perfect day out for kids and adults.
Where to Stay:
Lake Hume Tourist Park
Lake Hume Tourist Park is on the banks of Lake Hume, and is the perfect base from which to explore the Lake and its surrounds. Whether you choose to stay in spacious cabins, powered camp sites or unpowered camp sites, you will find the Park an affordable option. There is internet availability, a swimming pool, a clean and modern kitchen and a childrens playground and games room. (www.lakehumetouristpark.com.au)
Lake Hume Resort
Lake Hume Resort does not offer camping or campervan facilities, but does have self contained cottages that work out fairly reasonable for the whole family. the amazing views are complemented by a stunning restaurant, and there are numerous other facilities to keep you entertained such as a mini golf course, a games room, a pool and a sauna. (www.lakehumeresort.com.au)
Day 6: Wodonga to Jindabyne
This 256 kilometre drive will take you about three and a half hours, but as is the case for all road trips the excitement is in the journey there. Heading East along the Murray Valley Highway the first stretch takes you along the banks of Lake Hume, and from there you continue towards the New South Wales border and the Snowy Mountains.
The drive from Kancoban to Jindabyne is known as the Alpine Way and meanders through the rugged beauty of Kosciuszko National Park in the Snowy Mountains. With sheer drops and breathtaking views around each corner you will need to drive slowly and carefully in order to take it all in safely. The forests in the area are sprouting fresh vegetation after recent bush fires, and the abundance of new life is quite a spectacle.
Dont Miss:
Lake Jindabyne
Once you are in Jindabyne be sure to head out to Lake Jindabyne. The beautiful clear waters are famed for their population of trout, and there is a range of other water sport activities on offer. The dam wall itself is an impressive sight as well. Waste Point Lookout on the Kosciuszko Road provides a spectacular view of the whole lake.
Other Attractions:
Khancoban
On the drive from Wodonga, stop in at Khancoban, which marks the start of the Alpine Way. Nestled at the foothills of the Snowy Mountains, it is the perfect place to stop for a scenic picnic.
Winter Skiing
In the winter months this region is renowned for its ski slopes that cater to all levels of skier. Thredbo, a small town on the Alpine Way, is usually used as a base for skiers and snowboarders keen to tackle the slopes. Stop there for a look around, or a days skiing if the weather is right for it.
Where to Stay:
Snowy Wilderness
The Snowy Wilderness in Jindabyne offers cottage stay and also the more affordable camping option. Although bear in mind this part of the world is rather cold, so the fire lit warmth of a cottage might be worth the splurge! Just 30 kilometres from Jindabyne, the wild beauty of this retreat and the friendliness of your hosts makes the extra distance worthwhile. (www.snowywilderness.com.au)
Self Contained Cottages
If you wish to stay in Jindabyne town, the best option is to rent a self contained cottage or stay in a hotel. www.snowholidays.com.au will point you in the right direction.
Day 7: Jindabyne to Lakes Entrance
Although short in distance at 225 kilometres, this drive will take you a solid four hours because of the winding route it takes through the Snowy Mountains. However, once again the splendour of the jagged peaks and the lush, hilly valleys you drive through make this a trip you will never forget.
Heading south from Jindabyne you drive through Kosciuszko National Park until you cross the border back into Victoria and into the Alpine National Park. This is real 'mountain' country, and anyone who has seen the classic film 'The Man from Snowy River' will feel as if they are being transported to some of its epic scenes!
Experiencing two worlds in a day, you travel from mountains to the ocean as you roll into Lakes Entrance for a much needed rest after all the bending roads. The quaint seaside appeal of this coastal town will captivate and enchant you, and its beautiful beaches provide perfect spots to relax and unwind.
Don't Miss:
Ninety Mile Beach
Lakes Entrance is located on the famous Ninety Mile Beach, which stretches either side of it. Cross the footbridge to the beach and enjoy its good surfing conditions, or find a quiter spot for a swim. The huge size of the beach means a bit of privacy can easily be found if you are willing to walk for it.
Other Attractions:
Waterfront
There is a thriving waterfront with many restaurants and bars that will cater to all your culinary desires. Situated on the esplanade, you can have a beer and unwind next to the water and follow this up with a fresh fish dinner.
Fishing
Primarily a fishing port, Lakes Entrance is also extremely popular amongst recreational anglers and is often said to be Australia's fishing capital. There are charters which can take you out to sea, or alternatively rent some rods and try your hand at surf fishing from the coast.
Where to Stay:
Lakes Entrance Tourist Park
Lakes Entrance Tourist Parkseba offers fully self contained cabins as well as a range of camping and van sites. Affordable, and far enough from town to be peaceful but close enough to be convenient, this is an ideal stop if you are in a campervan or have the whole family with you. Facilities include a kitchen, BBQ area, swimming pool and games room.
Koonwarra Family Park
Koonwarra Family Park is located closer to the centre of town, and just 800 metres from Ninety Mile Beach. Self contained cabins are available, as are en suite camping sites and powered camping sites. A BBQ area, games room, swimming pool and spa will keep you entertained, and the modern kitchen and toilet facilites will ensure your stay is pleasant and comfortable. (www.koonwarrapark.com.au)
Day 8: Lakes Entrance to Yarram
A much easier drive today marks the beginning of the final leg towards Melbourne, and after eight days on the road it is important the rest of your holiday is as relaxed and laid back as possible. So this 176 kilometre drive will take about two hours, and its an effortless drive down the Princes Highway.
Yarram is a delightful small rural town of about 2000 people located in the Gippsland region. This amazing region is rural Australia at its best, where the awe inspiring scenery and the wide open spaces are complemented by the wide smiles of the people who live here. Yarra's warm and hospitable locals will welcome you with open arms, making it an ideal base to explore some of the sites and delights surrounding the town or to just explore the town itself.
Dont Miss:
Port Albert
Port Albert is a fishing village just 14 kilometres away from Yarram, situated on the coast. One of the few operating fishing villages on the Victorian coastline, it is promoted as a fishing paradise, and many come from far and wide to try their hands at fishing the Bass Strait. The original architecture of many of the old buildings provides for interesting walks, and the Port Albert Maritime Museum is also worth a look.
Other Attractions:
Yarram Couthouse
The old courthouse in Yarram is something of an architectural oddity, and also serves as an information centre to the public. Find out what you need to know about the area and have a look at this bizarre building at the same time.
Ninety Mile Beach
Yarrram is just a few kilometres away from the start of the Ninety Mile Beach, which stretches well past Lakes Entrance. Enjoy the beauty of the most western point of this famous beach.
Tarra Bulga National Park
North of Yarram is the Tarra Bulga National Park, which is well known for its giant Mountain Ash trees, beautiful fern gullies and ancient myrtle beeches. This makes it perfect for a day of bushwalking and picnicking.
Where to Stay:
Yarram Rosebank Tourist Park
Yarram Rosebank Tourist Park provides cabins, en suite caravan sites and powered camping sites. Within walking distance of town centre, and a short drive from the beach and Port Albert, you cannot ignore the convenience of this park. All the usual amenities are available, and dogs are also allowed on site so long as they stick to the rules!
Tarra Valley Tourist Park
The Tarra Valley Tourist Park will suit you if you feel the need to be a bit closer to nature. With the option of cabins or powered and unpowered sites, you will definitely find something to suit you. Set in lush forests there is an abundance of local wildlife roaming around the site, which makes this an exciting and different place to stay. (www.tarra-valley.com)
Day 9: Yarram to Mornington
This drive of around 200 kilometres will take you nearly three hours, winding through some of the most beautiful scenery Victoria has got to offer. Lush pastures and vast wineries greet your every turn, and there are lots of stopover points providing local produce and hearty meals if you feel like a break.
The Mediterranean feel of the Morningotn Peninsula will yet again make it feel like you are entering a new world. Wild ocean beaches, rocky lookout points and calmer, more secluded beaches make the Peninsula a diverse and enthralling place to visit. Coastal walks and bush trails through the national parks and wineries nearby make this the ideal location to get some fresh air into your lungs and stretch those legs. The Peninsula's obsession with fresh food and wine means you can take your pick from any number of world class restaurants to go to and indulge yourself.
Dont Miss:
Golfing
With 18 golf courses on the Peninsula alone, spend your day testing out your skills and taking in the sights at one of them. The Portsea Golf Club, situated right on the point, is rated amongst the top 25 in Australia, and for those who dont feel like playing a round of golf the clubhouse provides fantastic food and hospitality.
Other Attractions:
Wine Tasting
With its Mediterranean climate, the Peninsula is home to over 50 wineries. Take a tour of their cellar doors, sampling the hallmark Pinot Noir and Chardonnay for which the area is renowned.
Beaches of the Peninsula
If its beaches you're after, then you are spoilt for choice at the Peninsula. On the Bay side there area calm waters and golden sands where you can relax and take in some sun. Perfect for families. Over on the ocean side the waves roll in relentlessly, attracting surfers, bodyboarders and sea kayakers. These beaches are all patrolled by lifeguards.
Where to Stay:
The Big 4 Kangerong Holiday Park
The Big 4 Kangerong Holiday Park, located near to Dromana Beach, has the full range of accomodation options from unpowered camping sites to self contained cabins. It is affordable and the standards meet those set by the Big 4 group, which means the facilities are modern and well maintained. Facilites include a pool, recreation room, volleyball, camp kitchen, a playground and wireless internet services. (www.kangerong.com.au)
Day 10: Mornington to Melbourne
With the end of your trip firmly in your sights, its best not to over exert yourself on the driving front. We want you to be relaxed after your holiday after all! So this last stretch from Mornington to Melbourne will only take you about one hour, depending on where you stay in either area.
The tricky thing about visiting Melbourne is figuring out where to start! You could fill weeks with sight seeing and still not see everything, so you will probably want to spend more than a day in this city.
Melbourne is the cultural hub of Australia, and the numerous art galleries and museums are testament to this. The people of Melbourne are also sports mad, and many of the nations great sporting events are held here. World famous stadiums such as the Melbourne Cricket Ground and the Rod Laver tennis arena host world class sporting events, and on non-event days guided tours will inform and entertain you.
Dont Miss:
The Melbourne Museum.
The Melbourne Museum is an exciting and innovative attraction that represents the heart and soul of Melbournes arts and culture scene. Plan your day around one of the many exhibitions that the museum hosts, or lose yourself in the amazing IMAX theatre. Entry is only six dollars, and students and children are free. (www.melbourne.museum.vic.gov.au)
Other Attractions:
Rialto Observation Deck.
See a birds eye view of the city and its surrounds from Melbournes highest tourist attraction, the Rialto Towers Observation Deck. Situated on the 55th floor of the Rialto Towers, on a clear day you can see as far as 60 kilometres away. (www.melbourne360rialto.com.au)
Melbourne Cricket Ground.
The Melbourne Cricket Ground was built in 1838, and since then has been one of the worlds leading cricket sites. Guided tours will show you the inner workings of this famous stadium, and you will be able to see which of your cricketing heroes has made it into the Hall of Fame. (www.mcg.org.au)
Where to Stay:
Big 4 Dandenong Tourist Park.
The Big 4 Dandenong Tourist Park lies in a picturesque setting in the southern suburbs of the city. It offers a range of accomodation including holiday units, luxury cabins and powered camping sites. Clean cooking facilities, a recreation room and a bbq area will help make your stay relaxing and pleasant. (big4dandenongtouristpark.com.au OR www.big4.com.au)
Big 4 Melbourne Holiday Park
If you want to be closer to the action of the city centre, then stay at the Big 4 Melbourne Holiday Park. The facilites and accomodation options are similar to the Dandenong Tourist Park because they are of the same chain, but this Park is more easily accessible from the city via public transport routes. (melbourne-holiday-park.vic.big4.com.au OR www.big4.com.au)
End of your Trip:
Return your campervan and start working on that scrapbook!