Hobart to Hobart in 5 Days (1,090 km)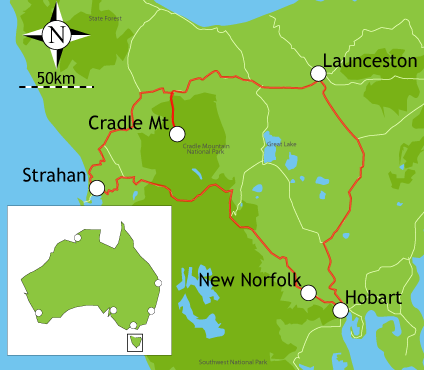 Explore the southwest region of Tasmania in this five-day adventure. Starting out in Hobart, this itinerary takes you to the quaint town of New Norfolk, with its historic buildings, to Strahan, known for its crayfish and proximity to Sarah Island.
From Strahan you're off to Cradle Mountain-Lake St. Clair National Park, with walking tracks for every ability, and then to Launceston, where you can shop, visit historic sites, and relax with a glass of locally grown wine.
The final stop on your trip takes you back to Hobart to explore the galleries, shops, restaurants, and historic sites of the city's famous waterfront.
Bon Voyage!
Day 1 ' Hobart to New Norfolk
The first leg of your trip is a short one, 36 km north-west (about 40 minutes) up the Brooker and Lyell Highways to the Derwent Valley region. Located on the Derwent River, New Norfolk is considered 'Tasmania's best kept secret.' Founded in 1808 by settlers from Norfolk Island, New Norfolk is a town rich in history. Here you can see the oldest continuously run inn, the oldest Anglican Church, and other historic homes and sites. The grave of Betty King, the first white woman to set foot on Australian soil, is located in Magra not far from New Norfolk. Take a drive up to Pulpit Rock Lookout for great views of the river, and then dine out at Tynwald, a historic mansion built in 1830.
Where to Stay
Base Camp Tasmania
Located in the Glenfern, the quiet valley north of New Norfolk, this park features a meals area, common room, and BBQ, laundry facilities, optional continental breakfasts, car parking and gear storage, as well as daily ration of food for the walking track, maps and track notes, and equipment for hire. Massage appointments available. Choose from self-contained cabins, dorms, and camping areas. (www.bctas.com.au)
New Norfolk Caravan Park
Just a short walk to town, this park features laundry facilities, BBQ areas, walking tracks, a boat ramp and walking tracks. Cabins include bedding and electric blankets. (www.newnorfolk.org/~caravan_park/)
Don't Miss
Tasmanian Devil Jet
Take a wild ride on the Derwent River aboard the Tasmanian Devil Jet, a high-powered jet boat designed and built in Tasmania. This thrilling ride through the Derwent rapids is fun for all ages; all safety gear is provided. If you plan to go, reserve a space at least 24 hours in advance. (www.deviljet.com.au)
Other Attractions
The Oast House Hop Museum
A working oast house for more than one hundred years (until 1969) the Oast House is now a museum, gift shop and craft market, and tea room. Learn how hops from the nearby fields were farmed and processed.
Cadbury Schweppes Chocolate Tour
Stop in for a tour of the famed Australian chocolate factory, located in Claremont about halfway between Hobart and New Norfolk. Here you can see how your favorites are made, tour modern facilities and 18 heritage buildings, take advantage of factory discounts at the chocolate shop, and indulge a little in the on-site caf'. (www.cadbury.com.au)
Day 2 ' New Norfolk to Strahan
Today, drive 254 km north-west (about 3 hours) via the Lyell Highway to the west coast of Tasmania. Strahan, a working fishing port located on the Macquarie Harbour, was a wild town in pioneer days. Little of that rough and tumble time is evident as you walk down the main street, the Esplanade, peeking in shops and indulging in the catch of the day. Spectacular wildlife can be found in and around Strahan, from Ocean Beach, Tasmania's longest beach at 33 km, to the Gordon-Franklin Wild Rivers National Park, to the Henty Sand Dunes.
Where to Stay
Strahan Holiday Park
Located a short walk to the village of Strahan and 150 meters from West Strahan Beach, this park is situated on 4 lush acres and features a wandering creek throughout the property. The park offers guests laundry facilities and a BBQ area, and is close to a swimming beach, children's park, jetty and boat ramp, and general store. Accommodations include full self-contained family cabins and budget onsite units.
Don't Miss
World Heritage Cruises
Explore the Gordon River; the old convict ruins on notorious Sarah Island, the Gates of Hell (the entrance to Macquarie Harbour named by the convicts), and the beautiful mountain ranges of the South West Wilderness National Park, a World Heritage site. Choose from a variety of cruise options, depending on your schedule. Discounts for families. (www.worldheritagecruises.com.au)
Gordon River Cruises
This is the same type of cruise, and both are of excellent quality. However, the Gordon River Cruise (operated by the Federal Group) is aboard the Lady Jane Franklin II, known for the Captain's Premier Upper Deck. Room to move around and delicious food and wine might inspire you to choose this tour. (www.gordonrivercruises.com.au/)
Other Attractions
West Coast Wilderness Railway
Along this 35 km journey back in time, you will hear stories about the pioneers who built the railway, stop at several stations for lunch and refreshments, and enjoy the magnificent views of rainforests, rivers and gorges. After five hours aboard the traditional steam locomotives, you arrive in Queenstown and are shuttled back to Strahan. If you are living large on this trip, book a seat in the Premier Carriage, where you can indulge in delicacies served by an attendant.
Seafood
Indulge in the local seafood, especially West Coast lobsters (Tasmanian crayfish), Atlantic salmon and ocean trout. Try Macquarie Restaurant on the hill for a buffet and great views, or the century-old Franklin Manor for the best in upscale dining. Or, just make your way to the Esplanade and find the restaurant with the best specials!
Day 3 ' Strahan to Cradle Mountain National Park
Drive 146 km north and east (about 2 hours) via Henty Road, Zeehan and Murchison Highways, and Cradle Mountain Development Road to the beautiful Cradle Mountain-Lake St. Clair National Park. Known worldwide for it's six-day bushwalk, the Overland Track, this magnificent park boasts countless natural wonders. Set out on your own, or take a guided tour on foot, in a canoe, or 4WD. Guided fishing tours are also available.
Plan to spend 2 days here in Cradle Mountain, especially if you love the outdoors. If you prefer to wander through galleries, shops, and dining out, spend 2 days at your next stop, in Launceston. Both stops are worth more than one day.
Where to Stay
Cosy Cabins Cradle Mountain
Located near the entrance to the Lake St. Clair National Park entrance to Cradle Mountain, and features two large camp kitchens, outdoor BBQ areas, open log fires, shops with extensive provisions, a disabled-friendly, environmentally safe ablution block, laundry facilities, wilderness walks, and an information center. Choose from self-contained cabins, deluxe cottages, spa cottages, backpacker hostel, powered caravan sites, campsites, and alpine mini huts.
Don't Miss
Day Walks
Though the Overland Track is too long for your itinerary, do make time to take a shorter walk in the park. Purchase a Day Walk Map at the Visitor's Centre at the park's entrance, or ask one of the guides to assist you. The Enchanted Walk (about 1 ' hours) takes you past waterfalls, pools, and moorland; the Dove Lake Loop Track (about two hours) takes you around the lake, through the Ballroom Forest, and back to your starting point at the Dove Lake carpark. (www.parks.tas.gov.au/natparks/cradle/activities.html)
Other Attractions
Calm Day Spa at Cradle Mountain Chateau
Just because you are enjoying a campervan adventure, does not mean you can't indulge in a little four-star pampering! Book a massage, facial, or other spa treatment for a reward after a long day of walking.
Historic Park Drive
For those who would rather sit back and enjoy the view, the Historic Park Drive is an excellent way to see and learn about the park. Your guide will go over the history and highlights of the park, and a Devonshire Tea will be served at Waldheim, a historic section of the park. Tours leave from the Cradle Mountain Chateau.
Day 4 ' Cradle Mountain National Park to Launceston
Your drive today takes you 144 km east (about two hours) to Launceston, via a series of roads including Cradle Mountain Road and the Bass Highway. Located at the center of it all, Launceston is a big change from Cradle Mountain, with an abundance of Victorian and Colonial architecture, arts and culture, and varied attractions. Within the 'Valley of the Senses' you will find vineyards, the famous Boag's Brewery, and amazing dining experiences.
Where to Stay
Launceston Holiday Park Legana
Located just north of Launceston, this award-winning park is situated on eight park-like acres and features a fully equipped amenities block, children's playground, covered BBQ area, tennis court, disabled showers and toilets, laundry facilities, and carwash facilities. Choose from deluxe spa cabins, premium cabins, self-contained park and budget cabins, on-site caravans, powered sites and camping sites.
Launceston Treasure Island Caravan Park
Located 2 km from the center of Launceston, this park is situated on three hectares of former parkland, and features three amenities blocks, laundry facilities, free BBQs, tour booking assistance, camper's kitchen with TV, car washing facilities, and a bathroom for babies. Choose from full self-contained deluxe and standard cabins, and onsite caravans, as well as powered caravan and campervan sites, and camping sites.
Don't Miss
The Cataract Gorge
A short walk from the city center, the Cataract Gorge is a fun attraction for families. Victoria gardens, walking trails, lookouts, a swimming pool, caf' and restaurant enable everyone in your group to find something they enjoy. Take a ride on the longest single span chairlift in the world!
Other Attractions
Boag's Centre for Beer Lovers
Take a tour of the J. Boag & Son Brewery, producers of Australia's most famous beer. A museum, shop, and tastings take place in the Tamar Hotel across from the brewery. Make a reservation in advance. (www.boags.com.au)
Queen Victoria Museum and Art Galleries
Visit both of the art museums in Launceston, one at Royal Park and one at Inveresk. At Royal Park, enjoy exhibitions of Tasmania's natural heritage, the Royal Park Planetarium, a children's interactive space, and a Chinese Temple all housed in a Victorian heritage building. At Inveresk, tour exhibitions of fine art, decorative art, and craft collections, history of the state's railways, and the Blacksmith Shop, all housed in the former Launceston Railway Workshops. (www.qvmag.tas.gov.au/)
Day 5 ' Launceston to Hobart
The last leg of your trip takes you 197 km south (about 2 ' hours) back to your starting point, via Midland Highway and a series of minor roads. Hobart, the second oldest capital city in Australia, is a vibrant port city with a rich and diverse history and thriving arts scene. Situated on the Derwent River at the foot of Mount Wellington, Hobart offers visitors spectacular views. Founded in 1804 as a penal colony, the city has integrated its convict heritage into its everyday charm. Be sure to stop in a bookshop; Hobart is fast coming a book buyer's mecca, with several antiquarian booksellers and 'bookseller's row.'
Where to Stay
Hobart Treasure Island Caravan Parks
Located on the banks of the Derwent River ten minutes from Hobart, this park features a children's playground, laundry facilities, BBQ area, three amenities blocks, and a camper's kitchen. Choose from self-contained holiday cabins, ensuite caravans, powered caravan and campervan sites and foreshore camping sites.
Barilla Holiday Park
Located 14 km from Hobart, this park features a hydrotherapy spa pool, putt and play golf (fee), and a caf' and licensed bar offering live entertainment, wood fired pizzas, fish and chips, and scooped ice cream. Choose from ensuite cabins, cabins, powered sites, and campsites. (www.barilla.com.au)
Don't Miss
The Waterfront
Walk straight down Main Street to Hobart's bustling waterfront. Start out at Salamanca Place, the preferred hangout of 19th century mariners, where you will find sandstone warehouses converted into shops, and the famed Saturday Market. Here you will also find Kelly's Steps, the gateway to the Battery Point suburb; the Tasmanian Museum and Art Gallery is nearby. For more shops, crafts, and galleries, head to Gasworks Village, home of Australia's only commercial whisky distillery. Get your seafood fix on Constitution Dock, and then stop in one of the pubs.
Other Attractions
Royal Tasmanian Botanical Gardens
Explore an extensive collection of native Tasmanian plants from ferns to conifers and the world's only sub Antarctic plant house. The gardens also include Japanese and Chinese collections, an epacrid garden and a rain garden. See the famed Arthur's Wall, a heated wall built in 1829 in an effort to protect precious vegetables and other plants from frost. If you are traveling with children, pick up a Kid's Treasure Hunt Map at the Visitor's Centre. (www.rtbg.tas.gov.au)
Theatre Royal
Opened in 1837, Hobart's Theatre Royal is Australia's oldest theatre. This impressive historic building is a site in and of itself, but the theatre continues to provide world-class entertainment throughout the year. Legendary performers have taken the stage at Theatre Royal, including Sir Laurence Olivier, who saved the theater from demolition in the 1940s. (www.theatreroyal.com.au/)
End of Trip
Return your campervan and begin working on that scrapbook!