Darwin to Darwin in 5 Days (890 km)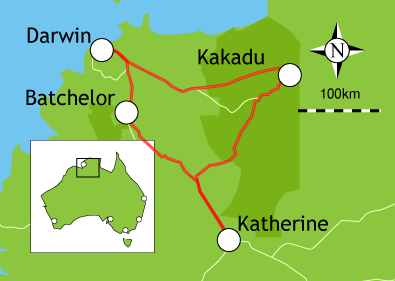 In just five days you will explore the best the Northern Territory has to offer. Departing from Darwin, you will spend two days in beautiful Kakadu National Park. Hike to see ancient Aboriginal rock art, waterfalls, and deep gorges. Then make your way south to Katherine, the center of the vast Katherine region. Explore the majestic Katherine Gorge in the Nitmulik National Park, take a dip in the Katherine Hot Springs, and hike to Edith Falls.
As you drive north, you will stop in Batchelor, gateway to Litchfield National Park. Known for its beautiful waterfalls and cascades, the park is also home to the Lost City ruins and magnetic termite mounds. On your last day, drive back to Darwin for some al fresco dining and the fun Mindil Beach Sunset Markets.
Bon Voyage!
Days 1 and 2 ' Darwin to Kakadu National Park
Drive approximately 256 km east (just over 3 hours) via the Arnhem Highway to Jabiru on the eastern end of Kakadu National Park. The only town in Australia located in a National Park, Jabiru is one of the few places in the area where you can stock up on supplies. Plan to spend 2 nights in Jabiru, to make the most of Kakadu National Park.
Designated a World Heritage Site for the numerous Aboriginal rock art sites, the Kakadu National Park is home to many different Aboriginal cultures who have lived in the region for 50,000 years. Go with an Aboriginal tour guide or set out on your own on one of the many walking trails, taking you past important Aboriginal sites, waterfalls, gorges, wetlands, and plunge pools.
Where to Stay
Kakadu Lodge
Located at the edge of Jabiru, this park boasts landscaped gardens, a lagoon-style swimming pool, a souvenir shop and kiosk, BBQs, licensed poolside bar and bistro, camper's kitchen (for lodge rooms), laundry facilities, free parking, safety deposit box at reception, tour desk, and four amenities blocks (two disabled). Choose from air-conditioned, self-contained cabins, air-conditioned lodge rooms, and powered and unpowered camping and caravan sites. The nearby Aurora Kakadu is the sister hotel for this property. (www.auroraresorts.com.au)
Lakeview Park Kakadu
Located in the heart of Jabiru, this park features tropical gardens, laundry facilities, secure parking, BBQs, and picnic tables with umbrellas. Choose from self-contained, air-conditioned luxury cabins, safari-style bush bungalows, cottage rooms, and van and campervan camping sites with power and water. (www.lakeviewkakadu.com.au)
Don't Miss
Bowali Visitor Centre
Get acquainted with the massive Kakadu National Park at the Bowali Visitor Centre, built to resemble an Aboriginal rock shelter. Get an overview from interpretive displays and informational videos, top in the library, ask advice from one of the park guides, and get a snack in the caf'. The Marrawuddi Gallery shows and sells Aboriginal crafts, books and other gifts. (www.environment.gov.au/parks/kakadu/visitor-activities/visitor-centre.html OR www.marrawuddi.com)
Other Attractions
Nourlangie Rock Art Walk
With more than 5,000 rock art sites recorded and another 10,000 thought to exist, the Kakadu National Park is home to the 'longest historical records of any group of people in the world.' Some of the rock art goes back 20,000 years. Also known as Burrunggui, the Nourlangie Rock site includes a rock shelter, rock sites, and the Gunwarddehwardde lookout. See all of the sites in about an hour by following the 1.5 km circular walking track accessed from the car park. (www.about-australia.com/travel-guides/northern-territory/kakadu-arnhem-land/attractions/historic-site/nourlangie-rock-art-site/)
Jim Jim Falls
A 'must see' while visiting Kakadu National Park, the 150 metre high cliffs surround a clear plunge pool with white sandy beaches. Due to the fact that the site can only be accessed via 4WD vehicle, and is part of the Arnhem Land escarpment, which requires permission to visit, consider signing up for a 4WD tour.
Day 3 ' Kakadu to Katherine
Today your journey takes you just 302 km south (a little under four hours) via the Kakadu and Stuart Highways to Katherine. The third largest town in the Northern Territory, Katherine is the center of the Katherine region, which covers 480,000 sq km. Europeans began exploring Katherine in 1844, and the town and the river that runs through it were named by John McDouall Stuart in 1862. The town and nearby areas offer numerous outdoor experiences ' a true nature lover's paradise.
Home to the Jawoyn and Dagomen Aboriginal people, Katherine was renamed 'Nitmulik' in 1989 when the original people gained the titled to the land. The town and the region are still referred to as Katherine, but the nearby Nitmulik National Park reminds visitors of its true name.
Where to Stay
Shady Lane Tourist Park
Just 5 minutes from the Katherine Post Office, this park is near a great fishing river. Facilities include a large swimming pool, free gas BBQs, laundry facilities, camp kitchen, caravan storage, tour booking assistance, and a kiosk. Choose from fully self-contained cabins or powered and unpowered campsites. (www.shadylanetouristpark.com.au)
Katherine Low Level Crossing Caravan Park
Located on 44 lush acres near the Low Level Crossing in Katherine, this park features a swimming pool, spa, camp kitchen, covered BBQ areas, licensed Bistro, laundry facilities, tour desk, kiosk, baby's bath, and facilities for disabled guests. Choose from ensuite cabins, grassed powered sites, and tent sites. (www.katherinelowlevel.com.au)
All Seasons Katherine
On the southern end of Katherine, this park is set amid tropical gardens and features a swimming pool, tennis courts, recreation room (with pool table, computer games and internet kiosk), restaurant and bar, BBQ and laundry facilities. Hotel and motel facilities are available along with campsites. (www.accorhotels.com.au)
Don't Miss
Nitmulik (Katherine Gorge) National Park
You could spend days exploring the 292,800-hectare Nitmulik National Park, with its 13 gorges, waterfalls, lookouts and 100 km of walking trails. Start out at the Nitmulik Visitor's Centre to get oriented. Located at the Katherine Gorge entrance, about 30 km northeast of Katherine via sealed roads; the Nitmulik Centre offers information about the local geology, flora, and fauna, as well as walking trails and other park activities.
By far the most popular spot in the Nitmulik National Park is the Katherine Gorge, covering 12 km with 70-metre high walls. Hire a canoe, bring your own boat, or book a boat cruise to enjoy this magnificent site. Lure fishing is permitted, but check with park rangers for bag limits and other rules.
Edith Falls (Leliyn) is another popular spot in the park; access is from a different entrance 19 km further and off of the Stuart Highway. For the best views of the falls and the Edith River, take the 2.6 km Leliyn Trail to the top of the escarpment and then down to the upper pools. Swimming is permitted near the car park at the base of Edith Falls, and also in the upper pools. Picnic areas and a kiosk are also on site. (www.nt.gov.au/nreta/parks)
Other Attractions
Katherine Hot Springs
Located about 5 minutes from the town of Katherine, the thermal hot spring pools wind through the trees along the Katherine River. With a constant temperature of 32' C, the hot springs are a perfect place to enjoy the river. Walking trails, picnic areas, and toilet facilities (including disabled) are also on site.
Springvale Homestead
Established in 1878, the Springvale Homestead is the oldest original homestead in the Northern Territory. Tour the grounds, including a display of photographs and other information about the history of the homestead. Guided tours and Devonshire Tea are offered from May through September.
Day 4 ' Katherine to Batchelor
The next leg of your adventure takes you 234 km north (about three hours) via the Stuart Highway to Batchelor, gateway to Litchfield National Park. Now primarily devoted to tourism, Batchelor had its own minor gold rush and served as the Allied Air Force Base during World War II. The area is also famous for nearby Rum Jungle, named for legendary rum drinking binge and the site of a uranium mine from 1951 to 1963.
Where to Stay
Batchelor Resort Caravillage
Located about 500m from the center of town, this Big4 park features multiple laundry facilities, BBQs, convenience store, petrol station, two restaurants, two bars, takeaway pizza and burgers, Internet caf', and tour desk. Recreation includes native bird feeding, 18-hole mini golf course, two swimming pools, poker machines, pool tables, and children's activities. Choose from hotel accommodations, air-conditioned ensuite cabins, grassed, powered sites, and grassy, shaded unpowered sites. (www.batchelor-resort.com OR www.big4.com.au)
Banyan Tree Caravan and Tourist Park
Located 12 km from Batchelor, this park features a snack bar (try the famous Banyan Burger), a covered swimming pool, shop with provisions and Aboriginal souvenirs, and solar-powered shower and toilet facilities. Choose between cabins, chalets, motel and budget rooms, or powered and unpowered sites. (www.banyan-tree.com.au)
Don't Miss
Litchfield National Park
Declared a national park in 1986, the Litchfield National Park covers 1,500 square km of forests, rivers, waterfalls, and the sandstone plateau known as the Tabletop Range. Sealed roads give visitors easy access to major attractions, and the park is accessible throughout the year. Stop in to the Park Headquarters in Batchelor to get oriented, and for information about bush walking trails and permits.
Hands down, the most popular spot at Litchfield National Park is Wangi Falls, one of three spring-fed waterfalls cascading from the sandstone plateau; the other falls are Tolmer and Florence). Wangi Falls are the biggest in the park, its waters flowing into a swimming hole surrounded by monsoon rainforest. Swim, snorkel, or spend then entire day; Wangi Falls has numerous amenities, including disabled bathrooms, picnic areas, sheltered areas, BBQ facilities, a car park and a kiosk. Take the 3 km interpretive walking trail.
Other popular attractions in Litchfield National Park are the intricate magnetic termite mounds, the Lost City rock formations (4WD access only), cruises on the Reynolds River, and numerous cascades throughout the park. (www.nt.gov.au/nreta/parks)
Other Attractions
Batchelor Butterfly and Bird Farm
The only butterfly farm in the Northern Territory, this magical place offers tours of the butterfly house with its many species of butterflies, a bird aviary, and vegetarian meals in a tropical garden setting, and the largest man-made waterfall in the Northern Territory. Water tortoises play in the ponds and pools; there is also a children's playground and a shop. (www.butterflyfarm.net)
Coomalie Cultural Centre
Operated by the Batchelor Institute of Indigenous Tertiary Education, the Coomalie Cultural Centre presents exhibits, cultural projects, and a shop where visitors can purchase Aboriginal arts and crafts. The Centre is located on the road to Litchfield National Park, and features a bush tucker garden and mural created by Batchelor Institute students.
Day 5 ' Batchelor to Darwin
On the last leg of your trip, drive 98 km north (about an hour and half) via the Stuart Highway to Darwin. This multicultural city has the largest population of Aboriginal residents (proportionately) of any Australian capital city; the Larrakia have lived in Darwin and the surrounding areas since before European Settlement in the late 1800s. The city is also home to many people of South East Asian descent, and is considered Australia's gateway to Asia.
Located on the coast of the Timor Sea, Darwin has a thriving wharf and harbour, most of which can be traveled using the city's extensive bike paths. Darwin is known as a 'young' city, exemplified by a vibrant nightlife, mostly concentrated on Mitchell Street. World class cuisine with seafood as the star, rich cultural and art experiences, open air markets and beautiful gardens make Darwin the perfect place to extend your trip!
Where to Stay
Boomerang Motel and Caravan Park
A 20 minute drive just off the Stuart Highway from Darwin's centre, this park is handy to wildlife parks and the crocodile farm. The park features a licensed tavern and restaurant, takeaway food, camp kitchen, sheltered BBQ area, laundry facilities, saltwater swimming pool, tour booking assistance and a children's playground. Low-cost bus service to Mindil Markets and free daily bus service to Darwin casino are also offered, in season. Choose from self-contained ensuite villas, self-contained ground-floor motel units, and cabins without ensuites, all with air-conditioning. Grassed or concrete slab powered sites feature individual taps. (www.darwinboomerang.com.au/)
FreeSpirit Resort Darwin
Located 15 minutes from Darwin off of the Stuart Highway, this park features a restaurant, bar, terrace bistro, camp kitchen, BBQ areas, Internet caf', laundry facilities, disabled bathrooms, security entry gates, three swimming lagoons with sun lounges, tour desk, and kiosk. On-site activities include fish feeding, a jumping pillow, water aerobics, bocci, quiz nights, and live entertainment. Choose from a wide array of accommodations, including deluxe villas, spa villas, standard cabins, budget cabins, and family cabins, all fully self-contained and air-conditioned. Powered and unpowered sites are also available. (www.freespiritresortdarwin.com.au)
Don't Miss
Mindil Beach Sunset Markets
Recognized by the National Trust as an 'Icon of National Significance,' Mindil Beach Sunset Markets is the most popular attraction in the Northern Territory. Of the more than 260 stalls, 56 are food stalls, with more than 1,200 menu items. Many stalls sell handcrafted items, more than any other market in Australia. Open in the evenings on Thursdays and Sundays between May and October, the Mindil Beach Sunset Markets also feature street performers, tarot readers, magicians ' all creating a fun, tropical, relaxed atmosphere that is not to be missed. (www.mindil.com.au)
Other Attractions
Darwin Wharf Precinct
Make your way down to Darwin's wharf for spectacular views, local history, and a plethora of shops and restaurants. Visit the Indo Pacific Marine at the base of Stokes Hill Wharf to learn about coral reef eco-systems, and take the 'Coral Reef by Night' tour, which includes a seafood buffet. Also make time for the Australian Pearling Exhibition, a museum detailing Darwin's pearling history.
Cullen Bay
Cullen Bay offers the best in harbourside dining, with famous eateries like the Buzz Cafe, abundant seafood, and breathtaking sunsets. Call ahead to find out about entry fees and if reservations are needed.
End of Trip
Return your campervan and begin working on that scrapbook!