Cairns to Cairns in 5 Days (261 km)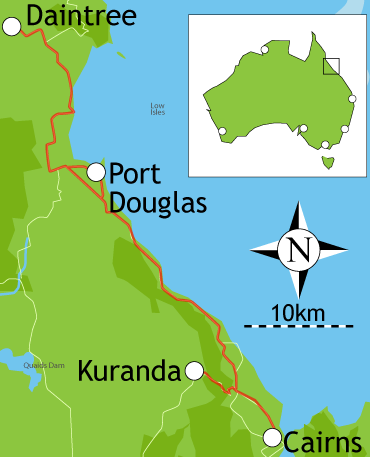 Explore the breathtaking beauty of the rainforests of Kuranda and Daintree, and the charming coastal towns of Port Douglas and Cairns beaches on this five-day itinerary. Beginning and ending in Cairns, this itinerary has countless reasons to extend your trip if you like, to enjoy the nightlife of the city or the majesty of the Great Barrier Reef.
This itinerary is a no-brainer, as your primary road is the Captain Cook Highway.
Bon Voyage!
Day 1 ' Cairns to Kuranda
The first leg of your trip is short, so if you get a late start you will have plenty of time to get settled once you arrive. Drive 28 km north and west (about half an hour) via the Captain Cook Highway to the 'Village in the Rainforest.' You can take a nature walk while still in the town. Wildlife abounds with parks for snakes, koalas, birds, bats and butterflies. Once a counter-culture centre, Kuranda now boasts a lively and unique collection of shops and a regular market with many arts and crafts stalls.
Where to Stay
Kuranda Rainforest Accommodation Park
Situated on 10 acres of rainforest near the Barron River, this park features a camp kitchen and campfire, Internet access, free form saltwater pool, tour booking office, guided park walks, and rainforest trails. Accommodations include self-contained rainforest bungalows; poolside units, and park units; camp sites, powered caravan sites, and single and double rooms at the Kookaburra Lodge. Guests of the park may also indulge in an array of natural health therapies, such as massage, Reiki, or reflexology. (www.kurandarainforestpark.com.au)
Don't Miss
Butterfly Sanctuary
The Australian Butterfly Sanctuary is the largest in Australia with over 1500 tropical butterflies. You can see the Ulysses, which is electric blue, and the Cairns or Australian Birdwing, which is the largest in Australia. (www.australianbutterflies.com/)
Other Attractions
Shopping
Grab a homemade, tropical-fruit-flavored ice cream cone at the caravan on Therwine Street, and then cruise the market. Indoor galleries include the Aboriginal Art Gallery and Aboriginal Art Doongal, where you can learn to play a didgeridoo. For a pricey souvenir, bring home an opal. (www.kuranda.org)
Rainforest Tours
The World Heritage Rainforest surrounds Kuranda. Many walking tours are available, including a wheelchair accessible boardwalk. But perhaps the best way to learn about the rainforest is to take a tour with the original inhabitants, the Djabugay. Several tours are available depending on your time and fitness level. (djabugay.org.au/)
Day 2 ' Kuranda to Port Douglas
Drive 68 km north (just over an hour) on the Kennedy and Captain Cook Highways to the coastal town of Port Douglas. At once sophisticated and low-key, this stylish coast town is known for its famous visitors (including Bill and Hillary Clinton), clothing boutiques, and fine dining. It maintains its charm, with low-rise buildings and wide streets. Over 100 different tours depart from Port Douglas daily, so many people make it their base of operations. If you haven't seen enough of the Great Barrier Reef, book a tour here.
Where to Stay
BIG4 Port Douglas Glengarry Holiday Park
Located 6km from Port Douglas and close to the Daintree National Park, this resort features a swimming pool, two camper's kitchens, BBQs, storage for vehicles, and tour bookings. Accommodations include ensuite cabins with air conditioning, ensuite powered sites (most with TV cables), campsites, and self-contained villas (also with air conditioning). From June through September, the best day of the week to stay at the Glengarry Holiday Park is Thursday, when guests can enjoy a BYO BBQ, and a free Sugar Cane Farm Stroll. (www.glengarrypark.com.au)
Don't Miss
Breakfast With the Birds at the Habitat Wildlife Sanctuary
Enjoy exotic fruit, pastries and a breakfast buffet. You can tour rainforest and wetlands, grasslands and woodlands and meet the inhabitants. The meandering walkways take you from the forest floor to the canopy and guides introduce you to the wildlife. From July through October, you can also take a twilight tour and cap it off with a fine meal at the Wetlands restaurant. (www.rainforesthabitat.com.au)
Other Attractions:
Four-Mile Beach
Four Mile Beach is wonderful for summer swimming and year-round lazing. You can eat at the Surf Life-Saving Club and swim in the protected water there. At the opposite, southern end of the beach, you can try your hand at kitesurfing, especially during the winter.
Fine Dining
Cosmopolitan Port Douglas is known for the variety and excellence of its dining opportunities. One of the newest is Zinc Restaurant, a casual caf' during the day, a bar and restaurant at night. Enjoy modern Australian cuisine and take in the view to Four Mile Beach. Zinc also has the largest privately owned aquarium on Australia's east coast. (www.zincportdouglas.com)
Winery
Visit Shannonvale Tropical Fruit Winery for a wine tasting tour. Tony and Trudie Woodall make wine from 18 different tropical fruits including jaboticaba, carambola, passion fruit and purple star apple. (www.shannonvalewine.com.au)
Day 3 ' Port Douglas to Daintree
Day 3 takes you 55 km (about an hour) north and west via the Captain Cook Highway to Daintree, adjacent to the Daintree National Park. Within this largest piece of tropical rainforest in Australia, you will find the most diverse variety of flora and fauna on earth, and especially many rare and threatened species. Enjoy the vast golden beaches, but do not swim with the crocodiles or stingers. Mossman Gorge is great for swimming. Be sure to try the barramundi, a fish for which the region is famous.
Where to Stay
Pinnacle Village Holiday Park
Located on 30 acres at Wonga Beach, close to Daintree National Park and Port Douglas, this resort features tropical gardens, beach frontage, two swimming pools, a children's playground, game room, kiosk, Internet access, laundry facilities, and an undercover camp kitchen. Accommodations include cabins (some with shared amenities), powered and unpowered campsites, ensuite cabins, powered and unpowered van sites, and self-contained villas.
Don't Miss
Daintree Eco Lodge and Spa
The Daintree Eco Lodge and Spa is one of the best in the world, according to Conde Nast. Day visitors are welcome to enjoy the pampering or to take a rainforest walk with the local Kuku Yalanji people. Make your own Aboriginal art, and eat Bush Tucker. Or try new Australian cuisine at the Julaymba Restaurant. (www.daintree-ecolodge.com.au)
Other Attractions
Daintree River Cruises
Take one of many cruises on offer to explore the Daintree River, its mangroves, crocodiles and other wildlife. Frommer's recommends Dan Irby's Mangrove Adventures, and his most popular tour lasts for two hours at sunset. (www.mangroveadventures.com.au)
Picnic at Newell Beach
Pick up some fresh produce along the way to Newell Beach, off the road to Mossman. You will pass a barramundi farm, and you might want to stop to see how this fish is raised. Newell Beach offers great fishing or total relaxation. (www.daintreevillage.asn.au)
Day 4 ' Daintree to Cairns Beaches
The longest leg of your trip takes you 83 km south and east (1 hour and 15 minutes) via the Captain Cook Highway to the northern end of Cairns Beaches, where you will find the oceanfront caravan sites at Ellis Beach. The Cairns Beaches, or Northern Beaches are a line of beach communities between Port Douglas and Cairns. From north to south, they comprise Ellis Beach, Palm Cove, Clifton Beach, Kewarra Beach, Trinity Beach, Trinity Park, Yorkeys Knob, Holloways Beach and Machans Beach. The stretch for 26 km and each is at the end of its own spur road off the Captain Cook Highway.
Where to Stay
Ellis Beach Bungalows and Leisure Park
Book ahead for this park, as it offers the only beachfront campervan sites in Tropical North Queensland. In all, there are 47 powered sites with TV cables, with shady trees, concrete pads, and two amenities blocks nearby. However, only 8 of the sites are on the beach. The park features a swimming pool and wading pool, swimming beach, laundry rooms, and a camp kitchen. There is also a general store, bar and grill, and tour desk on site. Other accommodations include beachside bungalows, and also campsites. (www.ellisbeachbungalows.com.au)
Don't Miss
Relax on the Beach
Trinity Beach is a favorite with visitors from Cairns. It's relaxed and tropical. Palm Cove is more intimate and old-world. It boasts a world-renowned tropical zoo at Wild World. The beaches are just a few miles apart, so do some exploring to find the beach that suits your own style.
Other Attractions
Crocodile Farm
Hartley's Creek Crocodile Farm produces skins and meat for export. You can watch the animals being fed and learn about their history and habits at a show that's been running since the 1930's. Say hi to 'Charlie' the croc! Koalas, cassowaries and the other Australian animals that call this place home, as you will see when you follow the boardwalk through various types of habitat. (www.crocodileadventures.com)
Opal Mine
Begin by watching the short explanatory film, and then tour the Outback Opal Mine. Learn how the gem is mined, cut and polished. Once you know what a quality stone is like, you can make a confident purchase. (www.outbackopalmine.com.au)
Day 5 ' Cairns Beaches to Cairns
The last leg of your trip takes you back to your starting point, 27 km south and east (about half an hour) via the Captain Cook Highway. Cairns, with its tropical climate and great beaches, is just an hour by boat from the Great Barrier Reef. You can go on your own, or take one of the many day trips on offer. Cairns offers great shopping and dining as well as art galleries and other cultural attractions. It is a backpacker's Mecca with lots of inexpensive rooms, a variety of adventure sports and plenty of clubs for nightlife.
Where to Stay
Cairns Coconut Caravan Resort
Located on the southern edge of Cairns 10 minutes from the city's center, this resort features a cafe, mini mart, gasoline and fuel refills, camp kitchen, family bathroom, a game room and a courtesy bus to the city. Accommodations include ensuites, super ensuites, disabled access ensuites, powered grass sites and powered slab sites. This park is very close to the Great Barrier Reef, the Atherton Tablelands and the Daintree Rainforest. (www.coconut.com.au)
Crystal Cascades Holiday Park
Only a 15-minute drive from Cairns, this resort features a saltwater pool and spa, a courtesy coach to the famous Red Beret Hotel, free tour booking, an Internet kiosk, and free wireless Internet access. Choose from ensuite, powered and unpowered sites. (www.crystalcascades.com.au OR www.big4.com.au)
Don't Miss
Great Barrier Reef
You can easily find a tour company that will take you diving or snorkeling on the Great Barrier Reef. Tours are available for families, for non-swimmers, in glass-bottom boats or by helicopter. You can relax on a tropical day and just paddle about in shallow water, or dive deep among the colorful fish and corals. (www.greatbarrierreef.org/)
Other Attractions
Skyrail Rainforest Cableway
The Skyrail Rainforest Cableway begins in Caravonica, a suburb of Cairns and runs over the Barron Gorge National Park and its rainforest to Red Peak, Barron Falls and Kuranda. On your 1-1/2 hour trip, you will float just over the World Heritage rainforest, the rivers and magnificent gorges. At Red Peak you can take the boardwalk into the rainforest; at Barron Falls the interpretive center will answer your questions about the rainforest. Visit the Tjapukai Aboriginal Cultural Park opposite the cableway at Caravonica for dance, theater and an interactive camp. (www.skyrail.com.au)
Cairns Esplanade
The Cairns Esplanade features an outdoor amphitheater, picnicking lawns, walking tracks, and a playground. You will find shops and restaurants as well as the departure terminal for Great Barrier Reef cruises. And, you can tour the environmental interpretation centre, which will explain how this former mud flat was transformed with minimal damage to the very important eco-system and its birds. (www.cairnsesplanade.com)
End of Trip
Return your campervan and begin working on that scrapbook!