Brisbane to Brisbane in 10 Days (2305 km)- Airlie Beach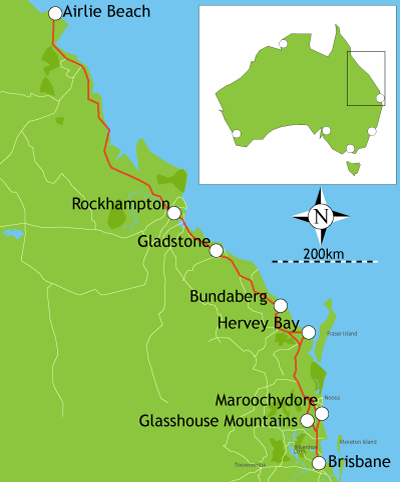 Beginning and ending in Brisbane, this itinerary takes you through the Glass House Mountains, up the coast to see the turtles and rum of Bundaberg, the Dreamtime Cultural Centre of 'Rocky,' and Airlie Beach, gateway to the breathtaking Great Barrier Reef and the Whitsunday islands. On your return to Brisbane, fish for Barramundi in Gladstone, head down to Hervey Bay, the best place to see a humpback whale; and then explore the beaches of Maroochydore.
The last two days of your trip are meant for exploring the great city of Brisbane, so if you get caught up in your travels and stay longer in other locations, you will not feel you missed anything on the route. You can always add a couple of days for sightseeing and shopping in Brisbane.
Day 1 ' Brisbane to Glasshouse Mountains Tourist Drive
Your first leg is a short one, 73-83 km (about an hour) depending on where you decide to stay, and which attractions you see. About an hour north of Brisbane is the Glasshouse Mountains Tourist Drive.
This stunning mountain range was named by Captain Cook in 1770, and is an ever-present sight as you travel the Sunshine Coast. Amidst the 13 volcanic peaks is the Glasshouse Mountains National Park, which encompasses seven of the mountains. Within the National Park are four smaller parks, perfect for camping, hiking, picnicking, and rock climbing.
Where to Stay:
Glasshouse Mountains Holiday Village
Located in the heart of the Glasshouse Mountains about five minutes from Beerwah, this resort features a swimming pool, recreation room, children's playground, a tennis court, a caf' and gallery, and a camp kitchen. Choose from self-contained motel units, powered caravan sites, and non-powered campsites. If you're up to it, the resort will book you on a rock climbing or abseiling excursion. (www.glasshousemountainsholidayvillage.com.au/)
Landsborough Pines Caravan Park and Villas
Located about 3km north of Beerwah, this resort is situated on nine acres, and features a five-acre park, a swimming pool, picnic area, and camp kitchen. Choose from a variety of air-conditioned accommodations, including deluxe villas, cabins, and budget units. (www.landsboroughpines.com.au)
Don't Miss:
Australia Zoo
Start your trip off right with a visit to one of Queensland's most popular and revered attractions, the Australia Zoo. Home of the late Steve Irwin ('The Crocodile Hunter'), the Australia Zoo is home to koalas, elephants, Tasmanian devils, wombats, dingoes, tigers, snakes, alligators, and of course, crocodiles. Try to arrive by 11:00 a.m. so you can park and get tickets in time for the 12:00 Crocs Live Show in the Animal Planet Crocoseum. (www.australiazoo.com.au)
Other Attractions:
Shire of Landsborough Historical Museum
Visit one of the largest social history museums in Queensland, in the historic town of Landsborough. Stop in to see the more than 10,000 items in the collection, and get tourist information in the foyer. (www.landsboroughmuseum.org.au)
Big Kart Track
The largest commercial go-kart track in Australia, Big Kart Track also features the Bungy Bullet, a ride for adventure-seekers, which shoots you 50 meters into the air in one second! (www.bigkart.com.au)
Day 2 ' Glasshouse Mountains to Bundaberg
Drive about 297 km (3 ' hours) north to Bundaberg, the 'Gateway to the Southern Great Barrier Reef.' Situated on the Burnett River, Bundaberg and the surrounding areas are a nature-lover's dream, with beautiful sandy beaches perfect for diving, and eight National Parks right along the coast. In order for you to enjoy the Great Barrier Reef and other sights, you will need two days in Bundaberg.
Where to Stay
Cane Village Holiday Park
This Park is about five km from the city center, and features a saltwater swimming pool, two camp kitchens, award-winning gardens, and a children's playground. Choose from campsites, deluxe holiday units, or budget cabins. (www.big4.com.au)
Bundaberg East Cabin and Tourist Park
Set amongst 5 acres of tranquil gardens, the Bundaberg East Cabin and Tourist Park is an ideal place to holiday in Bundaberg. Closeby to the turtle rookery at Mon Repos and offering a wide range of powered sites for a campervan, this park simply must be explored. (www.bundabergtouristpark.com.au)
Don't Miss
Dive the Great Barrier Reef
There are numerous places to dive around the Great Barrier Reef, including Fitzroy Reef Lagoon, Hoffman's Rocks, Barolin Rocks, and the favorite of many divers, Evan's Patch. If you would rather stay above water, take one of the many day cruises. Some of the cruises allow time for diving or snorkeling as well. You can also tour the areas of Lady Elliott Island and Lady Musgrave Island. Check with the Bundaburg Visitor Information Center for details about the various tours available.
Other Attractions:
Bundaberg Rum Distillery
Take a tour of the distillery, which has been producing rum since 1888. Learn about the process of distilling rum, visit the Spring Hill House, a restored Queenslander now operating as a Visitor's Center, and tour the museum. Tours are every hour on the hour, from 10:00 to 3:00 most days. (www.bundabergrum.com.au)
Turtles at Mon Repos Beach
About 15 km east of the city is Mon Repos Beach, known as 'Turtle Coast,' and home to a large population of nesting marine turtles. You may be able to catch a glimpse of them after dark, so plan to come after an early dinner (check with one of the four Bundaberg Region Visitor Information Centers for the best viewing times and to purchase tickets).
Day 3 - Bundaberg to Rockhampton
Drive 309 km (3 ' hours) north up the coast to Rockhampton, known as 'Rocky' to the locals. Situated about 42 km from the Capricorn coast, Rockhampton is one of Queensland's oldest cities. The city is located on the Fitzroy River, and features beautiful heritage buildings, wonderful restaurants, and shopping and art galleries. Known as the 'Beef Capital of Australia,' Rockhampton is unique in that it is close to the coast but is also considered the gateway to the Outback. Home to the longest National Trust Heritage Street (Quay Street) in Australia, Rockhampton is also famous for its proximity to the Tropic of Capricorn.
Where to Stay
Tropical Wanderer Resort
This resort is located in North Rockhampton, near the Stockland Shopping Centre, and features a restaurant, outdoor bistro, Internet kiosk, two swimming pools, and mini-golf. Choose from chalets, motel units, one- and two-bedroom tropical villas, holiday and Melanesian villas, cabins, and powered and unpowered sites. (tropicalwanderer.bestwestern.com.au/)
Southside Holiday Village
Located in Rockhampton, the Southside is situated on 12 acres of landscaped gardens, and features a swimming pool, half tennis court, television room, fenced-in children's playground, tourist office with booking services, camp kitchen, general store, and fax and copying services. Just a five-minute walk away is the Capricorn Spire, where the Tropic of Capricorn moves through Rockhampton. Choose from various villas, cabins, budget cabins, caravans, shared backpacker accommodations, powered ensuite sites, powered and unpowered caravan sites, and camping sites. (www.sshv.com.au)
Don't Miss
Dreamtime Cultural Center
About six km north of Rockhampton is the Dreamtime Cultural Centre, the largest Aboriginal cultural centre in Australia. The centre is situated on 30 acres of bushland, which includes landscaped gardens, and a waterfall. Here you can get up close and personal with Aboriginal and Torres Strait Islander culture, as you explore the gallery, Bimbi Artifacts shop, a replica burial site, authentic huts, rock art, and the ceremonial sites of the area's original tribe, the Darambai.
Take one of several types of guided tours, where you can learn how to throw a boomerang, hear a Didgeridoo performance in a cave, tour the Torres Straight Islander Village, or see the Djarn Djarn dancers perform. Dreamtime also has a few self-guided tours, including a Native Plant Tour. (www.dreamtimecentre.com.au)
Other Attractions
Capricorn Caves
About 23 km north of Rockhampton are the Capricorn Caves, where you can take several types of tours, depending on your interest and physical ability. Bus tours leave from Rockhampton daily, but this attraction has a its own secluded caravan park as well. Tours include the Cathedral Tour with it's candlelit finale; Abseiling tours; and the Wild Caving Adventures tour, where participants are put to the test in a series of fun challenges suitable for beginners. Some of the tours are wheelchair accessible. (www.capricorncaves.com.au)
Rockhampton Botanic Gardens
This 130-year-old Rockhampton Botanical Garden features a zoo with koala feeding, Japanese gardens, playground, aviary and Bottle Tree exhibits. The site is also home to a Cenotaph honoring veterans.
Days 4 & 5 ' Rockhampton to Airlie Beach
Drive 488 km (5 ' hours) to Airlie Beach. If you find this leg to be too long, you could stop in Mackay instead (about 3 ' hours from Rockhampton), home to 31 beaches and fantastic shopping on Victoria Street. Known as the 'heart of Australia's' Great Barrier Reef, Airlie Beach is the gateway to both the Reef and the 74 tropical islands known as the Whitsundays. Situated on a peninsula, this small tourist town is the perfect spot for lovers of outdoor and adventure sports, such as sailing, diving, fishing, and skydiving. The area is also well known for its nightlife, with numerous clubs, bars, and restaurants and a lively atmosphere.
Where to Stay
Airlie Cove Van Park & Resort
Located about 2 km from Airlie, this award-winning, luxury resort is situated on 28 acres and is home to beautiful gardens, exotic birds, and other wildlife. Airlie Cove features a swimming pool with a waterslide and toddler's pool, two Internet kiosks, floodlit tennis court, tour desk with booking services, children's playground, general store, recreational room, barbecue gazebo, Polynesian-style camp kitchen, and laundry facilities. Choose from villas, cabins, and van and tent sites. The Airlie Cove also provides secure campervan parking, if you choose to take an excursion to the Whitsundays. (www.airliecove.com.au)
Big4 Adventure Whitsunday Resort
Located about 5 km from Airlie, this award-winning resort features tropical gardens, landscaped sites, Airlie's largest pool and playground, jumping pillow, two waterslides, 18-hole, floodlit mini-golf course; floodlit tennis and basketball courts, Kid's Club, and outdoor movies. Choose from luxury condos, cottages, and villas; deluxe ensuite cabins, ensuite cabins; and powered and unpowered sites. (www.adventurewhitsunday.com.au)
Don't Miss
Diving
Whether you are an experienced diver or never put on a wet suit, you can enjoy a dive near Airlie Beach. Short or full-day trips are available, and many include a short course in diving. Once you've driven all this way, you cannot miss a chance to dive the Great Barrier Reef, or the beautiful Whitsunday islands.
Other Attractions
Swimming Lagoon
This man-made swimming lagoon allows for year-round swimming, and features a children's wading pool, children's shallow pool, and a pool for adults. Accessible from the main beaches, here you are safe from stingers, but can still enjoy sandy beaches and saltwater swimming. Picnic tables, gas barbecues, and walking paths make this a perfect spot for a fun afternoon at the beach.
Helicopter and Seaplane Excursions
Explore the Whitsundays and the Great Barrier Reef from the air, aboard a seaplane or helicopter. The views are breathtaking, and you can take a trip as short as ten minutes, or as long as a full day.
Day 6 ' Airlie Beach to Gladstone
Drive 596 km south (just under seven hours) to Gladstone. This is another long leg, with ample photo opportunities as you drive south along the coast. If you are craving some beach time, stop in Sarina and have a picnic on Sarina Beach.
Situated between the Boyne and Calliope Rivers, Gladstone is known primarily as an industry boomtown, but it also holds many opportunities for tourists. Enjoy fewer crowds, fantastic fishing, cruises to the nearby Heron Island and others; you can even get charters to the Great Barrier Reef from Gladstone.
Where to Stay
Willow Grove On The River Holiday Park
Located 20 km south of Gladstone not far from Lake Awoonga, the Willow Grove is situated on 20 acres of a park, and features 1/2 km of river frontage with boat ramp, camp kitchen, restaurant, general store, swimming pool, Saturday night barbecue, and Internet access. Choose from two-bedroom luxury villas, family and ensuite cabins, and powered sites cabled for television.
Don't Miss
Lake Awoonga
Located 24 km southeast of Gladstone is Lake Awoonga, known countrywide as a spot for Barramundi fishing. Lake Awoonga even has its own caravan park. Here you can enjoy landscaped walking paths, swim in the lake, have a picnic using one of the free barbecues, and try to spot one of more than 200 species of birds. Most lodging facilities can arrange fishing charters for you, so check in advance.
Other Attractions
Gladstone Regional Art Gallery and Museum
Housed in the renovated Town Hall building, the Gladstone Regional Art Gallery and Museum is home to revolving and permanent collections representing regional culture. Admission is free. (www.gladstone.qld.gov.au)
Gladstone Marina
The Gladstone Marina is paradise for boat-lovers, with more boats, yachts and catamarans than you can count. Walk the boardwalk and visit quaint shops, stop for a picnic at barbecue facilities, or even hop on a charter or catamaran to Heron Island.
Day 7 ' Gladstone to Hervey Bay
Drive about 290 km south (3 ' hours) to Hervey Bay. Named by Captain Cook in 1770, Hervey Bay is made up of numerous tiny townships, and is the gateway to Fraser Island. Considered one of the best places in the world to spot humpback whales, the area has numerous outdoor recreational opportunities, and a plethora of caravan parks.
Where to Stay:
Fraser Lodge Holiday Park
Located in Hervey Bay just a short walk to the beach, Fraser Lodge features two swimming pools, a tennis court, two camp kitchens, a game room with televisions, Internet access, spa, tour desk with booking services, and turtle and duck watching at the Sanctuary Dam. Choose from couple's retreats, spa villas, two bedroom villas, holiday units, studio units, ensuite cabins, ensuite sites, powered sites and unpowered sites. (www.fraserlodge.com.au)
BIG4 Point Vernon Holiday Park
Located just outside of Hervey Bay, the Point Vernon features a library with television and Internet, a saltwater swimming pool, children's playground, tour desk with booking services, and camp kitchen. Choose from ensuite and park cabins; the park also has drive-through sites. (www.pvhp.com.au OR www.big4.com.au)
Don't Miss:
Whale Watching Tour
Every year from July through November, Hervey Bay is home to thousands of migrating humpback whales. More than 20 companies operate whale-watching tours out of Urangan Boat Harbour. You can choose full-day, half-day, and three-quarter-day tours. Check with the Whale Watch Industry Association of Hervey Bay for more information.
Other Attractions:
Hervey Bay Historical Village & Museum
Step back in time as you explore the 19 buildings that make up the Hervey Bay Historical Village & Museum. Thousands of artifacts date back to the 1800s, and the site includes a church built in 1910, a railway station built in 1920, a slab cottage built in 1900, and a school built in the 1800s. Some of the buildings are fully furnished. On Sundays you can see a demonstration from a blacksmith and wood turner.
Fishing Off of the Scarness Esplanade
Hervey Bay is also well known for fantastic fishing opportunities. You can hire a fishing charter, but if you simply want to put a line in for a few hours, make your way to the Scarness Esplanade. About 18 km long, the Esplanade has numerous jetties perfect for fishing.
Day 8 ' Hervey Bay to Maroochydore
Leave early in the morning and begin the 117 km drive south to Maroochydore, where you will find gorgeous beaches and terrific shopping. The route winds through the towns of Kin Kin, Teewantin and Noosaville. If you are ahead of schedule, stay a night in Noosa Heads, just a few km off of your route. Here you will find a plethora of caravan parks, National Parks, and great shopping and beaches.
Where to Stay:
Maroochy Palms Holiday Village
Located on the Maroochy River about 5 km from the central Maroochydore, the Maroochy Palms is a family resort with loads of free activities (with accommodation), including the tennis courts, a nine-hole golf course, a swimming pool complex complete with its own beach, rock pool spa, and fountains; camp kitchen, a well-equipped recreation room, a landscaped lake with boardwalks, outdoor movie theatre, a fitness center for the grown ups (with massage services), and an activity program for the kids; a mini replica train, the JayJay Express; and a general store and caf'. Choose from luxury spa villas, riverview villas, deluxe villas, ensuite villas, powered ensuite sites, and camping sites. (www.maroochypalms.com.au OR www.big4.com.au)
Maroochy Beach Caravan Parks
The Maroochy Beach Caravan Parks are operated by the Maroochy Shire Council, and are located in Maroochydore, Mooloolaba, Cotton Tree, Mudjimba, and Coolum. Most have powered van sites and powered tent sites, laundry and shower facilities, vending machines, and swimming pools. The Coolum location, the Coolum Cool Seas, is close to beaches, restaurants, and nightclubs. The Cotton Tree location is located on the Maroochy River, and is within walking distance of beaches famous for great surfing. The Maroochydore location, the Maroochydore Seabreeze, is an ocean front park close to beaches, and restaurants. The Mooloolaba location is across from Underwater World Aquarium, and is within walking distance of beaches and shopping. The Mudjimba location is more quiet, features a children's playground, and easy beach access.
Don't Miss:
Underwater World
Visit the largest oceanarium in the southern hemisphere, Underwater World. Located in the Wharf Complex in Mooloolaba, Underwater World is home to more than 25,000 creatures from the deep, including coral fish, sharks, seals, otters, and crocodiles. Here you can swim with the seals, explore the touch pools, and take one of 18 tours available to visitors, including the Dinosaur Discovery Tour. (www.underwaterworld.com.au)
Other Attractions:
Eumundi Market
If you happen to be traveling through on a Wednesday or Saturday, visit the Eumundi Market in the historic town of Eumundi. More than 500 stalls showcase fresh produce, delicious food, handmade crafts, and other wonderful treasures. (www.eumundimarkets.com.au)
Sunshine Castle
Opened to the pubic in 1973, this medieval castle features a collection of armor displayed in the dungeon and the Great Hall, a doll exhibit, a model train exhibit, and a tower with a 360' views of the Sunshine Coast Hinterland. The Sunshine Castle is located about ten minutes from Maroochydore in Bli Bli. (www.sunshinecastle.com)
Days 9 & 10 ' Maroochydore to Brisbane
Drive 105 km south to Brisbane, the capital of Queensland and Australia's fastest growing city. Located on the Brisbane River, between the Great Dividing Mountain Range and Moreton Bay, Brisbane is a lush city with spectacular gardens and wonderful beaches. Although this is where your trip started, you are not finished by any means. Brisbane offers visitors a wealth of sightseeing and dining opportunities, and you will need at least two days to see the top sites. Once you get settled at your caravan park or resort, visit stroll the streets of downtown Brisbane, and have a seafood dinner or a bit of 'Mod Oz' cuisine. You will have one more full day to explore cultural and historical landmarks in Brisbane, and perhaps do some shopping at one of the outlet centers in and around the city.
Where to Stay:
BIG4 Brisbane Northside Caravan Village
Located about 12 km from the heart of Brisbane in Aspley, the BIG4 Brisbane features a well-equipped recreation room with an Internet kiosk, a swimming pool, tennis courts, golf putting green, and laundry facilities. Guests can easily walk to a nearby shopping center, and to public transportation into Brisbane. Choose from self-contained, air-conditioned villas and cabins, all of which include kitchens, telephones, televisions, and toilets. (www.caravanvillage.com.au)
Gateway Village Resort
Located about 16 km south of Brisbane in Rochedale, the Gateway Village features a recreation room, tennis court with floodlights, swimming pool, children's playground, laundry facilities, landscaped gardens, and Internet kiosks and wireless throughout, camper's kitchen, and free video games. Buses run from the resort into Brisbane and to the major regional shopping centers. Choose from one- to three-bedroom villas, and full-serviced, powered sites. (www.gatewayvillage.com.au)
Don't Miss:
Lone Pine Koala Sanctuary
Located just outside of Brisbane in Fig Tree Pocket, the Lone Pine Koala Sanctuary is home to over 130 koalas. Stop by on the way to your accommodations near Brisbane, and you can enjoy some actual koala cuddling, feed kangaroos from your hand, and see parrots, kookaburras, emus, wombats, a Tasmanian devil and an Eastern water dragon! You can have your picture taken with a koala; eat at the on-site restaurant or in the picnic area. (www.koala.net)
Other Attractions:
St. John's Cathedral
Under construction for the past 100 years, this 19th century Gothic-Revival cathedral was designed in 1888 and features the only stone vaulted ceiling in Australia. Take the Stained Glass Tour, watch as masons cut stone using medieval methods, and see more than 200 needlepoint cushions hand-stitched by art students. (www.stjohnscathedral.com.au)
The Queensland Cultural Centre
Situated on the banks of the Brisbane River, the Queensland Cultural Centre is a series of buildings celebrating the arts. Visit the Queensland Arts Gallery and the Queensland Gallery of Modern Art (www.qag.qld.gov.au), both with Aboriginal collections. Also in this arts complex is the Queensland Performing Arts Centre (www.qpac.com.au), where you can take a tour of the four separate theaters, and backstage areas. The Queensland Museum (www.qm.qld.gov.au/) is the place to see fossils, models of a blue whale and dinosaurs, and even a German tank from WW1.
End of Trip
Return your campervan and begin working on that scrapbook!