Alice Springs to Alice Springs in 5 Days (1,275 km)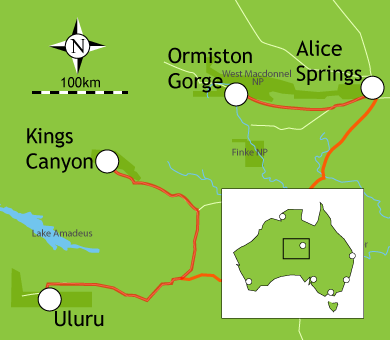 On your five-day journey through the southern half of the Northern Territory, you will see the beautiful Glen Helen Gorge in Glen Helen, and then make your way to the highlights of the Red Centre: Kings Canyon in Watarrka National Park, and Ayers Rock (Uluru) and The Olgas (Kata Tjuta) in the Uluru-Kata Tjuta National Park.
Your journey begins and ends in Alice Springs, a city rich in cultural experiences.
Bon Voyage!
Day 1 ' Alice Springs to Glen Helen
Your first day's drive is 133 km (about two hours) to Glen Helen via Namatjira Drive. One of only six permanent water holes along the historic Finke River, Glen Helen is situated at the far western end of the MacDonnell Ranges.
Known for the nearby Glen Helen Gorge and the Glen Helen Nature Park, the area is rich in natural beauty and offers numerous opportunities for outdoor recreation. Whether viewed on foot as you walk the trails, or from above as you tour the area via helicopter, Glen Helen is a stop not to be missed.
Where to Stay
Glen Helen Resort
Surrounded by the West MacDonnell Ranges, this park features a restaurant and gallery, bar, outdoor beer garden, BBQ areas, laundry facilities, camper's kitchen, natural swimming hole, kiosk, tour desk, 4WD tours and transfers, helicopter rides, and entertainment five nights a week. Choose from motel rooms, or powered and unpowered sites. (www.glenhelen.com.au)
Wallace Rockhole Tourist Park
Located on Urana Land Trust along the James Range of the West MacDonnell Ranges, this park is a Western Aranda Aboriginal Community offering guests an opportunity to experience Aboriginal culture. See ancient rock art, learn about bush medicine and bush tucker, and take a tour to see native animals in their natural setting. Amenities include a children's playground, laundry facilities, and BBQs. Choose from self-contained cabins and powered and unpowered sites. (www.wallacerockholetours.com.au)
Don't Miss
Glen Helen Gorge
Here the West MacDonnell Ranges part, with steep pacoota sandstone cliffs towering over the Finke River and one of its six permanent waterholes. View the gorge from the Glen Helen Nature Park, or take the 20-minute walk down to the waterhole for some sightseeing and swimming. The Finke River is often referred to as the oldest river in the world.
Other Attractions
Ochre Pits
Located just north of Glen Helen, the Ochre Pits is the spectacular face of a multi-colored cliff. Here Aboriginal people mined the fine ochre for use in paintings, and also ground the pigment with Emu fat for use in ceremonial body decoration.
Ormiston Gorge and Pound
Located in West MacDonnell National Park, the Ormiston Gorge and Pound is known for its breathtaking scenery and series of walking trails, including the full-circuit, 7km Ormiston Pound walk. Other popular walks include a 100-metre blindfold sensory walk, and the two-hour Ghost Gum Walk. Considered one of the most beautiful gorges in Central Australia, the Gorge impresses with sections that rise above 300 metres.
Day 2 ' Glen Helen to Watarrka National Park
Drive 260km south (about three hours) to the beginning of the Uluru-Kata Tjuta region. (The trip could be longer depending on which road you take.) Home to the Luritja people for more than 20,000 years, the area around Watarrka National Park was first explored by a European in 1872. With sandstone formations dating back 360 million years, more than 600 species of flora and fauna, and 100-metre red rock above palm forests dubbed 'The Garden of Eden,' this truly is one of the most spectacular environments on earth.
Where to Stay
Voyages Kings Canyon Resort
Located just 7km from Watarrka National Park, this well-appointed resort features a mini-mart, souvenir shop, tennis court, two swimming pools, a tennis court, sunset viewing platform, laundry facilities, children's playground, and outdoor BBQs. Dining options include a restaurant, caf', outback BBQ and grill, grill bar, and the romantic outdoor dining experience for two, Sounds of Firelight. Choose from spa and standard rooms at the lodge, and powered and unpowered sites at the campground. Reservations are required for powered sites. A number of tours are also available. (www.kingscanyonresort.com.au)
Kings Creek Station Safari Cabins
Located 36km from Kings Canyon, Kings Creek Station is a working cattle and camel station and has been featured in 36 documentaries. Amenities include a swimming pool, grassed picnic areas, gas BBQs, laundry facilities, and a camper's kitchen. A Bushman's-style breakfast is available, as well as full menu for dinner. Choose from Safari Cabins ' permanent canvas cabins with steel frame construction ' and grassed or concrete sites, with or without power. Breakfast is included with cabin rental. The Stockcamp offers live demonstrations of animal handling, followed by a traditional Billy tea and Damper supper. (www.kingscreekstation.com.au)
Don't Miss
Kings Canyon
Part of the Watarrka National Park and situated at the far western end of the George Gill Range, Kings Canyon is one of Australia's most popular tourist destinations. Take one of the two walking trails to explore the ancient sandstone canyon walls, and the lush vegetation at the Kings Creek bed at the bottom of the gorge, known as 'The Garden of Eden.' Ask the National Park Rangers at the Visitor's Information Centre for advice about which trail would suit your fitness level. (www.nt.gov.au/nreta/parks)
Other Attractions
Kathleen Springs
If you are traveling with children or have limited mobility, take the moderate 2.6km walk at Kathleen Springs. Signs along the path give you insight into Aboriginal life and the recent cattle industry; take a break at the waterhole at the head of Kathleen Gorge, were you will also find BBQs.
Quad, Camel or Helicopter Tours
Take a tour of cattle country at Kings Creek Station, where you can explore the area on a quad, camel, or helicopter tour. (www.kingscreekstation.com.au)
Day 3 ' Watarrka National Park to Ayers Rock (Uluru)
Today, drive 304 km south-west (about four hours) to Ayers Rock. Located in the Uluru ' Kata Tjuta National Park, Ayers Rock (Uluru) is one of the most iconic sites in Australia. Made of arkosic sandstone, Uluru is one of the largest monoliths in the world at 348 metres high and a circumference of over 9km. Extending 6km into the ground, the formation of Uluru began 500 million years ago. Protected and managed by the Anangu Aboriginal people, Uluru is believed to be the sacred ancestral site where the world was formed.
Where to Stay
Voyages Ayers Rock Resort Campground
Located in the Voyages Ayers Rock Resort complex at the gateway to the Uluru ' Kata Tjuta National Park, this resort campground features BBQ facilities, camper's kitchen, postal service, medical services, Internet access, laundry facilities, two full-sized tennis courts, swimming pool, jogging track, tour desk and information centre, shuttle service throughout the resort complex, live entertainment, self-guided walks to seven lookouts on the grounds, a shopping centre, and petrol station.
The resort offers four dining options: a restaurant, BBQ and bar, caf', and budget-priced kiosk with an all-day menu. Home to the Mulgara Art Gallery, the Ayers Rock Designs gift store, the resort offers numerous tours, including helicopter flights, Harley Davidson tours, morning and afternoon tours to Uluru and Kata Tjuta, camel rides, and the award-winning Sounds of Silence tour, which includes a gourmet meal served at sunset at Ayers Rock. Choose from fully self-contained, air-conditioned cabins, and shady, grassed powered and unpowered sites. (www.ayersrockresort.com.au)
Don't Miss
Uluru-Kata Tjuta Cultural Centre
Located in Uluru-Kata Tjuta National Park, this should be your first stop before exploring Ayers Rock. The building itself is a site worth seeing, built from locally made mud bricks to resemble the Kuniya and Liru snakes. Learn about the Anangu way of life and system of beliefs known as Tjukurpa, which encompasses knowledge, law, philosophy and religion. Eat at the Ininti Caf', where you can also pick up a souvenir, book an Anangu tour with an Aboriginal guide, and stop in Maruku Arts, which showcases the work of hundreds of Aboriginal artists. Maruku also has a workshop open to the public. (www.maruku.com.au)
Other Attractions
Sounds of Silence
This 4 hour tour run by Voyages Ayers Rock Resort has been entered into the Australian Tourism Hall of Fame, and should not be missed if your budget allows. After a short walk, guests enjoy a 360' view of the landscape known as the Red Centre: Uluru to the front and Kata Tjuta behind. As you enjoy the sunset, sparking wine and canap's are served, followed by an authentic Australian barbecue. Dine on barramundi, kangaroo, crocodile, bush salads, desserts, and Australian wine. The evening wraps up with an astronomer-guided stargazing tour, and an after dinner tea, coffee or port. (www.ayersrockresort.com.au/sounds-of-silence/)
Ayers Rock Observatory Night Sky Show
Operated by Discovery Ecotours in Yulara, the Ayers Rock Observatory offers you a tour of the night sky from one of the best stargazing locations at Ayers Rock. Look through large telescopes as an astronomer serves as your night sky 'tour guide.' (www.discoveryecotours.com.au)
Day 4 ' Ayers Rock to The Olgas
A day trip from Voyages Ayers Rock Resort, The Olgas, or Kata Tjuta to the Aboriginal people is a group of 36 red domes about 50 km west of the resort. The massive monoliths are thought to have been one giant monolith larger than Ayers Rock, but separated and diminished due to erosion. Covering approximately 3500 hectares, the tallest dome at The Olgas reaches 546 metres high.
Where to Stay
It's best to base at Voyages Ayers Rock Resort to see The Olgas, as it is the most convenient place to stay in Uluru-Kata Tjuta National Park. However, you may also enjoy staying at the following accommodation as you explore the park and all it has to offer:
Curtin Springs Station
Located on the Lasseter Highway 84 km from Yulara, this park is a working cattle station with legendary Outback hospitality. Amenities include a convenience store with takeaway, licensed restaurant and bar, caf', petrol station, tour desk with booking assistance, swimming pool and spa, BBQs, disabled facilities, Internet booth, and laundry facilities. Choose from budget rooms, family rooms; twin, double, triple or quad ensuite rooms, free unpowered camping, and powered sites. Enjoy meals served under the Bough Shed, the original homestead. Tours are also available. (www.curtinsprings.com)
Don't Miss
Sunset or Sunrise at The Olgas
Take one of the tours offered by Voyages Ayers Rock Resort to see the spectacular landscape at sunrise or sunset. Sunset tours often include a dinner under the stars, a once-in-a-lifetime experience. (This is a must-do for Ayers Rock as well.)
Other Attractions
Uluru Motorcycle Tours
Enjoy a tour of The Olgas as a passenger on a motorcycle! Uluru Motorcycle Tours will pick you up from Voyages Ayers Rock Resort for a tour lasting approximately two hours. Jackets, helmets, and gloves are provided, and self-ride tours are available for experienced riders. The sunrise tour includes tea and muffins upon arrival at The Olgas; take the sunset tour and toast the view with a glass of champagne. Tours to Uluru are also available. (www.ulurucycles.com/)
Helicopter Tours
A number of companies provide scenic flight tours over The Olgas, Ayers Rock, Lake Amadeus, and even Kings Canyon. Request tour-booking assistance from the tour desk at your accommodation, or book one in advance.
Day 5 ' The Olgas to Alice Springs
Today, you will drive 305 km (about 3 ' hours) back to Alice Springs via the Lasseter and Stuart Highways. Once merely an outpost in the Outback, which is now the old Telegraph Station, Alice Springs is now a thriving city with a rich cultural life. The capital of the Outback, Alice Springs is home to the Arrente Aboriginal people. Start your tour at ANZAC Hill, and shop and dine your way down, and then visit the RSL and War Museum. A host of other museums, shops, and experiences await you in this oasis in the desert!
Where to Stay
Stuart Caravan and Tourist Park
Located in Alice Springs opposite the Alice Springs Cultural Precinct, this park features a camper's kitchen, children's playground, BBQs, bicycle hire, mini-mart, wireless Internet, laundry facilities, TV room, tour desk, and an outdoor swimming pool. Choose from deluxe, budget, or ensuite cabins, grass or concrete slab powered sites, and grassed unpowered sites. (www.stuartcaravanpark.com.au)
Wintersun Cabin and Caravan Park
Located 2km north of Alice Springs, this park features a swimming pool, laundry facilities, tour bookings, BBQs and two amenities blocks. Choose from deluxe and standard cabins with ensuites, unpowered grassy sites, and grassy and concrete slab powered sites. (www.wintersun.com.au)
Don't Miss
Alice Springs Cultural Precinct
Plan to spend several hours exploring the Alice Springs Cultural Precinct, encompassing art galleries, historical sites, Aboriginal sacred sites and other areas of cultural significance. Take a walking tour, exploring the Araluen Centre and Galleries, the Namatjira Gallery, The Grand Circle Yeperenye Sculpture, the Sculpture Garden, the Museum of Central Australia, The Kookaburra Memorial, the Strehlow Research Centre, the Central Australian Aviation Museum, and the Territory Craft and Memorial Cemetery. (http://www.nt.gov.au/nreta/arts/ascp/index.html)
Other Attractions
Alice Springs Telegraph Station
The site of the original European settlement established in 1872, the buildings on the site have been restored with authentic artifacts and furnishings from the early 1900s; visit the Telegraph Station in April and enjoy the period costumes. Picnic areas, BBQs, a caf', and interpretive center are also on site, as well as bicycle paths and racks. (www.nt.gov.au/nreta/parks/find/astelegraphstation.html)
National Pioneer Women's Hall of Fame
Located in the Old Alice Springs Gaol, this museum was founded in 1993 by Molly Clark is one of only three women's museums in Australia. Visit exhibitions dedicated to hundreds of women 'recognized for their special contributions to Australia's heritage.' See the 'Women's Work of Yesteryear' exhibit among others, and stop in the gift shop. (www.pioneerwomen.com.au)
End of Trip
Return your campervan and begin working on that scrapbook!