Adelaide to Adelaide in 10 Days (1,913 km)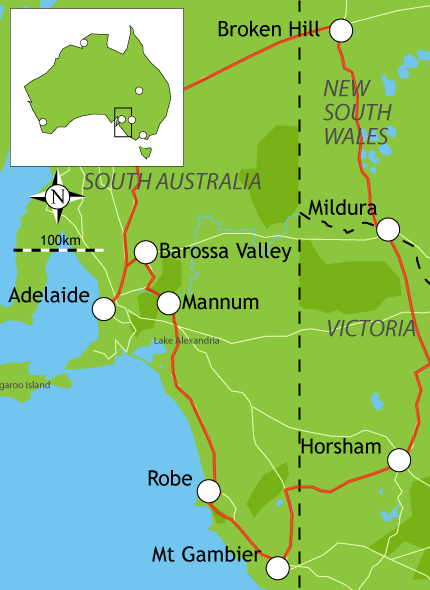 Your journey through the wine regions and preserved coastal parks of Southern Australia begins and ends in Adelaide, a city teeming with art, culture, and dining opportunities.
The first half of your trip takes you directly to wine country, first in the picturesque Germanic hamlets of the Barossa Valley, then on to the historic river town of Mannum, and then on to more vineyards in Robe, part of the newest official wine region, the Robe Wine Region.
Halfway through your adventure, plan to spend two days exploring the amazing natural landscape of Mount Gambier, home of the famous Blue Lake, located in a volcanic crater. Then, it's off to Horsham, where you can explore Mount Arapiles and the renowned Horsham Regional Art Gallery.
The last leg of your trip takes you back to wine country, in the town of Mildura, where you can explore the first winery of the region, Chateau Mildura. Stop in the historic mining town of Broken Hill, and then you're on your way back to Adelaide for some city fun.
Bon Voyage!
Day 1 - Adelaide to Barossa Valley
The first leg of your trip is a short one, which will allow you time to pick up and get familiar with your vehicle, and still have time to drive to your caravan park and settle in. Drive 70 km north and east (a little over an hour) to the town of Tanunda in the Barossa Valley. (If you prefer to stay in Gawler, your drive will be about 41 km.)
The Barossa Valley is the heart of South Australia's wine country. For more than 150 years the area has provided some of the best Shiraz in the world, along with a thriving arts and crafts industry. The Barossa Valley is home to quaint towns with stone churches, many of which remind travelers of Germany. There are numerous towns in the region; Hahndorf, Lyndoch, and Angaston and Tanunda to name a few. If an active endeavor is more your speed, drive a bit further and you will come to the Kaiser Stuhl Conservation Park, the Heysen Walking Trail, and the Mawson Cycling Trail.
Where to Stay
Tanunda Caravan and Tourist Park
In the heart of the Barossa Valley wine region, this park features an Internet Cafe with wireless Internet, gas and electric BBQs, laundry facilities, children's playground, bathrooms for babies and also for the disabled, bicycle hire, and an information kiosk. Choose from cottages, ensuite cabins, park cabins, on-site caravans, van sites, and camping sites. Accommodations are completely self-contained, with refrigerator, cutlery, etc.
Gawler Caravan Park
Located at the start of the Barossa Valley, this award-winning park provides travelers with insider's advice on how to make the most of your stay in the region. While the park is limited on amenities (free BBQs, shelter with hot and cold water), shops, a swimming pool, and other necessities are within walking distance. Choose from a variety of powered sites: grassy, grassy with concrete slab, concrete slab, and gravel, as well as unpowered sites. The park also offers self-contained ensuite cabins with TV, shower, and air conditioning, and deluxe ensuite cabins, wheelchair access ensuite cabins, and self-contained units.
Don't Miss
Winery Tours
With more than 50 wineries in the Barossa Valley, stopping by at least a few is a must. Many of the well-known vineyards are between Mount Pleasant and the Stuart Highway in the north, and there are numerous wine trails within the region, including the Barossa Cheese and Wine Trail.
If you prefer to go in style, you may enjoy the Barossa Daimler Wine Tour, an award-winning tour by wine expert John Baldwin. Sit back in a luxury 1962 Daimler (only six of them in Australia) as you explore the region, taste premium wines, indulge in gourmet lunches and tea. (www.winediva.com.au/regions/barossa-valley.asp)
Other Attractions
Barossa Museum
Learn about the history of the region and its German heritage at the Barossa Museum. This former 1865 Post Office features church furniture and other examples of woodworking craftsmanship, as well as tools, clothing, and other artifacts.
Storybook Cottage and Whacky Wood
A charming attraction for families, the Storybook Cottage and Whacky Wood is home to 55 displays of children's stories, fairy tales, and nursery rhymes, a wishing well garden, and a series of Australian bush games and puzzles. Don't miss the live animal area, where you can see 'Peter Rabbit'!
Day 2 - Barossa Valley to Mannum
Drive 83 km south and west (a little over an hour) to the riverfront town of Mannum. Located on the Murray River, Mannum is the birthplace of the Murray Paddlesteamer. Varied opportunities to enjoy water abound in around this town, from the river cruises, to the boardwalk, to the Mannum Waterfalls. Stop for a picnic at the Mary Ann Reserve, peek in a few antique shops, and explore the beautiful natural setting in this historic town.
Where to Stay
Mannum Caravan Park
Located within walking distance of Mannum's main street, this riverfront park features a camp kitchen, game room, Internet, children's playground, half court tennis, free electric BBQs, laundry facilities, fish cleaning shelter, and boat ramp. Guests also have access to the Hermann Gass bird sanctuary. Choose from deluxe, spa, wheelchair access, riverview or riverfront villas, and standard and ensuite cabins. There is also a 'Pumphouse' bunkhouse, which can accommodate up to 32 people and includes a kitchen and dining area. Check the website for special offers. (www.mannumcaravanpark.com.au)
Don't Miss
Mannum Dock Museum of River History
Located on the banks of the Murray River, the Mannum Dock Museum of River History is also the home of the Mannum Visitor Information Centre and numerous exhibits celebrating the rich history of life on the Murray River. See the full-restored Paddle Steamer Marion, built in 1897, which is occasionally taken out for a cruise. Located next to the Museum is the historic Randell Dry Dock, the only one of its kind in the Southern Hemisphere. (www.psmarion.com)
Other Attractions:
Pretoria Hotel
Opened in 1900, the Pretoria Hotel is an important landmark in Mannum, having survived the 1956 flood that wiped out many buildings. Legend has it that the hotel's Front Bar continued to serve beer from the balcony even as the first floor was being washed out! Visit the hotel for a taste of paddleboat history, and stop in to the new Boathouse Bar and Bistro for a bite and a beer. (www.pretoriahotel.com.au)
Wool Shed Gallery
As you wander along the banks of the river, stop in the Wool Shed Gallery to see the impressive collection of Aboriginal art, contemporary paintings and furniture. Located next to the Mannum Dock Museum of River History, the gallery features artwork from some of Australia's premier artists. (www.australian-art-and-prints.com/wool.shtml)
Day 3 - Mannum to Robe
This next leg is longer than the first two days, but your 290 km drive south (about four hours) down the Limestone Coast via the Princes Highway will be a highlight of the day. The historic seaside town of Robe has something for everyone. Known for excellent dining, shopping, and beach bathing opportunities, Robe is also a town rich in history. Wander the scenic coastal walk, feast on crayfish, and then take a four-wheeler out on Long Beach.
Where to Stay
Sea-Vu Caravan Park
Located in Robe overlooking Guichen Bay, this resort features beach frontage, a camp kitchen, children's playground, laundry facilities, a bathroom for babies and also for the disabled, a kiosk, free BBQs, crayfish cooking and fish cleaning facilities, broadband Internet access, and boat parking. Choose from self-contained ensuite cabins with sea views, deluxe cabins with separate bathrooms, and powered and unpowered sites with views. Dogs welcome, except during school and Easter holidays. (www.seavucaravanpark.com.au)
Lakeside Tourist Park
Located on seven acres on the shores of Lake Fellmongery, this park features an extensive shop for provisions and treats, childrens playground, camp kitchen, disabled facilities, family bathroom, laundry facilities, family picnic areas, BBQs, and tourist information and booking assistance. Choose from air-conditioned villa cabins, deluxe ensuite cabins, budget cabins, on-site vans, and powered and unpowered grassy sites. Pets are welcome, except during school and Easter holidays (inquire in advance). (www.lakesiderobe.com.au)
Don't Miss
Little Dip Conservation Park
Explore the preserved beauty of Little Dip Conservation Park, which stretches from Robe to Nora Creina. Two-wheel drive access is allowed to Long Gully, but you can roam around on foot for 13 km along Nora Creina Road. Once the home of Aborigines, the area was set aside to preserve the surrounding lakes and the coastal sand dunes.
Other Attractions
The Old Gaol
Restored in 1995 and open to the public, The Old Gaol served as a prison from 1860 until 1881. Closed before completion (a section for female prisoners was never built), the outer. walls of the Old Gaol required steel boilerplate reinforcement after a series of escapes.
Panoramic Views
There are two spectacular places to take in the seaside views, the newly constructed Beacon Hill Lookout Tower, and the Obelisk on Cape Donbey. Great photo opportunities!
Wineries
The newest official wine region in Australia, the Robe Wine Region was designated in 2006 (the region was formerly included in the Mount Benson Wine Region). Visit more than a dozen wineries, known for superb cellar sales and fun events for travelers and groups.
Days 4 and 5 - Robe to Mount Gambier
The next leg of your journey takes you 131 km south and east (under two hours) via the Princes Highway to Mount Gambier. A thriving city built on an extinct volcano, Mount Gambier is a nature lover's paradise. Numerous lakes, parks, caves, ponds, and renowned public gardens could captivate you for days. The city is a recreational hub, and you will find much to do at the Crater Lakes complex that includes the famous Blue Lake, and at the popular Engelbrecht Cave.
If outdoor fun is not for you, enjoy wandering through art galleries, shops, or continue your wine tasting adventure in the nearby Coonawarra Wine Region. With so much to do and a fantastic caravan park in the area, plan to spend two days.
Where to Stay
Blue Lake Holiday Park Big4
Overlooking beautiful Blue Lake, this park features a camp kitchen, children's playground, swimming pool, golf course, and tennis courts. This park has a number of uniquely designed accommodations that set it apart from other caravan resorts. Choose from full self-contained retreats, bungalows, cottage units, and holiday units, as well as ensuite cabins with optional supply of linen. Retreat units feature a sleek architectural design and a patio with outdoor seating for dining. (www.bluelakeholidaypark.com.au OR (www.big4.com.au)
Don't Miss
Night Lights Drive
Truly unique to the Mount Gambier is the Night Lights Drive, a self-guided tour that takes a little over an hour to complete, but will be etched in your memory for years to come. Plan to set out at dusk from The Lady Nelson Visitor and Discover Centre (see below), where the impressively lit brig and full-size replica of the HMS Lady Nelson let you know you are on the right track.
The next stop on the drive is the floodlit Umpherston Sinkhole, where you can see possums come out to feed, then on to Sexton's Cottage, a Gothic limestone structure. The rest of the drive takes you to a night view of Blue Lake, Centenary Tower, and up to Potter's Point for a great view of the city lights. Before the tour ends you will see several floodlit historic buildings, a fountain, and another floodlit cave.
Other Attractions
Lady Nelson Visitor and Discovery Centre
This impressive facility features exhibits on the history of the area, underwater life, fossils, and the wetlands before humans arrived. A 3D movie takes you back in time to the 1800s, a glass floor gives you a view of a cave typical in the area, and a neon volcano exhibit allows you to witness an eruption. A main focus of the Centre is the HMS Lady Nelson, and the exhibits dedicated to this sailing ship are fascinating. Don't miss the fossilized skull of an extinct kangaroo thought to be between 50,000 and 500,000 years old, which was discovered at a local cave diving site.
Aquifer Tours
Get up close and personal with Blue Lake on this 45-minute tour. Visitors ride in a glass-paneled lift down a dolomite wall shaft, and then walk through a tunnel to see the lake. A tour guide will give you a hydrology primer, and tell you a few good stories as well. (www.aquifertours.com)
Day 6 - Mount Gambier to Horsham
Drive 219 km north and east (about three hours) via the Princes, Glenelg and Wimmera Highways (also Casterton, Coleraine Balmoral, and Horsham Noradjuha Roads) to Horsham. The capital of the Wimmera region, this thriving little city on the banks of the Wimmera River offers travelers 24-hour shopping, unique art galleries, and excellent golf greens. Explore the natural beauty within the city at the Botanic Gardens, or at one of the two national and one state parks nearby; Grampians National Park, Little Desert National Park, and Mount Arapiles-Tooan State Park.
Where to Stay
Wimmera Lakes Caravan Resort
Located on the Western Highway about three km from the center of Horsham, this park features a camp kitchen, children's swimming pool and playground, outdoor swimming pool, full-size tennis court, family bathroom, cark park, BBQ facilities, laundry facilities, movie hire, pay satellite TV, spa, and a shop. Choose from deluxe ensuite units, standard ensuite units, grassed caravan sites, and backpacker accommodations. A continental breakfast is served to the units. (www.wimmeralakes.com)
Horsham Caravan Park
Located next to the Botanic Gardens, this park features river frontage, a lawn tennis complex, croquet greens, laundry facilities, library, and biking/cycling paths right in front of the park. Choose from river frontage sites, drive-through sites, and ensuite sites. Though the Council owns the park, it is privately managed. The park also allows pets.
Don't Miss
Mount Arapiles
A mecca for rock climbers, Mount Arapiles is located in the 5,060-hectare Mount Arapiles-Tooan State Park. For the less adventurous, there are two walking tracks that will take you to the mountains summit, and an even shorter walk can found off of Lookout Road (sealed). Birdwatching is another popular activity on Mount Arapiles, where 109 bird species have been identified. (www.parkweb.vic.gov.au)
Other Attractions
The Wool Factory of Horsham
The Wool Factory was founded in 1983 to provide employment for people with disabilities. Today, it produces some of the finest wool in Australia. In 2004 the Wool Factory achieved a new world record for the finest bale of wool every produced.
Horsham Regional Art Gallery
Located in an Art Deco building, the Horsham Regional Art Gallery is considered one of the most prestigious rural art galleries in Australia. Here you can view the collection of Mark Jost, a native of Horsham and world-renowned concert pianist, awarded the Order of Australia for his services to music and the arts. Formed in 1973, the Gallery is also home to more than 800 works of art by Australian photographers.
Day 7 - Horsham to Mildura
The longest driving day so far takes you 312 km north (four hours) via the Henty, Sunraysia, and Calder Highways to the cosmopolitan town of Mildura. Considered the 'Mediterranean in the Outback Mildura is abundant in vineyards, citrus groves, and beaches. The town is the center of the Sunraysia horticultural region, which is the largest producer of citrus, dried fruit, wine, and vegetables in Australia. Located on the banks of the Murray River, Mildura has a flourishing arts scene, with numerous festivals throughout the year. The Mildura region is also known spectacular golf courses, and five national parks within a days drive.
Where to Stay
All Seasons Holiday Park
Located on four km from the center of Mildura, this park features a spa, swimming pool, tennis court, basketball court, Internet kiosk, children's playground, rec room with arcade games and table tennis, BBQs, laundry facilities, camp kitchen, free touring and booking office, and public transportation right out front. Choose from fully self-contained spa executive units, superior units, and deluxe units, ensuite cabins, as well as ensuite and powered sites, both grassy and slab. (www.allseasonsholidaypark.com.au)
Desert City Holiday Park
Centrally located on manicured lawns, this park features a heated swimming pool, shaded toddler's pool, adventure park with summer sails, camp kitchen, laundry facilities, bathrooms for babies and also fro the disabled, BBQs, and a tennis court. Choose from superior poolside villas, budget ensuite cabins, or shady powered sites. (www.desertcity.com.au)
Don't Miss
Australian Inland Botanic Gardens
Located on the New South Wales side of the Murray River, the Australian Inland Botanic Gardens is like no other place on earth. Here you will find 2,500-year-old mallee eucalyptus trees, a rose garden with 1,600 plants, and more than 20,000 new plantings from Africa, Europe, Asia, North and South America, New Zealand, and Australia. Running through the Gardens is a 50 million-year-old river. Plans are underway to make the Gardens the gateway to the Barkindji Biosphere.
Other Attractions
Paddlesteamer Melbourne
Dubbed 'Australia's Most Famous Paddle Steamer', the Melbourne was built in 1912 as a workboat and restored in 1965 to carry passengers. The cruise, which has been running for over 35 years, features commentary from local guides, and offers lunch, snacks, and bar drinks. Make your way to the Mildura Wharf to check cruise schedules.
Chateau Mildura
See where it all began at the birthplace of the Mildura Wine Region, the Chateau Mildura. Established in 1888 when the Chaffey Brothers planted 150 acres of wine grapes, the Chateau is home to the Psyche Wines: Heritage, Psyche Smuggler, and Psyche Reserve. Stop in for a tasting and a bit of history, as you wander through the museum dedicated to the region and winemaking.
Day 8 - Mildura to Broken Hill
Drive 298 km north (about 3 hours) via the Silver City Highway to Broken Hill. Known as the 'Silver City', Broken Hill is a mining community and you will want to experience that heritage. But do not overlook the many art galleries and museums. At night, Broken Hill is party central.
Where to Stay
Broken Hill City Caravan Park
Located on the edge of town, this park features a camp kitchen, Internet facilities, children's playground, fully stocked kiosk, amenities block (disabled access), laundry facilities, solar heated swimming pool, and free BBQs. Choose from fully self-contained family cabins, ensuite cabins, and Olympic cabins (purchased from Olympic Village in Sydney). Toilet cabins and standard cabins are also available. (tripod.com)
Lakeview Caravan Park
A quiet park three km from the city center, this park features a camp kitchen, bus shelter, laundry facilities, bathrooms for babies and also for the disabled, children's playground, swimming pool, and gas BBQs for a fee. Choose from fully self-contained cabins, ensuite cabins, disabled ensuite cabins, ensuite powered sites and drive-through sites.
Don't Miss
Daydream Tourist Mine
Put on your miner's hat with its light and step into the miner's cage. It will take you down, deep into the earth, where former miners will guide you through a once-working mine. The road to Daydream Mine is not paved, but bus tours will take you there.
Other Attractions
White's Mineral Art and Mining Museum
The art section of this museum includes collages made of local minerals, which depict local scenes. You can walk right into the reproduction of a mine tunnel. A lively lecture will acquaint you with the history of Broken Hill.
Silverton Camel Farm
Located about 25 km from Broken Hill, Silverton Camel Farm has camel safari's for every level of experience. You can take a short half-hour camel ride into the outback, or camp overnight, or try something in between. In any case, see how the ship of the desert is maintained and used. (www.silvertoncamels.com)
Days 9 and 10 - Broken Hill to Adelaide
The final leg of your trip is the longest, 510 km south and west (just over six hours) via the Barrier Highway and the Main North Road back to your starting point. Because you will spend so much time on the road, and because there is so much to see and do in Adelaide, plan to take two days for this leg.
Adelaide, the wine and festival capital of Australia, is vibrant, attractive and well planned, filled with colonial-style buildings. Enjoy a stroll along the main boulevard, North Terrace with its museums, galleries, and Tandanya - the National Aboriginal Cultural Institute. Adelaide is close to nature, fronting the ocean waters of Gulf St. Vincent, beside the River Torrens and surrounded by parkland and the Adelaide Hills.
Where to Stay
Adelaide Shores Caravan Resort
Situated in a 135-hectare Coastal Recreation Reserve just outside the city center, this beachfront park features a shaded swimming pool area with two heated pools and seating, a game and TV room, Internet facilities, adventure playground, tennis courts, laundry facilities, camp kitchen, and BBQs and gazebos throughout the park. Choose from executive cabins, deluxe cabins, tourist cabins, budget cabins, standard cabins, camping and ensuite sites, powered sites, or the bunkhouse. (www.adelaideshores.com.au/)
Don't Miss:
Adelaide Botanic Gardens
The most visited attraction in Southern Australia, the Adelaide Botanic Gardens was established in 1854 and now is home to several glasshouse conservatories. The Victoria House was imported from Germany in 1875, especially for the Victoria Water Lilly. Other glasshouses are the Palm House, and the Bicentennial House. Visit the SA Water Mediterranean Garden, the Botanic Park, Nelumbo Pond, the National Rose Trial Garden, and the Museum of Economic Botany.
Other Attractions:
Art Gallery of Southern Australia
The Art Gallery of Southern Australia is a treasure house with one of the finest collections in Australia, especially nineteenth century Australian art. Fine collections of European and Asian art will intrigue you, especially the Southeast Asian collection of ceramics and the Indian and Indonesian textiles. The Art Gallery of Southern Australia was the first Australian museum to purchase a work by an Aboriginal artist and its collection is now extensive. (www.artgallery.sa.gov.au)
South Australian Museum
This free museum recently received a grant to create a gallery devote to Australia's bio-diversity and the nation's initiatives regarding climate change. It joins galleries devoted to Australia's explorer-hero Douglas Mawson, to ancient Egypt, to fossils, and to ocean wildlife. (www.samuseum.sa.gov.au)
End of Trip
Return your campervan begin working on that scrapbook!